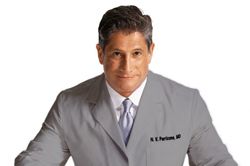 Meet Dr. Perricone
Nicholas V. Perricone, M.D. is a board-certified dermatologist, world-renowned anti-aging expert, award-winning inventor, educator, philanthropist, and creator and host of a series of public television specials which aired nationally on PBS-TV. He is also the author of five The New York Times Best Sellers, three of which achieved No. 1 status including The Wrinkle Cure, The Perricone Prescription, and The Perricone Promise.
Dr. Perricone is Adjunct Professor of Medicine at Michigan State University's College of Human Medicine. He is certified by the American Board of Dermatology, is a Fellow of the New York Academy of Sciences, and a Fellow of the American College of Nutrition. He is also a Fellow of the American Academy of Dermatology and the Society of Investigative Dermatology. Dr. Perricone has served as Assistant Clinical Professor of Dermatology at Yale School of Medicine and as Chief of Dermatology at the state of Connecticut's Veterans Hospital.
Dr. Perricone is the recipient of the Eli Whitney Award, presented by the Connecticut Intellectual Property Law Association to an outstanding individual who has made significant contributions to science, invention, and technology. Dr. Perricone is also the recipient of the American College for Advancement in Medicine (ACAM) 2000 Norman E. Clark, Sr. Lecture Award for his "dedication and contributions towards advancing complementary and alternative medicine."
He is the author of numerous scientific articles, is a contributing editor to the peer-reviewed medical journal Skin and Aging, and is a member of the editorial board of Archives of Gerontology & Geriatrics. He has contributed a chapter on antioxidants and aging for Skin Diseases in the Elderly, a recent textbook written by scientists from Stanford University.
Dr. Perricone is internationally recognized as a preeminent scientific expert in the fields of health, beauty, and anti-aging.
Information supplied by Nicholas V. Perricone, M.D.