PedicSolutions Harmony 11" Memory Foam King Mattress
In Stock
Sold Out
We're sorry. This item is not available at this time.
Pre Order Possible .
Low Stock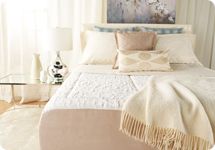 Rest Assured!
Click the links below to learn more about this innovative mattress.
Description
Irresistible comfort, serious support. With three distinct layers of specialized foam cushioning, this PedicSolutions(R) mattress is specially engineered for a restorative night's sleep. It might just be the sleep solution you've been dreaming about.
It's a first. Ventilated and contoured foams combine in this unique mattress design. A 3-1/2" layer of high-density foam, contoured for head-to-toe support, is topped with a plush, decorative cover quilted with a 1" layer of supportive yet plush ventilated polyurethane foam. At the base, a 6-1/2" layer of dense, high-performance foam lends additional support and durability. All together, you get a luxurious 11"H mattress made for your sleeping comfort--and, like all memory foam, this mattress reduces motion transfer, making it perfect for partners.
Better yet? It looks as good as it feels. The decorative, plush quilted cover has faux suede sides for a great look from every angle. Don't miss out! Treat yourself to this amazing mattress and finally experience the sleep you deserve.
From PedicSolutions.
All other items not included.
1" ventilated polyurethane foam top layer quilted into cover
3-1/2" high-density contoured memory foam middle layer
6-1/2" high performance supportive foam base layer
Four-way stretch cover finished with faux suede fabric on sides
Reduces motion transfer
Cannot ship to P.O. boxes or Canada
King sized at approximately 75-1/2" x 79" x 11"
Foam 31.8% polyurethane visco elastic memory foam/68.2% polyurethane foam
Foam: spot clean only
Cover 65.3% polyester/33.7% rayon/1% spandex; side of cover 100% polyester
Cover: dry clean only
15-year Limited Manufacturer's Warranty
Made in China
Reviews & Community QA
H196326 - PedicSolutions Harmony 11" King Memory Foam Mattress
9
9
Finally! I can sleep
I was skeptical and had checked so many mattresses at the store. When I saw this I decided that QVC gives me the option to return it. I have had issues sleeping for 20 plus years and as I have aged I have hip and back issues. I would toss and turn about every 15-30 minutes of sleep. I didn't get to deep sleep. Now I DO! I get to good REM sleep. I have dreams. I don't hurt every morning! What a great product. Thank you...it makes a big difference to my life.
09-05-12
Best sleep in decades
I buy a new mattress about every 2 years as they never feel the same as in the store. I saw this mattress advertised and they addressed every concern I have. I told myself this is ridiculous ordering a mattress without testing it, but it sounded so right. So, I did and it is the most wonderful mattress my aching back has had in decades. It does exactly everything as advertised. I no longer toss and turn or wake up with a back ache. One would have to fight me for this mattress. Thanks so much, Q.
08-25-12
Worst Purchase Ever!
I bought the 12inch with pillow-top approx 10 months ago. At first it felt wonderful, I was 8 mths pregnant and it significantly helped me sleep during the last few weeks of pregnancy. 10 months later all I do is toss and turn and my back hurts every day. My son is sleeping through the night but I unfortunately am not. There is a permanent dent on each side of the bed where my husband and I lay – whereas the middle is higher and uncomfortably firmer than the rest. The warranty is a total disappointment!! As uncomfortable as my 10 year old spring mattress was; I am so ready to put it back on the bed and very thankful we didn't toss that one. This is a waste of money!!! Initial gratifications was wonderful but trust me this mattress won't last.
07-12-12
WONDERFUL MATTRESS !! COULD SLEEP FOREVER!!
When we ordered this memory foam mattress we were unsure of the product due to not being able to lay on the mattress. After we opened the box and let the mattress expand for about 48 hours we had the best nights sleep ever! This mattress is assume! and there is nothing like it, you will be pleased. The comfort level is perfect, not to firm, not to soft, just right and fits every curve of your body. Worth the money every penny! You will never have a bad nights sleep again. : )
07-09-12
Love this mattress!
I bought the adjustable Sleep Number bed a few years ago, from QVC. It was very nice, but I still tossed and turned all night. I love Temper-pedic beds, but I get too hot, and they feel a little too hard. I have had this bed for a month now, put it on my adjustable platform from Sleep #, and I wake up in the same place on the mattress in the morning as I fell asleep in. Sleep all through the night. No pains, when I wake up. I don't want to get out of bed. I do agree with others on the set up, real heavy and hard to adjust on the platform (handles would have been great), I was by myself. The smell wasn't that bad and it was gone in a day. None of these negatives would sway me from the 5 star rating I am giving, because I have never slept so great in over 10 years. To not toss and turn all night, Magic!
06-29-12
Best night's sleep ever
I would give this mattress 10 stars , if I could. I used to wake up at night trying to get comfortable; not now. This mattress is heaven to sleep on. It supports the body without being too hard. With my old mattress I would wake up feeling stiff; not now. I recommend the PedicSolutions mattress to anyone. I found that within 30 minutes it opened to its full size. I was surprised because it was said this could take much longer. There was a slight odor which went away in a few days. I left the bed covers pulled back for several hours every day for about a week and the odor was gone. I also bought the PedicSolutions pillow and it is as great as the mattress. I don't wake up with neck tightness. My sister was visiting and slept on my new mattress to do a comparison with hers. She has the most expensive international brand foam mattress , for which she paid thousands, and she likes mine better !! I highly recommend both the mattress and the pillow.
06-12-12
AWESOME COMFORT!
I love my new mattress and have recommended it to several friends. My only issue is that the mattress does not have handles on the sides. This would make moving it so much easier......
05-23-12
Comfortable Bed
My husband and I received this bed two days after ordering as the TSV. Set up was extremely easy. There was a slight smell when we first opened it, however, we turned on the fan and opened a window and the smell had dissipated within 24 hours. We've been sleeping on this mattress for a week and it is the most comfortable mattress! We didn't realize just how uncomfortable our old mattress was until we slept through an entire night with the new mattress. The best part is that we don't move during the night but if one of us does move the other is not disturbed. Apparently we are sleeping so soundly on the new mattress that we slept through a horrible thunder storm that woke my neighbors, or so they told me the next day. Our only problem is now we can't keep the dogs off the new bed, apparently they like it too. Thanks QVC for bringing this great product to us and for offering easy pay.
05-20-12
On-Air Description Vs. Delivery Reality
We ordered the king size mattress after seeing it as a "Today's Special Value." We received the mattress and like the initial quality and comfort it provides. Our skepticism comes after reviewing the paperwork included in the shipment and comparing this to how the product was represented on-air, which I review prior to writing this review. * Product was advertised on air as "PedicSolutions" brand mattress * Product delivered was "Classic Brands" according to the warranty (no mention PedicSolutions) * The 15 year warranty included in the shipment is not the same as the on-air description of the warranty. For example, the warranty only provides a full replace during the first 5 years, but it states that the loft of the foam diminishes over time, and any decrease in loft of the foam is not a breach in warranty. Additionally, the purchaser is responsible to ship the mattress to Class Brands who reserves the right to dispose of any mattress at their discretion if they determine the mattress does not meet warranty eligibility. I Googled Classic Brands and learned from the Better Business Bureau's website that the parent company Dormia Mattresses who filed Chapter 11 in 2008 and they are not accredited with BBB. So in summary, while my husband and I really do like the mattress now, we may return it because after the QVC 30-day return policy has passed, we are concerned about what the warranty stipulates, and dubious about PedicSolutions, aka Classic Brands, aka Dormia Mattress.
05-16-12