Pandigital Portable 8.5" x 14" Photo &Document Wand Scanner
In Stock
Sold Out
We're sorry. This item is not available at this time.
Pre Order Possible .
Low Stock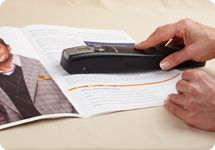 Description
Your magic wand. Scan photos, documents, and more with a wave of the PANSCN08 handheld scanner. With it, you can create high-resolution digital copies of paper documents and pictures. And with the included microSD card, you can save the JPEG or PDF files instantly so you can transfer them to your PC. From Pandigital.
Includes PANSCN08 handheld scanner, AC adapter, USB cable, 2GB microSD card, carrying pouch, and Home Artist Suite software
Scans photos and more without PC
Creates high-resolution digital copies of pages up to 8-1/2x14
300 dpi or 600 dpi scans
Saves as individual, single- or multiple-page JPEG or PDF
Calibration recommended to avoid streaks and lines; please see instructions above
Measures 10-1/4"W x 1-1/2"D x 1-3/8"H
UL listed adapter; 1-year Limited Manufacturer's Warranty
Made in China
Reviews & Community QA
E167848 - Pandigital Port. 8.5"x14" Photo & Document Wand Scanner
78
78
Don't Waste Your Money
I bought this and used it once and it worked. I tried using it again and I keep getting an error and the book tells you to "reconfigure the scanner" and that's it. No matter how many times I tried to get the error to go away it doesn't and I'm not able to use it. Can't find a phone number either to call someone to find out how to fix it. WASTE OF MONEY.
06-24-12
scanner faulty
scanner being returned after multiple attempts to calibrate didn't work. reordered another one and hopefully the 1st one I received was your typical electronic lemon. If not, I'll be returning both units at the same time. Another agent has one and it works fine scanning insurance documents.
06-19-12
NOT FOR APPLE!
I purchased this item because the operator said it would work with Apple Computers. After reading the reviews about operating on an Apple computer and the poor quality of the finished scan I am returning it unopened. I bought this as a future gift. Happy I read the reviews and returned it before I gave it to a friend! Be very aware of anything they tell you is Apple compatible!
05-04-12
Very happy with this product
First, let me say that I am not particularly computer literate. I, however, decided to try this unit because I have some important papers and other documents and pictures to forward to others and I didn't want to take the time and trouble to undertake the expense of going to a store to have everything copied. At first, it wouldn't work, so, I tried again, thinking that I was doing something wrong. I couldn't get it to work the second time, so I unplugged the charged unit from the wall, and, just on a whim, pressed scan. It worked! I scanned a 28-page document, loaded it into my computer, printed the copy of the one page I needed, and I am off to the post office to send it. I would suggest that anyone having trouble with the unit call the "Help" number listed on the instructions. Getting the unit to work might be as simple as unplugging it from the wall. It works great!
04-11-12
Sooooo Disappointed!
I think I've tried every scanner on the market. I was so hopeful that this one would address some of the issues I have had with those I've tried in the past. Unfortunately that has not been the case. The major downfall with this scanner is that the quality of the scanned picture is totally at the mercy of the speed at which the scanner is moved across the picture being scanned. The picture will be elongated or truncated depending on whether or not you go too fast across the picture, or the wand "sticks" on the image. If the scanner is moved at any kind of an angle, the image is skewed. Additionally, the scanned image (at least from the pictures I've scanned) ends up with tiny little lines down the picture - almost like waves in water - showing the "track" of the scanner. So disappointing!
04-10-12
Not worth it
Dont usually wright reviews but had to. Bought scanner about 2 months ago. Worked great at first. After to late to send back it quit. Scanning only half a page. Tried going slower no good. Already got rid of box. Don't waste your money.
03-21-12
Easy to use
So far this scanner is working fine. I am a little worried based on some of the previous reviews that it will suddenly stop, so I am keeping the box and all the info that came with it just in case I need to return it, but I'm hoping that doesn't happen. It's fairly easy to use and I think it will come in handy to cut down on paper clutter.
03-18-12
Worst product I've bought on QVC
Wasted an entire day trying to get it to scan w/o the mirroring effect and ended up buying a scanner/copier for less money and much clearer copies! Don't waste your money!!
02-27-12
below agerage
I was excited to get this for scanning some old pics in an old family album, but it is difficult to use and doesn't get a quality scan. i guess it can be used for some things but not for what I wanted it to do.
02-08-12
Horrible!
This product worked ONE time then never again! Surely wished it had not been defective...it would have been so useful. RETURNED!
02-06-12
Great little remote scanner!
I live in a family of TECHNO GEEKS. Mac and PC users alike. So whenever I purchase a TECH PRODUCT I have to be really careful, because in this family if they want something they buy it themselves. When I saw these I thought WOW. So I bought 2 one for my husband and one for my son-in-law, for Christmas. My husband opened it, looked at it and went, NICE. I knew that meant I had an uphill battle. This is one of the things unless he tried it quickly he would not use. So I kept saying try the scanner because if you don't like it I need to send it back AND THEY SAID, "THERE IS A LEARNING CURVE ON IT". Finally, the moment came and HE TRIED IT... Wait, Wait, Wait for it...\\ . HE LOVED IT. He did a black and white copy and then a colored copy and the quality was great for him. He works in the film industry and one day a week works from home on location and this gives him a portable scanner that he can take wherever and download to pc and then shoot it right out. We have PC, MACS, IPADs, we have the phone company wireless remote internet modems/ cards so he is constantly mobile ready. NOW he can send stuff from his pc when there is no full size scanner and they need a clear document. NO more using the phone to try and capture a picture, now he has the real thing. FROM MY MAC son--in-law, photographer, digital designer, he loved it also. He can take it out from a remote location and send back a scanned design copy that has been modified. Now I have all other family members who have asked for it or who have now purchased their own. So yes, now I just need one, because I still have a difficult time with connecting to the scanner at home on the 4 in one product we have at home. THIS IS EXCELLENT from all my TECHNO GEEKS IN MY FAMILY!
02-06-12
The BEST
It's small but, powerful. Bought it so I could scan recipes in my elderly Aunts writing. The important part was her handwriting, she is very old...and seeing her handwriting and spots on the recipe...make it extra special..... It worked wonderful..I keep extra set of batteries in the small pouch, the batteries last a long time. Sent my large scanner to work...You will not be disappointed, also buy the case for it...Fits in my purse and glove compartment
02-03-12