Pandigital Portable 8.5" x 14" Photo &Document Wand Scanner
In Stock
Sold Out
We're sorry. This item is not available at this time.
Pre Order Possible .
Low Stock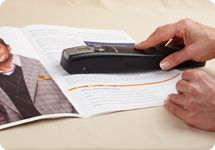 Description
Practical magic. You'll be amazed at how easy it is to scan virtually anything, anywhere with the Pandigital Handheld Wand Scanner. Just choose the Wand that fits you best and, with a twist of the wrist, you can make digital copies of photos, documents, books, and more up to 8-1/2" x 14" at 300dpi or 600dpi. Simply press the scan button, wave the scanner over the page, and presto--your awards, diplomas, records, or kids artwork is instantly saved to the included 2GB microSD card as either a PDF or JPEG. It's great for business, too! Scan receipts, business cards, and memos to make organization a snap. Connect it to a computer with the USB cable or just pop the microSD card into a reader and you've magically transferred tangible to digital; it's that easy! From Pandigital.
Many materials are copyrighted and require the express written consent of the copyright holder before reproducing. QVC neither condones nor encourages the use of this, or any other similar technology, to acquire unauthorized reproductions of copyrighted works.
What's in the box: Pandigital Handheld Wand Scanner, 56" USB cable, USB AC adapter, carrying pouch, cleaning cloth, rechargeable lithium-ion battery, microSD adapter, and 2GB microSD card
Scans up to 8.5" x 14"
Scan resolution 300dpi or 600dpi
Twin roller design for smooth, even scans
Full color or grey scale
JPEG and PDF output
Single or multi-page options
microSD slot
USB 2.0 interface
Purple, blue, and red colors are exclusive to QVC until 7/31/11
Measures 10-1/4"W x 1-1/2"D x 1-3/8"H
UL listed adapter; 1-year Limited Manufacturer's Warranty
Made in China
Reviews & Community QA
Rated

2.2

out of

5

 by

45

reviewers.
Rated

4

out of

5
 by
PBJ
Must Read All Directions!!
I'm seeing reviews about the white lines appearing on photos. One of the biggest requirements before using anything is to read all the directions and suggestions in the manual. They refer to those white lines when your scanner needs to be calibrated. Look in the manual for this issue. That is what the calibrating sheet is for. I've used this for 3 yrs. now and love it. I've done extensive scanning with the wand and the automatic feed for hundreds of photos and am very pleased with its production. YES, it does take getting used to, like anything you must put time into it to become familiar. I purchased the original one and did not have the tutorial that is provided in this updated model. They tell you everything if you watch all the tutorial videos on this site. It's well worth the purchase, and having easy pay available makes it possible for almost anyone. I highly recommend.
04-26-15
Rated

1

out of

5
 by
SheilaE
Save your money
Bought this a couple of years ago. Used it maybe four times, today I got it out to scan some things for tax purposes....it will not scan. It gives some strange error message that is not found in the pamphlet that came with it. Tried to get help from Pandigital, no luck reaching anyone that could tell me what these error messages mean.
04-01-14
Rated

1

out of

5
 by
gema
Great idea!
This scanner really sounded great so I ordered one last year and just could not get it to work right so had to return it to OVC.
10-09-12
Rated

5

out of

5
 by
greensboro78
love it
i have never had any trouble scanning pictures, only on what to lay the picture on to scan. i love it and i have had it for a month now and no problems with it. i recommend this product!
07-04-11
Rated

5

out of

5
 by
Brd
Amazing Results
As a school teacher this product has been an amazing tool. I can scan student artwork and photos, as well as family photos and documents. SO easy to use. I'm addicted to it. I'm scanning everything in sight!
06-29-11
Rated

4

out of

5
 by
wemo
SO MUCH FUN!!
I've read the reviews and yes, there are some lines on the left side of some pictures. However, it is a wonderful item. I am able to scan old pictures that I would never have been able to duplicate before. I've done a couple hundred already. It was a bit awkward for me to use as I'm left handed, and its only rolls one way (unless you want the pictures backwards). Just took some getting used to. I posted many pics on my facebook page and all my friends and family enjoyed reminiscing. It was really great to catch up with old friends and family with the past pictures. Now they even want copies of these pictures. I would still recommend this item to others. Maybe they will be able to improve it with newer models.
06-29-11
Rated

1

out of

5
 by
myhoneybear
DON'T DO IT!!!!!!
I originally bought this scanner when it was the TSV several weeks ago. At that point there weren't any reviews since it was new. Mine started up easy, worked fine BUT, like so many others eventually said, my photos were scanning with white streaks on the left and righ sides of the photos - some narrow and some very thin but still quite obvious. The photos I was scanning were (and are) in perect condition so I figured my unit was defective. I sent it back for an exchange and THEN the reviews started rolling in - all having pretty much the same exact problem with streaking. It was too late to cancel the order. The replacement came on Friday and I only opened the box in order to fill ot the return slip! When I factored in all of those reveiws with my own expereince with the first one scanner, I said no thanks and returned it this morning. QVC should allow "0" stars but the don't o the one star is because the red color is pretty,
06-27-11
Rated

1

out of

5
 by
Rareimage
Disappointed
I bought this for the reason of coping old photos and documents. I charge it and then proceeded to scan and nothing. The battery died and it always had errors. I would try another brand before you buy this.
06-22-11
Rated

1

out of

5
 by
anitwhit
So So So Disappointed!!!!
I was so excited when I saw the presentation for this hand held scanner. I charged it, calibrated it and tried to scan with it. No such luck!!! There were more white lines on those pictures than you could count. I tried several surfaces and different pictures. I even tried a document. Nothing nothing nothing worked. So it was packed up and shipped back. This is the second time I have ordered a Pandigital product and it will be my last purchase. I have no confidence in their products at all.
06-22-11
Rated

5

out of

5
 by
SHAREL
LOVE THIS PRODUCT
I had no problem using this product.It was very easy to use.And worked as well or better than then I expected. I am buying my son one to use for his business.thanks for an awesome product.
06-22-11
Rated

1

out of

5
 by
whale tale
Huge Disappointment!
What a disappointment! I bought this to take to Italy with me and use it to scan old documents in the church archives where my great grand parents came from. I followed the calibrating instructions but could never get the scanner to work. I called the Pandigital tech support and it turns out that the software was buggy on many of the QVC sold scanners. I could send it back for a replacement, but that didn't help me with my intent to scan old documents.
06-22-11
Rated

4

out of

5
 by
palsshovels
I Like!
Have been using my scanner now for a couple of days for various things such as scanning documents to send in for verification purposes and scanning pictures from my girls' photo albums as a back up for those irreplaceable treasures and my scanner seems to work just FINE. It takes very pristine copies of the items scanned. The photos come out very "viewable" considering that they are getting up there in age. You can't expect the scanner to take" flawless" pictures of older photos. I like this scanner very much so far and it is serving the purpose that I purchased it for. The only reason that I have given it 4 stars is because I haven't used it very long yet so I don't know how it will be for the long term. I think people just expect instant perfection with a technical device like this when all you have to do is take a little time to read the instructions and learn how to use it. Instead they just give up and return it. Sometimes things take a little bit of patience to learn and feel comfortable with it. As I said, I am enjoying mine and it does just what it was intended to do. I would definitely recommend! My boyfriend has used my scanner too and seems quite impressed with it.
06-21-11