Pandigital 7" TouchScreen 4GB WiFi Multimedia eReader/Tablet with Case
In Stock
Sold Out
We're sorry. This item is not available at this time.
Pre Order Possible .
Low Stock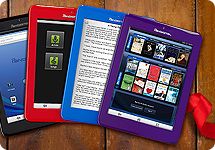 More Than an eReader
Click the links below for additional information about the PanDigital Novel.
Description
Now read this! The Novel from PanDigital is a full color 4GB WiFi eReader--but really, it's way more. With access to the Internet and your pictures, videos, and music, this tablet is a portal to all your media. And, it represents an incredible savings of both money and space.
You'll save big over books. This tablet is preloaded with 100 eBooks from the Barnes & Noble Classics Collection for an awesome value (See video above titled "Learn how to use the Barnes & Noble Bookstore" for instructions on how to locate these eBooks on the device).. You can browse the Barnes & Noble eBookstore--incorporated into the device--for numerous free classics for download, too. And, the Novel lets you download your favorite eNewspapers and eMagazines. All of your content will look great on the 7" diagonal color touchscreen. Because you can set the brightness, font size, and orientation settings to your liking, reading's easy on the eyes.
Say goodbye to gadgets galore--this lightweight unit does more than you imagine, eliminating the need to haul around multiple devices. It gives access to your favorite pictures, videos, and music, and it lets you check your email, too. With built-in 802.11b/g wireless connectivity, you can jump online anytime you're within range of a WiFi connection. Surf the Internet, check out Facebook, and shop QVC.com--without needing to plug it into a computer.
The future of entertainment is here! Take advantage of this special value, and enjoy multimedia made better. (And made in your favorite color!) Take note--the 4GB 7" TouchScreen Color Multimedia WiFi eReader/Tablet is exclusive to QVC until January 31, 2011.
From PanDigital.
Wireless capability and use of public wireless locations or hot spots may require a network connection, additional accessories, and a service connection fee.
Access to and use of the Internet may require payment of a separate fee to an Internet Service Provider, DSL line, or more.
Includes 4GB eReader/tablet, rechargeable lithium-ion battery, stylus, AC adapter, USB cable, cradle/stand, leatherette case, ear buds, and 100 pre-loaded eBooks from the Barnes & Noble Classics Series
7" diagonal digital TFT LCD touchscreen display with 800x600 resolution
4GB shared internal memory
Google Android operating system
Supports PDF and EPUB text files; JPEG, PNG, GIF, and BMP image files; MPEG-4 video files; MP3, WMA, and AAC audio files
Built-in 802.11b/g wireless connectivity
My Library lets multiple users customize their own library
Audio and video player
E-mail access
Web browser
Virtual keyboard
Automatic screen orientation
Built-in dictionary
Word search
Adjustable font size
Multiple bookmarks
Text highlighting
Digital photo album
Alarm clock
Measures 7-1/4"H x 5-1/4"L x 1/2"D
UL listed; 1-year Limited Manufacturer's Warranty
Made in China
Reviews & Community QA
E166635 - Pandigital 7"TouchScreen 4GB WiFi Multimedia eReader/Tablet
625
625
worst ebook ever!
I purchased this ebook 2 years ago. Barnes and Noble's server will no longer connect or download to it. It will not allow the kindle app to download and is, overall, a piece of garbage.
01-30-13
worst product ever
this product started out good.but in a quick 2 weeks it went sour..it is now a useless object..unable to download any updates as required by manufacture. It won't even power on. Pandigital has no replies or answers to fix this issue.
01-06-13
Great deal, great price, great product!!!
I purchased my Pandigital in 2010 I love it! It is working just fine. I have downloaded several books, uploaded photos and music without any problems. Surfing the internet is a breeze, I even have shopped on line via QVC without a hick up. I take it with me everywhere. The latest and greatest multimedia readers/tables are out and I am not the least interested in replacing my 2 year old Pandigital
08-13-12
Screen cracked.
Bought 2 of these. One screen cracked a couple days after getting them and the other cracked about 2 months later. Not from abuse either, just horrible horrible material. QVC Should have returned everyones $$ that had a screen break.
03-16-12
Not what it seemed
Ordered two of these as Christmas gifts last year. Before the easy pay had even been completed both screens were broken. Would not recommend this reader. It is a little TOO fragile. Too late to return them and screens aren't covered under warranty. Stay away from this product.
01-18-12
WORST PURCHASE EVER...DO NOT BUY
Purchased this as a x-mas gift for my girlfriend on thetoday's special value. It worked for about 1 month, and then all of a sudden it stopped working. It wouldn't turn on after it had been charging for 24 hrs. and when it did turn on all of the pre-loaded books were lost. Contacted Pandigital's support and they are no help!!!! Never even called back. DO NOT WASTE YOUR MONEY ON THIS PRODUCT!!!!!!
12-08-11
Pandigital is Junk
I bought the TSV 7" reader last year for christmas. The first time I charged it after using battery life, it died on me. Called Pandigital--as the info sent with the machine told me. Pandigital tech support is less than poor. After many phone calls and conversations, I ended up sending the reader back to get a new one. Six weeks later, I rec'd a new one without all the preloaded books, etc offered for TSV and THAT reader's touch screen technology was very poor and THAT one conked out after a few uses. Save your money for a decent working reader or tablet on the market today.
11-30-11
Don't buy this eReader!
I had been looking for an eReader and saw this presented - looked good. It's junk. Can't turn the pages most of time. The books loaded onto the eReader aren't labeled and have to be loaded to even see what they are. Learn from my bad choice - Don't buy this eReader!
11-09-11
Junk
Bought this as my only gift last Christmas for myself. Very slow. Battery got low : Lost all the books. No access to get them back. Send Pandigital an Email they said just reload. That is not possible. Very very disappointed ................ Very expensive junk.
10-11-11
Screen breaks too easy
I purchased 3 of these, one for myself, my daughter and my mother. We enjoyed them for the short time we had them. However, within 3 months all of them had broken screens (cracked). The first one occured on my daughter's and I assumed she had done something even though she swore she didn't. My mother and I then purchased the hard cases to protect ours. However, each of them had cracked screens with weeks of one another. Since I kept mine in the case when not in use I never could understand what happened. I have since switched to the Nook and am much happier.
09-11-11
Do not Waste Your Time or Money!
My husband brought this for me for Christmas because he thought I 'd like to read my books with a color screen. I should have sent it back immediately but I kept it to use to surf the web. It ended up with a crack across the screen not even two months after purchase. I still have no idea how. Their customer service, as already mentioned is completely non-existent. I figured out how to use it anyway with a lot of flipping of the screen going on. I went to use it the other day and it had two more cracks. Again, I have no idea how the screen cracked the first time, let alone the newest cracks. So as other reviews say the screen cracks really easy. The device is completely unusable.
08-15-11
DO NOT WASTE YOU MONEY
I LOVED THIS E-READER UNTIL I DROPPED IT. NO WAY TO REPAIR............... NOT UNDER WARANTY IF THE SCREEN CRACKS. OUT OF LUCK!! WILL PUCHASE A NOOK. RUN>>>>>>>>> DON'T BUY THIS!!!!!!!!!!!!!!!!!!!!!!!!!!!
08-12-11