Pandigital 2:1 Wand Scanner with Docking Station Wi-Fi, Software
Final Quantities!
In Stock
Sold Out
We're sorry. This item is not available at this time.
Pre Order Possible .
Low Stock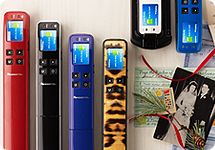 A Real Magic Wand!
Learn more about this Pandigital 2-in-1 scanner:
Description
What makes the Pandigital 2S8X1103 WiFi wand scanner special? With one pass through this 2-in-1 wand or feed scanner, your photos, documents, receipts, and more are saved as high-resolution files. You can scan directly to a computer via the included microUSB cable or a microSD card (not included); or by using the built-in Wi-Fi you can connect the scanner wirelessly to computers, electronic tablets, and smartphones--for quick and convenient access to your scanned files!
What can I use it for? Saving your family's memories and history--no matter the format!The 2S8X1103 creates full-color or gray scale images of treasured photos, recipe cards, kid's art, important documents, and so much more. The copies can be used for scrapbooking, school and work projects, family histories--anything you can imagine! And, the included software helps make managing all your new digital images so easy.
How does it work? Use the docking station for easy scanning at home--or just grab the portable wand scanner and take it with you. Thanks to Scan-Rite roller tracking technology, you can take your portable wand scanner anywhere and get a smooth, even scan every time. The built-in color preview screen lets you confirm you've captured exactly what you want before you save it. And, thanks to the rechargeable lithium-ion battery, you can power up via USB or docking station.
What's in the box? You receive the S8X1103 handheld WiFi wand scanner with rechargeable lithium-ion battery pack,
docking station, microUSB cable, AC adapter, software disc, calibration sheet, cleaning cloth, quick-start guide, and user manual.
From Sunglow.
QVC neither condones nor encourages the use of this, or any similar technology, to acquire unauthorized reproductions or create derivative works of copyrighted material.
Includes S8X1103 WiFi wand scanner with rechargeable lithium-ion battery pack,
docking station, microUSB cable, AC adapter, software disc, calibration sheet, cleaning cloth, quick-start guide, and user manual
Up to 1200dpi scanning resolution in wand scanner mode
Up to 600dpi scanning resolution in docked mode
Scan documents up to 8-1/2" x 14"
1.78"diagonal color LCD preview screen
ScanRite roller tracking technology for smooth, straight high-resolution scans
Output formats: JPEG, PDF, stitching
MicroUSB 2.0 port
128MB built-in memory
Supports up to 32GB MicroSD memory card (not included)
System requirements: Window XP or higher; Mac OS X or higher
Measurements: With dock 12-3/4"L x 2-3/4"W x 2-1/4"H; Hand scanner 10"L x 1-3/4"W x 1-1/4"H
UL listed adapter; 1-year Limited Manufacturer's Warranty
Made in China
Reviews & Community QA
Rated

3.8

out of

5

 by

89

reviewers.
Rated

5

out of

5
 by
badcupofcoffee
So easy to use
I have scanned hundreds of pictures and still have more to scan. My goal is to scan all the boxed pictures of past and then pass on to my kids on a disc. This is very easily accomplished with this tool. Much easier than placing each picture on a printer/scanner and waiting for it to scan. I just scan one right after the other. The pictures look great on the computer. Highly suggested for saving old pictures that are starting to fade.
09-18-15
Rated

5

out of

5
 by
Love Quacker
Worked great
I did have to return the first Pandigital Wand I purchased, and replaced it with the wand and docking station. It worked really well until the cat knocked it on the floor. Now, it won't feed, but I am confident in the product and have ordered another one.
08-27-15
Rated

4

out of

5
 by
JeBro
Great Scanner
Overall great scanner, only problem I have found is it's a little difficult moving files to Computer. Very fast and great quality scans. Thanks J
09-26-14
Rated

1

out of

5
 by
ttulsa
Doesn't Work - Don't waste your money
Didn't get to use during the 30 day return policy. Finally going to use it - and it doesn't charge the batteries, so it will not stayed on. And it won't charge when in the feeder dock. Also photos don't seem to want to pass through the feeder doc. And now I am stuck with it. And the company only warrants the product for 90 days. BUYER BEWARE ! ! ! !
09-23-14
Rated

1

out of

5
 by
PinkGirl8
Only Scanned Once and then Wouldn't Work
Bought this in 2012, took me a while to open it and try to use it. It scanned one reciept as a test and then wouldn't work again. Wasted $100. on a scanner that won't scan.
08-11-14
Rated

5

out of

5
 by
Teejay333
Fun!
I love this thing. It scans pictures fast and clearly. It's well worth the price, and you can take it with you everywhere.
02-16-14
Rated

4

out of

5
 by
DotIowa
Great portable scanner, easy to use
I bought one of these a year ago for my fiancé, who does a lot of genealogy research. His habit was to borrow important documents and photos from family members, then mail the items back. He had a flat-bed scanner that made it difficult to scan the pages from his mother's diaries, old yearbooks and battered documents. This easy-to-use portable scanner allows him to quickly scan just about anything anywhere. He's had fun scanning pages from his mother's diary to send to siblings and cousins so that everyone can enjoy these wonderful memories no matter where they are. Recently we met a bunch of his second cousins for dinner and brought the Wand Scanner along just in case. We used it to scan some of the vintage postcards in a cousin's collection that will be added to the book my fiancé is writing. My most recent use away from home involved scanning my dad's passport, parents' marriage certificate and decades-old photos from Brazil after my dad's funeral. I didn't even have to take the photos out of albums. Now all of us siblings can have a copy of these important documents and photos without risking damage or loss -- or squabbling over who gets what. The wand gently glided over these delicate items without any risk of damage. My stepmother was so impressed I ordered one for her. I plan to create a scanning station in my office so that I can scan and toss rather than let the paperwork pile up. It's a great idea and it's not the scanner's fault that hasn't happened yet. It's highly likely that I'm going to order another for family friends who have young children. The little darlings create a lot of artwork, and the first grader's homework is too precious to toss, but the paper is piling up! A few seconds of scanning and emailing and the grandmas will be able to see it all. The product is simple enough for a 7-year-old to use. I could scan the artwork right on the refrigerator! The only thing I don't like is that there isn't much internal storage and I haven't quit figured out which SD card I need to buy.
10-25-13
Rated

5

out of

5
 by
TxShuggie
Super easy to use
I purchased this scanner to scan old delicate family photos. I was in a hurry because these photos were on loan to me from my cousin. I have been pleasantly surprised how easy it is to use and at how fast it scans. I tried both scanning to my iPad and connecting to my PC and scanning directly to it. I liked scanning to my PC because I could name the files to keep up with who the pictures were of. But, I was very impressed with the wifi. It was very easy to connect and pictures popped up instantly. Overall, excellent product!!
09-18-13
Rated

5

out of

5
 by
leathmic
Great scanner
I got a whole years worth of receipts done in a day. What I liked about it is that some of those old receipts were hard to read in my hand, but after scanning, I could blow them up and see them much better. With two computer screens you can have your accounting program open on one machine and just click to the next receipt for recording. Nice. I think this will be a time saver this year with taxes.
09-17-13
Rated

1

out of

5
 by
ARB1
DO NOT BYE - negative star if possible
I got this pandigital scanner last December and loved it. Then the docking station broke in April. I contacted Sunglow, who now owns Pandigital and they told me to return it for exchange. I have been waiting ever since, 5 months so far, calling weekly for an update. They say I'm on a list and they didn't return calls. I called QVC to tell them of my experience since they still sell it. They were super nice and offered to replace it, but I no longer have it, Sunglow does. Reporting Sunglow to BBB also. DO NOT BUY ANYTHING FROM Pandigital!!
08-27-13
Rated

4

out of

5
 by
Tymelite
Read specs but be aware
This is a great product. Had one from 2 years ago and it worked very well scanning to an SD card. Did probably 3,000 scans all sizes This one advertised scan to SD. "You can scan directly to a computer via the included microUSB cable or a microSD card (not included" Could have been a 5 star! NOT! Very disappointed because that is what i needed. Sent it back. Too bad and I am out the shipping charges!
08-06-13
Rated

5

out of

5
 by
Roni18
Great for Genealogy
I have had this scanner a few weeks now and it works great. Miles ahead of the one I bought a few years ago. I used the docking station to scan in old concert ticket stubs and it worked great as long as the ticket was flat. For a few that were bent I used the scanner itself. Since I am into genealogy, I took the scanner to the library with me and used it to scan pages of different books that related to my family history. It fit easily into my purse and saved me lots of quarters from the copy machine! I love the little screen that lets you see if you have gotten an image. This scanner glides so much more smoothly than the older version. Out of about 80 scans only one came out a bit crooked, all the rest were perfect. I have not tried sending the images by wifi but simply connecting the usb cord to the computer (like you would a digital camera) worked fine. I think this would be a great gift for any genealogists out there.
07-21-13