Pandigital 2-in Portable Wand & Sheet-Fed Scann w/4GB SD Card & Software
In Stock
Sold Out
We're sorry. This item is not available at this time.
Pre Order Possible .
Low Stock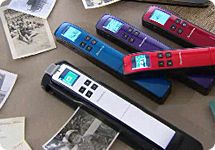 Scan-tastic!
Learn more about the Pandigital 2-in-1 Portable Wand & Feed Scanner offer:
Description
What makes the Pandigital 2-in-1 Portable Wand and Feed Scanner special? With one pass through this handheld wand or feed scanner, your photos, documents, receipts, and more are transformed into digital files that you can easily save and view on your computer, digital frame, or compatible TV. The 2-in-1 scanner lets you use the docking station for easy scanning at home or in your office--or just grab the portable wand scanner and take it with you, anywhere you go. And, thanks to its rechargeable lithium-ion battery, you can power up via USB or docking station--it's that easy!
What can it do for me? For starters, you can get rid of that shoebox full of receipts and personal photos! Simply pass your documents through the wand or scanner to create a digital file--in PDF or JPEG format--that you can transfer onto your computer with a simple MicroSD card or cable. Preserve the quality of your personal photos and documents with electronic copies of your images that won't fade or tarnish over time. And, capture media up to 8-1/2" x 14" in vivid detail with high-quality one-touch scanning.
How does it work? Thanks to its Scan-Rite roller tracking technology, you can take your portable wand scanner anywhere and get a smooth, even scan every time. Or, use the docking station for a stable, hands-free feed at your home or office. Just insert the document into the scanner and let the twin rollers guide it through.
What's in the box? You receive the Pandigital 2-in-1 Portable Wand and Feed Scanner, 4GB MicroSD card, USB cable, AC adapter, and software bundle. A rechargeable battery pack puts the portable scanner into your hands--and on the go--right out of the box!
QVC neither condones nor encourages the use of this, or any similar technology, to acquire unauthorized reproductions or create derivative works of copyrighted material.
Please refer to the Specs link above for more information about this scanner.
From Pandigital.
Includes handheld scanner, docking station, 4GB MicroSD card with adapter card, rechargeable lithium-ion battery pack, USB cable, AC adapter, software bundle, a calibration sheet, and a 20-page photo book offer from Keepsy
300dpi or 900dpi scanning resolution
Scan documents up to 8-1/2" x 14"
Twin rollers for smooth, even scans
1.6"diagonal color preview screen
System requirements: Window XP or higher; Mac OS X or higher
Keepsy photo book offer expires October 31, 2012; please visit www.keepsy.com/pandigital for details
Measurements: With dock 12-1/2"L x 2-1/2"W x 2"H; Hand scanner 10-1/2"L x 1-1/2"W x 1-1/2"H
UL listed adapter; 1-year Limited Manufacturer's Warranty
Made in China
Reviews & Community QA
E222376 - Pandigital 2-in-1 Portable Wand & Feed Scanner,Card & Software
136
136
Very Disappointed
I purchased this unit late November, just had a chance to sit down and use the unit. I became so frustrated with the unit. It would not scan photos of any size through the document feeder.. I tried everything, read, re-read the manual, uninstalled the battery tried resetting to default factory settings and starting over, it would not feed anything. The scanner when you removed from the docking feeder would scan but will not do so while in the docking feeder. Very disappointed. I have the smaller one and it worked great.
02-08-13
No Luck Using With Mac
I purchased this to use with my MacBook Pro after seeing that it stated it was compatible with my operating system. The software would not load on my Mac. I contacted Pandigital and never did a get a response. Very disappointed .....for this reason I would not recommend this product if you are using a Mac computer.
01-15-13
portable wand feed scanner
i LOVE this scanner. I use it for my genealogy research. When I go visit somebody that shares photographs with me, it is so easy to scan those photographs. Especially if those photos are in a photo album! So easy and great picture scans result from this too! I used to haul my all in one printer machine around with me and then scan photographs on the printer. What a pain in the rear to haul that printer around! SO, this is so portable and so easy! I also love that I can feed photographs or documents through this. No need for that big bulky printer! This little 2 in 1 wand and feed scanner is the most convenient and easy thing I have ever used in my genealogy research! I love it, and recommend it highly to genealogy researchers!
01-06-13
Great concept, but I've had nothing but trouble
I had another pandigital scanner that QVC no longer carries and it only worked for a short time. My mom bought one as well. Went to use them after the year warranty and neither would work. Pandigital customer service was rude and not helpful in getting them to work. Mine had been used maybe a dozen times and my mom's had never been used. They both are still in their original boxes and just like brand new, but will not work. After reading other reviews on this one I have decided not to give Pandigital another try. So disappointing that QVC still keeps carrying their brand. Wish there was something more reliable because I really want one, but don't want to have to replace it every year. Very frustrated. Please QVC come up with something that will work.
12-28-12
Sending Back!
Purchased early December 2012. Feeder will NOT accept photos of any kind or size. I read everything in the manual about how to use the feeder scanner before trying to use this. First try: attempted to scan 25 photos (all recently and commercially printed photos). Got "paper jam" error message each time. Second try: Finally got the feeder to pull in the photo, but the feeder rollers incorrectly and unevenly pull on the image. This causes the photo being scanned to go into the scanner crooked, which distorts the scanned image. I didn't try the handheld option, because I don't want to hand scan the hundreds of photos I have. After many, many attempts, I'm sending this back as soon as possible! VERY disappointing.
12-25-12
Half functioning is not good enough!
I ordered this in April of 2012 and it worked just fine. I scanned many pictures through the feeder and used the hand-held wand feature as well. THEN, I attempted to use it several months later and the sheet feeder would not work. However, the hand-held wand feature continues to work as it should. I called Pandigital customer service and they sent instructions for cleaning, but the instructions were for a totally different product. I called them back and they have said they will send a replacement unit. I am waiting to see what happens next.
12-18-12
Feeder not working anymore
I used it just fine when I first ordered via TSV this summer and scanned almost 1,000 pictures, but I went to use it again a week ago for my grandson's report and the document feed is not working at all. It was working when I put it away a couple of months ago. The wand works but not the feeder. I will try again, but beware when buying Pandigital, sounds like others are having the same problem.
12-12-12
Wasted money
The scanner worked fine. The feeder dock never engaged. By the time I discovered this, it was too late to send back to QVC. I had to deal directly with Pandigital. They told me to send the whole thing back for replacement. I did, and waited and waited. Finally started calling every week. Got stories about a warehouse problem, and promises it would ship in 2 weeks. This went on for another 6 weeks. Recently got an email saying the company was in liquidation and I would have to communicate with an adjustment bureau. I am out my money, have no scanner, and doubt that I will receive satisfaction. I am dismayed to see that QVC is still selling this product!!!
12-11-12
Works Well
I haven't had time to use this yet but my daughter-in-law borrowed it. She said it did a great job and was a breeze to work. Just be sure you read the instructions. I plan on using it to duplicate old family pictures that I don't have copies of.
12-09-12
2 in 1 portable wand- great gift for the office
I actually bought this last year (2011) for my husband as a Christmas gift. He loves anything electronic. And this was different. It works well. As a feeder- (wand in stand) it seemed hard to get the paper lined up just right so it would pull through, and then those scans were not great with more lines through them. But if you use the wand in hand and pull over the picture or document, the scans are great. I suggest having a solid table top surface to lay documents on, then hold wand in hand and just slowly pull over each one you want scanned. For the handiness of having this available when traveling, its great and easy to store. If the feeder was better I would give it a 5. But for a relatively cheaper electronic, it's a useful and fun gift.
12-03-12
Buyer beware!
I bought this last year and it worked great. I have the previous model that requires regular batteries. I haven't had a need for it until last week when my husband needed to scan some work-related receipts. I had to replace the batteries, no problem and the scanner still works as a hand-held device. However, I bought this because of the nifty feed option. It will not work. I think the AC adapter is dead because the electric eye doesn't light up. I'm guessing a new adapter might put this gadget back in business BUT I can't even get the Pandigital website to load. I did find an article that Pandigital was sold to another company so with that information in mind, buyer beware. Again, when it worked, it was great. Now it will only work as a wand/hand scanner. Not why I bought it. Since I could not find a website for "Pandigital", I contaced QVC and was given a customer service number for them. The lady I talked to was great. I have some hoops to jump through but it seems they will replace my scanner. I learned Pandigital has been sold to a scanner company and the person I spoke with sounded confident they would make good on my purchase. Now the wait....
11-29-12
Waited too long to open....
and it doesn't work! Contacted Pandigital today about the issue and so far they seem very reasonable to work with, especially since it has been nearly a year from the date of purchase. We will see how it all turns out. I'm not very impressed with this company's product. I purchased an older model a couple of years of ago and had a similar problem but was outside of the manufacturer's 1 year warranty. Oh well, really love the idea of this product hope the replacement works!!!
11-27-12