PaloVia Skin Renewing Laser
In Stock
Sold Out
We're sorry. This item is not available at this time.
Pre Order Possible .
Low Stock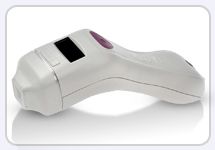 Description
What is it: The PaloVia(R) Skin Renewing Laser(R) is the first FDA-cleared, at-home fractional laser clinically proven to reduce the look of fine lines and wrinkles around the eyes.
Who is it for: All skin types. Anyone with fine lines and wrinkles around the eyes.
Why is it different: This system delivers a visible improvement in fine lines and wrinkles around the eyes in just one month. In a clinical study, a panel of doctors specializing in dermatology and plastic surgery reported a noticeable reduction in the appearance of wrinkles around the eyes in 92% of participants after one month of daily treatments.
This system uses professional technology adapted and FDA-cleared for at-home use. Short pulses of micro-fine laser light penetrate into the skin's sub-layers to renew the skin by enhancing collagen production.
It also offers great value. With a one-time purchase, you can realize the benefits of laser treatments, without worrying about the ongoing cost of professional maintenance.
How do I use it: Each treatment session takes just three to four minutes and involves a few simple steps.
Apply Pre-Treatment Gel to clean, dry skin around the eyes.
Place the treatment window on the wrinkle and adjust the handpiece so the blue contact light illuminates. Press and release the activation button. When the blue light turns off and the clicking sound stops, the application is complete. Lift and repeat further along the wrinkle using six to eight applications around each eye.
After treatment, you should continue to use moisturizing skin care products. Daily use of a sunscreen with SPF 30 or greater is also strongly recommended.
For best wrinkle improvement, the treatment plan recommends one month of daily use followed by ongoing occasional maintenance (twice per week).
Before using the PaloVia laser, please read the entire Instructions for Use booklet.
From PaloVia.
Includes:
PaloVia handpiece
Handpiece charger
Charging stand
1-fl oz Pre-Treatment Gel
Storage case
Instruction booklet
Handpiece measures 8"L x 2"W
ETL listed charger; 1-year Limited Manufacturer's Warranty
Cannot ship to Canada
Charger and charging stand made in China; All else made in USA
Reviews & Community QA
PaloVia Skin Renewing Laser
109
109
I like this little Laser!
I must say, it hurts!! But then again, so does having filler injected in the eye region. I would take this over injections any day. It is like a sting. Product works very nicely. I don't have much going on in the way of under eye aging except a little sag and it has really helped with that. In the instructions it recommended daily use. For me I just couldn't imagine doing that. I use it at max 3 times a week. The area is just too raw for me to even think of putting the laser there in back to back sessions. (I use the lowest setting). However I use the higher setting on the area above my eyebrows for a little tightening/ lift there. I put it on medium at the juncture of the cheek/under eye. I love the way it gives me a more youthful look. It does require patience. For me it was not an instant thing. I would use it and then get the typical puffiness/ skin reddening for about 36 hours. Then that would go away. It was several weeks later that I saw a difference and actually said to myself -- "hey, this thing actually works!!" Perhaps for those without crows feet or major creaping - it really gives a major boost. Maybe for those with more significant signs of aging, a professional treatment would be most appropriate. IDK. Loving my PaloVia!
11-01-13
Works
Seems to work good. But can't buy the gel after you use the bottle that comes with it. Manufacturer discontinued product. Only way to get gel is buy whole kit.
10-17-13
Beauty is pain...
To get the elephant out of the room, yes this is UNCOMFORTABLE, but not UNBEARABLE. And for my fair skin, though I don't normally mark easily, it leaves huge, red, square, extremely noticeable welts on my face that last for 24-72 hours, and they can not be hidden with makeup effectively, maybe if I used a concealer they could, but liquid foundation doesn't cut it. BUT IT WORKS. I'm 33, and have had terrible under eye wrinkles from my mid twenties I was always super insecure about. I hated to wear foundation because after an hour it had settled into my wrinkles and it looked like I had fault lines under my eyes. I have used all sorts of creams and light stimulation and electrical toners with minimal results, zero results from creams other than a healthier skin tone. This was a big purchase for me, but I figured I was actually spending about 3 times as much yearly on creams, so I went for it. I bought it 3 years ago. I did the process the first month everyday, usually every time my 8 hours was up and the machine would let me go again. My skin looked awful, and peeled everywhere, I couldn't wear makeup because of all the dead peeling skin, it made it look worse. But after the first month, and a 3 week break, my wrinkles were gone! I can wear makeup without it settling into the lines on my face, even when I'm smiling. I still use this, but more like once every two weeks, or if I have an event in a month and I want glowing skin for it, I always leave my skin a week to recover from the peeling and redness if I have something coming up. As another bonus, when I am using it I have no pimples, and if I use it on a pimple, it goes into remission by the next day! Like most Palovia lovers I use this all over my face, not just the under eye area and it works great everywhere! So to sum up, it has some unpleasant side effects, but IT WORKS! If you don't want the side effects stick with the creams and hope for a miracle:)
09-29-13
Hurts
I have only used this for a few days, not sure I can stand to face the pain from the laser. I will try a few more days before returning.
09-13-13
WOW!!!
This is awesome! I am 32 with fair skin and very creepy under eyes. The results are amazing! i started out using it on low for a few days so my eyes could get used to the sensation and to reduce any redness or swelling. I then iced my eyes for 10 minutes after and put on a very heavy eye cream for the night. by the morning, all redness was gone! in one week my skin was so much smoother and my skin seemed tighter and no it wasn't swelling that made it look that way! I'm almost done with my month of continuous use. I also use the cane + austin retexturizing treatment pads every morning and i do use them under my eyes (i have no reaction...don't do if you are super sensitive) I have since moved up to using high on my crowsfeet and medium on my under eye areas. I love this and it is a must for any anti-agers out there. I posted a before and after picture on my instagram page. my user name is: guccigirrl1234 please check out the pics to see for yourself!
09-11-13
Do not recommend
Let me start by saying I only used it once & have very fair skin. I used the high setting to test on my arm & due to the redness & swelling (& discomfort) that occured I lowered to medium for my eyes. The redness & swelling was immediate & hurt worse than on my arm! I definitely did not overlap sites, which was evident by the red squares it left! It recommends 6-8 treatment sites but I only did 4 per eye because of the skin reaction. Also, my skin became immediately very dry at the sites & I applied a moisturizer for a week before it cleared up! It was like a bad sunburn & I was afraid my skin was going to peel like after a sunburn! The redness & swelling took almost 24 hours to dissipate so there was no way I could use it daily as recommended for the 1st month. I was too afraid to continue using it & returned it. I'm surprised the FDA cleared this for home use! I'll live with my character lines!
09-08-13
Too much redness under my eyes
I tried this product and perhaps it would have worked if I could have continued to use it. It made my eye area very red and sore so I had to discontinue use after two weeks. It was way too noticeable and looked like I had been in an accident. So I ad to send it back. Disappointed!
08-27-13
Beware!
I purchased this item and used it religiously as indicated. I developed red patches that later turned to brown spots around my eyes, where I used the laser. This has been over 7 months now and I still have the brown spots developed by the use of the Palovia. Since, I have spent a lot of money and time to get rid of them without much luck. This for me has been a very painful and expensive lesson to learn. Don't go for this "at home gadgets" that promise you same results as in doctors' offices. It is not the same!
08-26-13
I am 38 I now look 28 Wow!
Hi I am going to keep this short and sweet I bought this for me and my sister and husband we live in Los Angeles and have access to all the places that the stars go to but they are very pricey so I researched and got this instead I used this according to the booklet exactly everyday 30 days and than every other day it burned a little it got red and than swollen and than i woke up after 5 weeks and my crows feet are gone not less GONE so now I have been using it on my laugh lines from my nose to my chin on both sides for about 3 weeks everyone thinks I got fillers I look at least 5-10 years younger I am now buying one for my mom and my other sister I will never be without this product. Yes it hurts a little and it gets red and it gets swollen but it is worth the end result My crows feet are gone!!!!!!
08-23-13
So Disappointed
I really wanted this to work. It's a good design; seems sturdy; well designed; nice packaging and good instructions. That's why I gave it 2 stars. Unfortunately it just didn't work for me. In fact, my skin looks worse after using. In fairness, I was unable to use it every day. My skin reacted very badly and I could not bear going around looking like an accident victim all the time. I started using on high, but quickly switched to medium and still it would take my face 3 or 4 days to start looking semi-normal. I finally stopped using 3 weeks ago, thinking I would start up again as soon as my skin healed some. 3 weeks later I'm still seeing damage so, I've decided I can't go thru that again. I'm sending it back. I'm also concerned about some stuff I've read about lasers causing fat and collagen loss from the face...some really scary stuff, and wondering if that's what's happened in my case.I kept waiting to read some more recent reviews for tips and to learn what results others were getting...but, for some recent there are so few recent reviews on this item. Really sad this didn't work for me.
08-21-13
Now this is "the miracle worker!"
At age 37, my worst area was the 11's. A few fine lines around the eyes, that were made more noticeable because of concealer. Sooo glad I gave this a try!! It does sting so I use it on the medium setting. Plus afterward I pat silver sulfadiazine cream since it is a burn. My skin seemed to be too sensitive to apply my usual skincare products. And 3 applications under each eye is sufficient, definitely NOT 6!! Within a couple of months, wrinkles are completely gone! Not sure how this would work on older skin, but this is a definite first step in taking control of the aging process. No needles, no fillers, no poison, no huge expense. Give this a try! I can't say it enough. Looking at pictures taken just last year, I can't believe what a difference. I use it now once a week to keep up the results. This is the best weapon in my beauty arsenal!!
08-12-13
made lines more visible due to discoloration
I gave it the full test period but initially it made the skin below my eyes very red and puffy. Then my very small crow's feet grew more and more visible because the machine gave me an increasingly wind-burned appearance every day that I used it. Finally, when I looked liked I'd spent a month wearing very large goggles as I raced downhill in high wind and cold, I gave up and returned it. Took about two weeks for the wind-burned effect to fully dissipate and had no positive effect on the wrinkles.
07-13-13