PMD Personal Microderm Device & 25 Replacement Discs
In Stock
Sold Out
We're sorry. This item is not available at this time.
Pre Order Possible .
Low Stock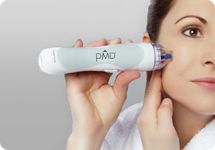 Uncover More Youthful-Looking Skin with PMD
Description
What is it? PMD is an at-home, handheld microdermabrasion device for the face and body that uses aluminum oxide crystals and a vacuum suction to help exfoliate and remove superficial layers of dull, dead skin to uncover younger-looking skin.
Who is it for? PMD is for all skin types and anyone who want to have softer, smoother, more vibrant, younger-looking skin.
Why is it different? By helping to remove the superficial layer of dead skin, PMD allows the full absorption of serums, lotions, and other products. PMD will help to soften the look of fine expression lines typically seen on the forehead and around the mouth, gradually diminish the look of uneven skin, and reduce the appearance of pores.
How do I use it: Be sure to follow the included instructional DVD and manual before use. Please read the do's and dont's prior to using this device.
On your first treatment, use the training disc on your neck, below the ear, to test how your skin will react to treatments from the Personal Microderm. This step does not need to be performed beyond the first treatment.
Skin must be completely clean and dry. With the fingers on your free hand, pull skin taut and then glide the PMD across the skin. Keep the disc moving over your skin; do not hover in one place. Make a pass on one row and then go to the next row. Use the small disc for the face and the large disc and cap for the body. Wait six to seven days between treatments.
For best results, replace the discs every two to four treatments, since the aluminum oxide crystals that provide the exfoliation for your skin will wear off. The length of each treatment will determine how long each disc will maintain its grit.
From PMD Personal Microderm.
Includes:
Handheld device
Eight green discs (medium)
Ten blue discs (sensitive)
Six red discs (coarse)
White training disc (ultra sensitive)
AC adapter
Facial cap
Body cap
Reusable filter
Instructional DVD and pamphlet
Plastic construction
UL listed; 180-day Limited Manufacturer's Warranty
Measures approximately 7"L x 1-1/2"W
Made in China/Vietnam
Reviews & Community QA
PMD Personal Microderm Device & 25 Replacement Discs
93
93
Too strong for me.
I followed the instructions, but I still managed to tear up my face, I am a senior person with thin skin. I think it would be a great product if my skin was younger.
11-21-13
I like it
I was incredibly skeptical about this product, but found that I like it. There was a learning curve. Had some scratches on my face (mild) the first few times I used it. Use once a week only and don't over do it. Anything that helps improve the texture and appearance of aging skin is welcome. I like that this it not yet one more chemical product. It is expensive and there is a cost to continue using over time as you have to replace the discs. I hope the device itself holds up over time. I am glad I got it. No one more surprised by that than me! Would not recommend as a gift. This is a pretty personal decision about skin care and would not be right for everyone.
11-19-13
Christmas gift for Daughter.
She saw video and TV program and was thrilled with reviews. Living in Florida she saw this as a Perfect Christmas Gift. I am sure she will be thrilled And write to you her Own personal review. Thanks for the gift idea. Wish it could be used or arms also but never the less, a great item,
11-19-13
good value
I bought this back in September on a TSV I believe with easy pay and use it Sundays nights as part of my weekly beauty routine. At first I thought it didn't work for me as I saw no "white dust" on my face. Turns out I needed to switch to the blue tips as my face is not sensitive. I started to see a little dead skin but even without seeing it, using the product leaves my skin feeling soft and smooth. I have mature skin with some acne scars and I love the way my skin feels after using it. It's actually become a family device, my daughter uses it when she comes home from College on the weekend and my son uses it to get better skin. For $120 which is what I paid a while ago this is a good deal for a family device.
11-18-13
Amazing
This product does exactly what it is suppose to. It smooths the skin and removes all the dry/dead skin.
11-18-13
really nice
I used this for the first time and I am very pleased. Can't wait to see what kind of results I have over a period of a month. I will definitely use this every week.
11-17-13
Soooo Nice!
I've been using this device for 2 months and The only down side is that my face is so soft I CAN'T STOP TOUCHING IT! It feels like satin! Sun spots are fading and my 66-year-old skin has a healthy youthful glow. I've used it exactly according to directions gradually working my way up to the green tip.
11-14-13
This Machine is Awesome!
I have used this device 4 times and love love love it. The horizontal lines on my forehead are softening. The vertical line between my eyebrows is easily 50% improved. The acne scars around my nose and on my forehead are literally disappearing!! I just recently ordered PTR's kit and look forward to the combined results. I will always use this device. I couldn't be more happy with the results so far and know it will only get better going forward. I highly recommend this product. It takes a little trial and error but once you get the hang of it, it just seems like the easiest, most effective way to improve your skins texture. I use Purity/Microderm products daily and recommend those as well.
11-13-13
at last!
I'm 68 years old, and have suffered with severe cystic acne for many of those years. I've always wanted dermabrasion but never could afford it for my acne scars. Back in my day, the dermatologist actually cut the cysts with a scalpel to drain them which left horrible scars. This device is the answer to many years of prayers. My scars are less noticeable after only a few uses. It is truly a godsend for me. Thanks so much for carrying this device, Q!
11-13-13
Love it
I just love my pmd I use it once a week it's perfect. I also have the stim light and use it everyday. I have noticed a great look and feel of my face.
11-10-13
It is on its way back as we speak
Its been over 2 weeks since I used it and I still have marks on my face. I used it as instructed, but my skin apparently is too sensitive for this... it looked as if I was punched in the face, my skin was so red and inflammed and I'm darker complexed. I've been putting coco butter on my face to soften and get rid of the marks I have on my face now... I would have been better off not purchasing this. Good luck to the rest of you.
11-08-13
Amazed by results so far
I received my PMD three weeks ago and was so scared to use the device after reading all of the reviews. I started out with the white disk and then moved to the blue disk noticing there was not much of a difference with the white. I was amazed to see the white dead skin. I clean my face daily with philosphy purity and philosphy microdelivery exfoliating wash. I also use daily the philosphy when hope is not enough and once a week I use the philosphy microdelivery brightening peel pads. I am blonde, fair skin and burn easily. I would say that my skin is sensitive because I have to be careful what I put on my face considering I have been burned from the chemicals in some of the products. I have dealt with adult acne since I was 32 and for 10 years now I have squeezed and pulled and picked at the acne and in return I have caused scars. After using the PMD, I have notice a big difference in the scar appearance. DONT be afraid of the machine. Just watch the video on QVC and the video that comes with the machine. Also make sure you pull skin tightly and dont push down to hard on your face. I just hope that QVC continues to carry the products needed for the machine.
11-08-13