Vionic w/ Orthaheel Yolonda Orthotic Thong Sandals
In Stock
Sold Out
We're sorry. This item is not available at this time.
Pre Order Possible .
Low Stock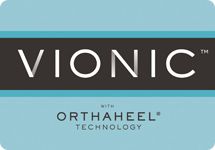 Discover the difference that makes Orthaheel orthotic shoes uniquely supportive.
Description
Put your feet first. These supportive and too-cute Orthaheel sandals create all-day comfort and plenty enough style for a night on the town!
The patented built-in orthotic support helps provide pain relief from the ground up. A unique four-degree arch support is specially designed to allow your feet, ankles, and legs to dynamically function together as they were intended--which facilitates natural movement and helps to alleviate the pain caused by unsupportive shoes. The result is less pressure on your lower back, along with better knee function and hip alignment and reduced heel pain.
With a feminine and flattering style, these thong sandals don't just support your feet--they support your favorite summer outfits. You can match them with everything from casual shorts to breezy maxidresses to seasonal work ensembles. With a bold metallic ring detail on top, a great selection of colors, and an adjustable strap--these sandals assure that your feet look as good as they feel.
With Orthaheel, you no longer have to choose between fashion and comfort. You can have it all!
From Orthaheel.
It may take some time to get used to the built-in orthotic. It's best to wear this Orthaheel sandal for only a few hours at a time for the first few days to allow your body and arches to adapt to the orthotic technology.
Style: Yolanda
Adjustable strap with metallic ring detail and buckle detail
Approximately 1-1/4"H heel
Fit: true to size
Black, Chrome: silvertone hardware
Chocolate, Navy, Gold, Yellow: goldtone hardware
Built-in orthotic with four-degree arch support
Podiatrist-designed orthotic footbed helps stabilize, support, and realign feet back to their natural position
Helps to relieve common causes of heel pain and knee pain, related to over-pronation and flat feet
An ideal complementary option for orthotic or arch support wearers, particularly on hard, flat floors
Textured outsole for traction and durability
Recommended by Dr. Andrew Weil
Medium whole sizes 5 thru 11
Whole sizes order your true size; half sizes size down half a size for the best fit
All man-made materials
Made in China
Reviews & Community QA
Orthaheel Yolanda Orthotic Metal Ring Adj. Thong Sandals
1175
1175
THE BEST SANDALS EVER
When are you going to get these sandals back in stock? I have a black pair and wear them all the time. I have a lot of foot problems. I am dealing with gout in the big toe and these are the only shoes that I can get on and not be in pain. Please bring them back soon. I need a couple more pair in different colors. And a size 7.
04-22-14
so comfortable..need more
I love these shoes. I have ordered two pairs so far and am waiting for more to come back in to stock. I have had two knee replacements and still have problems, but these shoes are so comfortable to walk in. They really have made a change in being able to go more. Love them so much and love being able to adjust them over my high instep. Please bring back more soon!!!!!! Sizing true to size.
04-16-14
Please Bring Back!
I've been looking for these sandals for a few months now, and I'm wondering when you're ever going to get more in stock! I have a brown pair that I bought last summer, and I wore them almost every day because they were so comfortable! I could walk for miles in those! I would love to have them in a couple more colors. I also bought a patent leather pair of thong sandals in this brand that had a little bow at the toe, and they were so miserable that I never did wear them. The piece between the toe wasn't long enough, and I think would have drawn blood if I'd worn them outside for very long. I would like to buy more of something that I know is wonderful -- please get these back!!!
04-16-14
More please!!!
These are my favorite sandals! My daughter and I have numerous pairs of these. They have not been available here for awhile now so I found them at an orthotic store here in town for more and in less color choices. Please, please bring these back!
04-13-14
Hurt my foot
This could entirely be me but I had trouble with the comfort of the sandal. It was a cute style and love the idea that it is for comfort but just didn't suit my foot type.
04-12-14
Love them!
Have maybe a dozen pair of Orthaheel sandals and shoes and love these too. They are very comfy. Wish the top strap was a little longer - would come up a little further on my foot, but that's no biggie. Can walk forever in these cute sandals!
04-07-14
HURTS
HURTS MY TOES AND I COULDNT TAKE IT NO MORE. SO AFTER THE REDNESS TOOK PLACE AND SORENESS BACK THEY WENT. BUT I ORDER TSV AND THREE MORE PAIR OF SLIDES. I HAVE THE SLIPPERS AND LOVE THEM. SO IM IN LOOOOVE WITH ORTHOS.
04-07-14
Had these
I ordered these and they did not work-I kept them hoping it would get better but "no". Kept too long to return. My foot seemed to slip all over the place-I think they were too wide for me bu I do not wear a narrow.
04-03-14
Such a Classic Style... LOVE :-)
I've several pairs... I love, pretty much.. EVERY PAIR! I am waiting for Navy !!! Cannot Wait !!! I just hope I get a pair.. This style fits 'me' well. 。。。 :-)
03-31-14
Please do not discontinue these great sandals!
These were my first orthaheel sandals and still my favorites. I want them in every color; unfortunately it looks like they are being sold off and no new stock coming. Please keep manufacturing them! Comfortable and very flattering to the foot. Just love them.
03-30-14
YES YES YES MORE COLORS PLEASE!!!!!
Do not retire these sandals, they are cuteee, I have them in black, brown, blue, grey. It is essential that you make these in other summer colors as I live in Miami and we are into tropical colors. I live in these all year round and will probably need to order more. Bring back ALL sizes puleeezzee.
03-24-14
Best Sandals!
These are by far my favorite Orthaheel sandals. I love them! They are sooo comfortable and look very stylish. I have the black and the gold and have been waiting for months for them to come back in stock so that I can get more colors but that hasn't happened. I really hope they don't stop selling this style because it is awesome. PLEASE, BRING MORE BACK IN STOCK!!!!!!
03-23-14