Oreck XL American Heritage Upright Vacuum
In Stock
Sold Out
We're sorry. This item is not available at this time.
Pre Order Possible .
Low Stock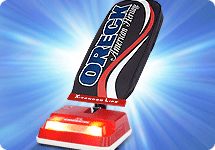 Learn more about the lightweight ease and impressive suction power of the Oreck XL American Heritage upright vacuum.
Description
Legendary cleaning power. The Oreck XL American Heritage upright is a lightweight, powerful vacuum that helps make quick work of your household duties. Easy, fast, and effective, it features a built-in hypoallergenic filtration system that helps eliminate dirt and debris, plus trap dust and allergens, giving area rugs and carpets a deep-down clean.
Lightweight champ. Maneuver up the stairs and from room to room with ease. Weighing in at only eight pounds, this upright doesn't require much strength to push and pull when turned on. Even the handle helps make cleaning a breeze. It's ergonomically shaped, allowing you to push the vacuum with the palm of the hand and pull it with four fingers. Because you don't have to grip it, it may produce less stress on your hand than a conventional upright vacuum.
Furniture-friendly design. Clean around tables, sofas, and more thanks to the low profile and soft top and sides. The arm rotates a full 90 degrees--perfect for getting underneath furniture. And edge-cleaning brushes make vacuuming baseboards a cinch. The front headlights illuminate your cleaning path, making it easy to find hidden messes.
Convenience you can count on. Unlike bagless vacuums, the Saniseal inner bag locks dirt inside. Changing bags is effortless: just remove the old bag from the dock and snap a new one into place--no more trying to empty a canister of dust and dirt into your trash can. The long cord, which is attached to the top of the handle, minimizes bending and allows you to vacuum large areas without changing electrical outlets. To release the cord, simply rotate the top cord storage clip.
Cleaning doesn't have to be a chore. Take the work out of housework and experience the difference an Oreck can make in your home. From Oreck.
This upright comes with two annual tune-ups to be performed at any Oreck Home Clean Center or authorized Oreck Service Center.
Celoc hypoallergenic filtration
Durable outer bag
Saniseal inner bag keeps dirt trapped in the bag for quick and clean bag change and disposal
Incandescent front headlights
Ergonomic helping hand handle with fingertip-controlled on/off switch
Built-in edge cleaning brushes
Arthritis Foundation Ease-of-Use Commendation
Measurements: Vacuum 48"H x 12-1/2"L x 9"W; Cord 30'L; weighs 8 lbs
ETL listed; 3-year Limited Manufacturer's Warranty; two annual tune-ups
Reviews & Community QA
Rated

4.1

out of

5

 by

256

reviewers.
Rated

1

out of

5
 by
cali girl 951
Bag comes loose!!!
Very dissapointed wanted to love it since its made in USA. I'm trying to support that but the mechanism that the bag attaches to broke very soon, the bag comes off & dust every where not very good quality for the price. I don't think I will be buying any thing else from this brand ever!!!!.... :(
09-06-12
Rated

3

out of

5
 by
wenmag
Disappointed
Bought this vac a year ago..used it twice maybe three times It is not working will not pick up anything Thank god I do have an old vac I can use Need to get to the Oreck repair and have it looked at but very disappointed that I have to make that trip
10-18-11
Rated

3

out of

5
 by
Everyones Grammy
Service not convenient
I bought the Oreck XL Classic some years ago. Liked that it is light weight and did a good job. I even took it with me when I volunteered to clean our church. Everyone was so impressed with it that our pastor invested in three comercial Orecks for us. NOw when it came time to get the tune ups we discovered that the nearest service center is an hour away and the service man was reluctant to do the tune up in one day. So two hours to deliver, two hours to retrieve and lots of gas for the trips. Not to mention no vacuum for two weeks. Will I replace these machines with new Orecks? No way.
09-06-11
Rated

5

out of

5
 by
queenmomma
LOVE IT
I grew up with my mom and grandma having Oreck and new they were good vacuums, so finally after waiting for years to get one I picked this one up and its great. I have had it for a year and half and so far no issues at all. Easy to change the bags and I like that the bag is big and holds alot and it also seals when you take it out so nothing comes out of the bag. I have the red and its very pretty. I also like that its light weight because I have stairs and vacuum those and carry it up and down the stairs. Bonus is the long cord. I can do 90% of my house without having to unplug it, so that is huge!
09-04-11
Rated

4

out of

5
 by
Yo Momma
Love It
I purchased my Oreck about 6 months ago, I love it. It is so lightweight and really has good suction. I was reading the reviews and I haven't had any trouble with the bag falling off. I wish I could purchase attachments...I'm planning on getting a Dyson with the attachments. I really love the weight of the Oreck, I can get through the entire house in a short time and feel like the carpet was cleaned!
09-03-11
Rated

2

out of

5
 by
cmpgjp
bag does not stay attached
I have had this vacuum for over a year. I bought it when it was a TSV. I have to check it EVERY single time I use it to make sure the vacuum bag is attached on the inside, and 90% of the time it is not. It seems to be a design flaw. When it is attached, it does a pretty good job picking up dirt. A vacuum that costs that much shouldn't be such a hassle to use.
08-14-11
Rated

1

out of

5
 by
21shopperQVC
bags falls off, dust everywear
The bag falls off handle when vacumming which allows all the dirt that was vaccumed up to fly out and into your face. My vacuum always glided to one side while vacuumin, it never went in a straight line which is also hard on the wrist from trying to keep it going straight.
08-01-11
Rated

5

out of

5
 by
Famman
Another Great Buy
This vacuum made it so fun to clean my carpet in the apartment. It is vesy easy to move, still powerful enough to do a great job! For people with allergies I would highly recommend this vacuum. Immediately after vacuuming with my older vacuum i would react, but with this vacuum it did not bother me one bit. I could tell a big difference as soon as I turned it on and started cleaning the rooms. I was so excited I vacuumed the whole apartment!!! Great product, good job Oreck!
07-19-11
Rated

4

out of

5
 by
terripete
GREAT VACUMM FOR PRICE
LOVE THE WAY IT PICKS UP, BUT WORRIED AT HOW MUCH THE REPLACEMENT BAGS WILL BE AND WHERE I WILL BE ABLE TO BUY THEM AND WITH WHAT EASE
07-13-11
Rated

3

out of

5
 by
ked
Not great
does not pick up all the dog hair from the rug. An old, cheap vacuum run after the Oreck picked up a lot of hair left behind. Also no wand/attachments is a problem because the height of the vacuum part doesn't go under my cabinets or under furniture. It is light weight and I did like how high the handle is- I am 5'9" tall but for the money I prefer something that has attachments to use under furniture etc. I can't see buying a smaller, hand vac to have on hand to use where this one won't go. I had to send it back.
07-08-11
Rated

5

out of

5
 by
lucigirl
MADE IN THE USA!!!
We recently purchased this Oreck in red....I think it was the TSV. We were so surprised how lightweight it was on arrival. So far, is appears to be one of the better vacuums we've ever owned. It really does the job and is so easy to use. If you're on the fence, don't hesitate....you will be pleasantly surprised!!! This may become your favorite vacuum! : )
07-04-11
Rated

1

out of

5
 by
meandmyboys
So sad!!
Ok, so I have this vacuum for just over a year, the first time I turned it on WOW! the power was awesome. But the the bag keeps falling off. I am a single mom and money if hard to come by. I bought this vacuum thinking I was making a good investment and that I wouldn't need a new vacuum for many years. Sadly enough I just have not been happy with it. I am going this weekend to get something else, because I can keep fixing the bag everytime I turn on my vacuum..I am not accomplishing anything!! So to some maybe its been great, but to me its money I wish I hadn't spent!!
06-28-11