NuFace Microcurrent Facial Toning System
In Stock
Sold Out
We're sorry. This item is not available at this time.
Pre Order Possible .
Low Stock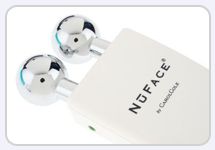 Description
What is it: A microcurrent system that will tone your face in as little as five minutes a day. Using either the Optimizing Mist or the Derma Gel, simply glide the device--which emits a low-level electrical microcurrent impulse--along the contours of your face daily to see results. The Optimizing Mist--a facial toner and body mist--promotes firming and hydrating while soothing the skin with moisture. The Derma Gel is formulated specifically for microcurrent treatments to deliver optimal results. Both products are non-staining, non-allergenic, odorless, water soluble, and safe for ultra-sensitive skin.
Who is it for: Anyone who is looking for a more toned facial appearance as well as a toned forehead, cheek, and chin area.
Why is it different: Regular use of the NuFace system will continue to provide facial tone, while maintaining a more vibrant appearance. The battery-operated device delivers a low-level electrical microcurrent impulse to strategic locations on the face to improve facial tone to a more youthful balance. The muscles of the face are also instantly toned.
How do I use it: First, apply the conductivity gel or mist on the facial area to be toned. Then use firm, long strokes in an upward motion. Each stroke should be five seconds long, and you should repeat each area three times. For maximum benefit, use at least five minutes a day, or more.
From NuFace.
Includes:
NuFace device
8.45 fl oz tube of derma-gel conductivity gel
8 fl oz optimizing mist in pump bottle
Instructional DVD
9-volt battery
Plastic/metal construction
Measures 7"L x 2-1/2"W x 1-1/4"D
1-year Limited Manufacturer's Warranty
Made in USA
Reviews & Community QA
A87589 - NuFace Microcurrent Facial Toning System
237
237
Did not work for me
I've read other reviews and am glad to hear it's working for some. However, I used it faithfully and according to the directions for almost 2 months with absolutely no results whatsoever. It is a big hassle to use. First you have to wash your face, then you have to apply the conductive gel, use the device, then clean your face all over again. That being said, I would be glad to perform this routine every day for the rest of my life if I actually saw some results. But since I saw none, I returned this expensive useless item. Good luck if you want to try it.
12-31-11
50/50 after 2 years
After 2 years of using this I'm still not sure if it's working. I also use other anti aging devices like PaloVia and LightStim and I don't know if any of them work. Once you start aging there is no real barometer as to whether they work or not, I think a lot of it is wishful thinking. I once read an article that said a full 80% of women believe they look younger than they...we see what we want to see. The way I see it is that it can't hurt so I use them. I have recently opted to try the in office Skin Tyte laser and Exlis lasers but back them up with these other products. Good Luck Ladies...we can't escape our genes.
12-07-11
Stick with it
I don't use this daily as I should. When I do, the results speak for themselves.
10-28-11
suckered in
i ordered this toning device one month before my daughters wedding. i wasnt a true believer but i thought i would give it a try, plus i had 90 day money back guarantee. I lost 25 lbs. and i could see the lines on my face were more noticeable. This small battery operated machine actually works. Well i received so many compliments at my daughters wedding on how great i looked, i especially liked the ones that said i looked too young to be the mother of the bride. I have fallen in love with my nu face system, however, i am now disappointed with nu face and qvc as i cannot order any of the conductivity gel or mist that is needed for this machine. I still have 30 days remaining on my money back gaurantee so i might be sending this back unless qvc provides the gel and mist. how sad. i can't believe qvc would do this. its not even on back order which i could understand. I have been a member of qvc for at least 10 years and this is my first review, so you can understand how upset i am.
09-29-11
Wow
I just received this today and, while I already had high hopes for it, the initial results actually astounded me! I'm almost 37 and within the past couple of years I've noticed my face losing tone and sagging a bit - I especially noticed this on my forehead where I've developed a fairly prominent horizontal line. After using this earlier today, my whole face and especially my forehead was visibly lifted greatly decreasing the appearance of that horizontal line! I also saw improvement/firmness in my jawline, cheekbones and upper eyelids. Hours later, the results are still there. I cannot wait to use this again tomorrow to start working on those cumulative results :) I would definitely recommend this product to others - there's only so much great skincare lotions and potions can do and this is a great addition to our beauty routines!
08-09-11
results on at least triple the time recommended
I started using Nuface 6 months ago, at the age of 37 1/2. This is one of my favorite beauty tools that I absolutely love so I'm sorry I can't rate it 5 stars. The reason for that is because I personally have to spend much longer than the 5 minutes recommended by the manufacturer in order to see any results I can attribute to Nuface. Also, the battery compartment design is poorly made. The battery constantly slides around, turning the machine and on off while it is in use. I have to stuff tissue paper in there to correct that problem, and each battery only lasts me around five days. Nuface is a really good concept, but it would be so much better if some improvements were made. I still recommend it because the results are great as long as you are able to invest a lot of your time to it.
07-21-11
I have to get a new passport
Unbelievable...I recently went to Canada and thought I wouldn't make it back into the USA. The agent told me I looked nothing like my photo and asked for another form of ID, my driver's license...again I saw that doubtful look and almost panicked. Luckily I got back in, but the agent said I looked much better and younger in person. My Passport is was issued in 2003 and expires in 2013, however, I am going out of the country in November and will definately get a new ID. I use NuFace, Lightstim and the Clarisonic mostly every day. THANK YOU QVC for these great products. I am 59 and look 40ish.
06-08-11
Not Good
I used this machine for three weeks and did see improvement, however I had to replace the batteries three times. I was using the best batteries and called NuFace. They did not seem to think this was a problem? If this was a plug in I would have kept it but having it go dead during each week of treatment is NOT GOOD. I think this has been a problem for several people on Q.VC after reading the reviews. Sent it back.
05-29-11
Purchased this twice-it stopped working twice!
Although it may be effective, my 1st NuFace stopped working after 2 years. I purchased a 2nd one, not from QVC, and the switch to turn it on no longer works. I've only had it 15 months so the warranty has expired. It is a very expensive product and shouldn't have these many flaws. I am hoping Clarisonic comes up with an alternative. No more NuFace for me.
05-02-11
not worth the price
Just didn't work for me.Alittle costly for an item that just doesn't do what it say it will do.Had to go back.
04-17-11
Love It!
I love this product. It definitely works on the forehead and the jowl area. It makes my skin firmer and tighter and makes my forehead wrinkles much less noticeable. I only use it once a week for about 10-15 minutes on each area. The results do not last for more than a week or so, so I can always tell when it is time to use it again, but I am very happy with this product.
04-15-11
Be Patient- it Works
I am coming up on my 30 days since receiving my product and I am already seeing a major difference in the toning of my facial muscles. Another reviewer did a great job of explaining how it works- but one thing I can add is that if you don't believe this can work this technology has been used for 20 plus years in physical therapy. There is a product that my therapist gave me 20 years ago to stimulate and exercise my leg muscles when I was bedridden. Same technology- electrical impulses to stimulate the muscles so they would not atrophy. The biggest improvement I see is my marionette lines- they are just about gone. My brows are higher, causing my eyes to be more open. My face just looks more youthful and firmer. Take a chance. Be sure to take a picture before you start.
04-02-11