NuFACE Trinity At-Home Microcurrent Facial Toning Device
or 2 Easy Pays of $147.50
+ S&H and tax
In Stock
Sold Out
We're sorry. This item is not available at this time.
Pre Order Possible .
Low Stock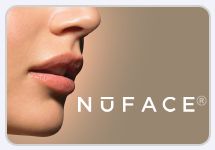 The 5-Minute Facial Lift
Learn more about the revolutionary NuFACE Trinity device.
Description
What is it: The NuFACE Trinity is a revolutionary, FDA-cleared, multi-solution skin care device designed with interchangeable treatment attachments. The Trinity Facial Trainer Kit also includes a microcurrent attachment that gently and effectively stimulates the larger surface areas of the face to help improve your appearance. (Additional attachments sold separately.)
The Trinity Facial Trainer is clinically proven for improved facial contour and skin tone. Known as the Five-Minute Facial Lift, the Trinity Facial Trainer is like having your very own personal trainer for your face!
In a clinical study, after 60 days of use, 85% of users experienced improvements in facial contour, and 73% of users experienced improvements in skin tone.
Who is it for: The NuFACE Trinity Facial Trainer Kit is for anyone looking for a cutting-edge solution to help improve facial contour and skin tone around the forehead, eyebrows, cheeks, jawline, and jowls.
Why is it different: NuFACE Trinity is a handheld, FDA-cleared, multi-solution device. This kit offers both clinically proven microcurrent technology and the interchangeable attachment capability for multiple antiaging benefits with one device.
How do I use it: To prep, cleanse the face and apply the NuFACE Gel Primer to the area or areas being treated. Then, simply glide the Trinity Facial Trainer over the natural contours of the face for an instant visible lift. To finish, remove the NuFACE Gel Primer and apply your favorite skin care products.
Treatment time: Use the NuFACE Trinity Facial Trainer five minutes per day. Once you reach your desired results, reduce frequency to two to three days a week.
From NuFACE.
Includes:
NuFACE Trinity device
Microcurrent attachment
5-fl oz Gel Primer
Charging cradle
External power adapter
User manual
Package insert
UL listed adapter; 1-year Limited Manufacturer's Warranty
Reviews & Community QA
NuFACE Trinity At-Home Microcurrent Facial Toning Device
is rated out of
5
by
399
.
Rated

1

out of

5
by
Cinnamon22
from
No Results
Used NuFACE for 3 months and got no results. I also experienced some skin irritation from the gel. Tried the 24K gel but got the same results - irritation and no improvement in firmness.
Date published: 2017-10-03
Rated

5

out of

5
by
Anonymous
from
Love, Love, Love Nuface!
I began using Nuface last year and love it. I am 75 and have seen a big difference in the arch of my eyebrows and the eyes lifted as well as the cheeks. Many have asked if I had a mini face lift and I owe it all to Nuface. I bought one for my best friend who is 67 and she loves her Nuface too. It is easy to use, relaxing and gets results. What more can one ask for?
Date published: 2017-09-28
Rated

5

out of

5
by
izzybel
from
Argan Oil and Nuface
Nuface really works if you use it as recommended. Yay! The one thing I always hated was the stuff in the tube that I had to use on my face. (sorry QVC) It would usually get sticky if I left it on for long sessions. The good news is, I tried Argan oil (by Josie Maran).instead of the stuff in the tube I generously apply to the area I want to improve using my Nuface. The key word being generous. Granted it does sting a little but not enough to bother me. I usually turned my Nuface on the highest setting, but when using the Argan oil, I turn it down a notch. After I'm done with my Nuface session, I transfer some of the Argan oil to my elbows, arms etc and massage the remainder into to my face and neck. A great lift and skin care all in one! This may not work for everyone but just wanted to share it. ~Shari
Date published: 2017-09-13
Rated

4

out of

5
by
movinon
from
What is Happening With the GEL?
I purchased this item & have been using it for approx. 5yrs? At least 4. A week ago I used it & was horrified the next day when I looked in the mirror. I had a nasty red mark under my right eye & swelling; also near left eye & nostril and lips & chin. Worse around my neck & colar bone.. I have stopped everything I could think of to see what the problem was--it couldn't be my beloved NuFace. I stopped using WEN, could that be it? Regular shampoo was a disaster, lost a lot of hair but no change. (Never again will I shampoo--it'sd been years! Was it P.T. Roth's pads used before the NuFace? Stopped that..Stopped all my Dr. Denese except for the Hydroshield Serum. Finally spent a week with Zinc Oxide only on face & neck & 7 days later it's better, but not totally gone even my lips had bumps. So wanting to know if it was something I ate, I stopped eating anything suspicious! Today I decided to get online to read reviews old & new AND IT'S THE GEL apparently!!!!! Someone was using Maran's argon oil instead. I might try that. But there were several that had the same thing happen to them even tho they had been using the device for yrs. THIS IS NUTS! I have a new tube that has not been opened but I am afraid to use it! Will do a patch test & see what happens. NuFace has worked wonders on my skin. Would give it a 5* but not if I'm going to look like a BURN VICTIM! I would appreciate any feedback on this situation. Still healing so will have to give my face another week.Thank God I don't have to go anywhere!!!!!
Date published: 2017-06-01
Rated

5

out of

5
by
Valleygirl63088
from
Love My Nu Face
It has been a week and I love seeing my skin after a treatment. There is definitely a glow! I feel a slight tingle but no pain.
Date published: 2017-05-06
Rated

5

out of

5
by
gronewbie
from
Hello Me
I have been using this device - I purchased as a TSV and it came with the L attachment - since the end of last year. I have noticed an extreme difference in areas I focus on - the jawline, eye areas and lips. Also my entire face seems fuller and firmer. After using this for about 2 months I looked in the mirror and noticed my eyelids and how much more lifted they were. That's when I thought, 'there I am, hello me.' Many people complain about the charger, I called NuFace directly and they told me to leave the unit plugged in all the time and the device sitting in it. She told me it is a 'green' charger in that it does not waste electric when the device is fully charged. I have not had one problem with mine, I love it!
Date published: 2017-02-19
Rated

5

out of

5
by
algin
from
Works for me
I purchased this and used it faithfully for about a month. Though there were improvements in my face, they were subtle. Then the holidays came, and I got busy and also got some virus or other, so stopped using. A few days ago, when doing my morning face routine, I had an uh oh moment. I remembered why I bought the device in the first place. I noticed eye bags under my eye bags, and deeper lines between my brows. I've started using again and have already noticed an improvement...also, my cheeks are slightly fuller...even though I've only been back to using the device for a few days. I don't expect this device to be a miracle worker and take 10 or 15 years off my face. I'm 74, and collagen is in short supply. What I expect and what it does is improve the look of my skin and put a "stop/hold" on new wrinkles. At my age, I don't want to waste money on expensive treatments or surgery. When ever I'm tempted to consider these options, I think about how lucky I am to have gone through life with a normal appearance. So many people aren't so lucky in that they are born with or develop some kind of physical disfigurement. Nobody stares at me because I look old. There is nothing wrong with wanting to look your best. I just try to keep things in perspective with gratitude for my good fortune in looking "ordinary".
Date published: 2017-02-01
Rated

1

out of

5
by
Wendy130
from
Simply Doesn't Work...
I have never returned a product from QVC because I simply didn't like it....this was my first. I used as directed and saw NO change. I even took a before picture to compare. I'm in my late 40s so it's not like I have very loose skin or have a lot of wrinkles so I thought I'd see some positive result. For this amount of money I really expected more. I had to make my first return back to QVC.
Date published: 2016-12-29