NuFACE Trinity At-Home Facial Toner w/ Effective Lip & Eye Attachment
In Stock
Sold Out
We're sorry. This item is not available at this time.
Pre Order Possible .
Low Stock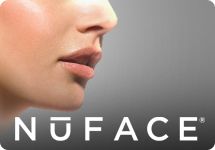 The 5-Minute Facial Lift
Learn more about the revolutionary NuFACE Trinity device.
Description
What is it: The NuFACE Trinity At-Home Facial Toner is a revolutionary, FDA-cleared device that is clinically proven to help improve facial contour and tone. Known as the 5-Minute Facial-Lift, the Trinity is like having your very own personal trainer for your face. With this kit, you get the standard microcurrent attachment, which gently and effectively stimulates skin to help improve skin's appearance--providing an instant, visible lift. You'll also receive the ELE attachment to help target hard-to-reach areas around the eyes and lips.
In a clinical study, after 60 days of use, 85% of users experienced improvements in facial contour and 73% of users experienced improvements in facial tone.
Who is it for: Anyone looking for a cutting-edge solution that helps improve facial tone and contour.
Why is it different: NuFACE Trinity combines microcurrent technology with interchangeable attachment capability for many antiaging benefits. Additionally, the ELE attachment uses treatment wands which help you to effectively target areas around the eyes, lips, and other areas of the face.
How do I use it: Cleanse the face and apply NuFACE Gel Primer to the treatment areas or areas. Simply glide the NuFACE device over the natural contours of the face for an instant visible lift. To finish, remove the NuFACE Gel Primer and apply your favorite skin care products.
Treatment Time: Use NuFACE Trinity for five minutes a day, five days a week. Once you reach your desired results, reduce frequency to two to three days a week.
From Trinity.
NuFACE Trinity At-Home Facial Toner with charging cradle
Trinity ELE attachment
5-oz gel primer
AC adapter
UL listed adapter; 1-year Limited Manufacturer's Warranty
Imported
Reviews & Community QA
NuFACE Trinity At-Home Facial Toner w/ Effective Lip & Eye Attachment
21
21
best purchase ever
I HAD HEAVY EYELIDS, I USED THE NUFACE FOR 1 1/2 MONTHS, I CAN SEE HALF OF MY EYELIDS, MY BROWS HAVE BEEN LIFTED AND MY GOWLS ARE LESS NOTICEABLE. I WOULD RECOMMEND NUFACE LIP & EYE.
04-15-14
Great Results!!!!
This really works! I had seen its presentation a few times, then at a spa that I go to they were selling it. I asked the lady at the desk if it worked and she swore by it and did a demo on me. I did see a slight difference but wasn't sure. I asked her if I decide to purchase it I would get it from her if she gets commission, she said that they don't get commission (some sales people push if it's commission based). I opted for QVC, because...easy pay.. At first I didn't see any results, then I reviewed "how to use" videos on you-tube. Made a big difference if you use it correctly and are committed at least once a day. I had what I like to call my lazy eyebrow which is not as lifted as my left side. It is more lifted now, I have been using it for 7 weeks or so. I'm 35, but let's face it I'm not 18 anymore and my face is aging. I've noticed a lift in my face which I LOVE, it is firmer and I even have noticed fewer fine lines. You HAVE to use the gel, otherwise you will get a shock. If it starts to dry out you can just wet it with water, instead of using more gel. It's recommended to use a damp clothe to remove gel, I do but follow by washing my face with a mild soap. I have sensitive skin and I was breaking out by only wiping it off. On Q when they have presented it they say you can purchase the gel-but they do not have it shown anywhere on the website. :-( I have been purchasing it from my spa....you can also use a water base serum with the product under the gel for even better results. NuFace does sell additional products/serums, but you have to purchase them elsewhere. The S beauty store sells them online. Q- please start selling the other NuFace products!
04-02-14
Truly Miraculous device!
"As of Dec 4th i've been using this device and i wouldn't give it back for anything! Today is 1/25/14 and the significant, amazingly, tightening, lifting and firming results are worth every penny and minute! After the 3rd week of using 15 mins a day, 5x a week, the compliments and accusations are pouring in literally! People from business associates, to friends and family keep asking where i went to have work done on my face!!! Everyone is telling me that i look 20 yrs younger..Unbelievable!!! I did take several close up face shots prior to using this miracle device and then again this past week..WOW!!! I can see a huge difference all over- hooded eyes are lifted & tightened, cheeks are lifted, labial folds are smoothed,chin is lifted & smoothed, jaw line is very defined once again..no more looking jowly!!! My entire face does look like i had a lift or injections. I highly recommend this device..but be sure to take photos before and after, and be diligent, patient and watch a younger you emerge!!! I haven't even got to the advanced level yet and cannot imagine the results-the better it gets, the better it DOES get! Thank you NUface for bringing this technology to the general public." Update 3/29/14- The better it gets, the better it gets! Results are AMAZING!!! The Ele attachment makes a huge difference in the eye, nasal labial fold area and the lips..i upgraded to the Nuface Trinity w/Ele attachment and the attachments allows you to get into smaller areas underneath eyes-smoothing & firming like an airbrush, 11's, barely there and unnoticeable , nasal labial fold-what are those? haha..and the lips, oh my the lips benefit greatly on top and bottom..insofar as restoring the firmness above and below the lip in skin area, thereby plumping out the lips-ive been asked recently by several people if i had lip injections done!! I thought it was just myself seeing this result, but after being asked this question by so many others, i pulled up my before & after photos and WOW what a tremendous difference..smoother,lifted skin above n below and much,much, plumper lips in just 4 weeks w/the Ele attachment! Now i cannot recommend just the trinity alone, You must get the ELE w/it! For those who do not research micro current technology before purchasing,- please do so, as micro-current technology for the face has been around for 50 yrs.! (gee,makes one wonder how many celebrities have known this secret through the decades) and there are NO side effects whatsoever, look it up or ask a dermatologist! Be sure that you have enough gel on your face and you will not get any sensations..I am at highest level for face two times a week, and 2nd level w/ Ele. Get it you won't regret it and you have nothing to lose and much to gain,especially with QVC's return policy! Oh & yes, Salons are using this very device for approximately 150. per treatment. Ladies & Gents, save all that EXTRA money & do it yourself, anywhere, anytime. All the Best to the lucky ones who get in on this miracle device.
04-01-14
Unimpressesd
Received this on TSV and was on waiting list. I've been using it for almost 6 wks now with aloe vera because the serum it came with irrated my skin. Well, I can't increase the intensity past 2 because of this electric jolts I get if I do and I've seen NO improvement on my skin tone or wrinkles for that matter. I know they want you to use it for at least 60 days, but I'm going to return it since it not only isn't working, but a discomfort when using.
03-20-14
I had my doubts!
I had seen this before and also considered some other similar type products which I looked into. I had a picture taken a while ago and was shocked how tired I looked even tough that day I thought I looked pretty good....I had makeup and hair done. It was then that I got serious, and I have always used great skin care so I knew I required more. I am 61yrs..and my hope was to find something that would help. I am glad to say this does work. It has been one month, I used it every day...EVERYDAY....I started with 5 mins. but quickly started doing 15-20min. I took another picture and I am much much brighter, my lines are much softer around my mouth, my eyes are lifted. I think that is awesome for only 4 weeks. You have to be faithful in using the product and it does not hurt, if you use the gel!!! The brightness is wonderful my skin is so much better and someone just said to me " you have such beautiful skin, what kind of skin care do you use?" It's NuFAce not my skin care, it works with and maxiumizes the skin care products....Give this a try, watch the video, and be faithful, the results happen but you have to do your part!!!
03-17-14
just did not work
I wonder if age makes a lot of difference, I was hoping it would lessen the prominence of the deep lines around the mouth, it did not. Perhaps the ability to produce collagen stops at a certain age. It did not work for me so it is being returned
03-17-14
not for me
Maybe my skin is just to old. Maybe I just expect to much for my age. Regardless I am returning this as it is not worth the time or money for me.
03-13-14
works for me !!!
After reading the issues people have had with this I would like to respond. I watched the new face video and read the booklets that came with. I used the primer and so far have had no adverse reaction but I do wash my face after using it. If you are feeling the little jolts you probably do not have enough primer. I filled a small spritzer bottle with water and use that to refresh the primer as it dries. My results are subtle so far. But I notice that my face just somehow looks younger since starting thisI haveeen using about 3 weeks so far.
03-07-14
BEWARE AND BE IMFORMED
I began to get a few broken capillaries after using for my nasal to mouth lines. Therefore,I retuned and hoping these capillaries will eventually go away. Keep a good skin care regimen like Dr. Perricone and in my opinion, you will be a lot better off. I really saw no improvement and it was too time consuming, I did not like having to use the gel, skeptical of the safety of the device and certainly, I am not happy about the broken capillaries on my face. In my opinion, a lot of hype.
03-01-14
Excited for Nothing!
I bought this as TSV looking forward to toning my face. I have used this appliance faithfully for the past 60 days with no results. I know they want you to use it for 90 days but honestly, sixty days with not ONE sign of a result anywhere doesn't make me feel that another 30 days is going to help me achieve results. I am 59 years old and maybe my skin is too old for this appliance. I have been using high quality skin care ingredients since I was 19 years old. My skin is actually in great shape with almost no wrinkling but I feel I need toning. I used this appliance every day and hit all the areas instructed for more than the three passes suggested. And YES, I did see "immediate results" that lasted less than one minute before my skin reverted back to the un-toned look. This appliance is just too expensive and time consuming for what you get and I have better things to do with my time!
03-01-14
It WORKS!
Really, that is all that needs to be said - it WORKS! I am 58 years old and while do not have major skin issues, there were (I said were) wrinkles and lack of definition that was troublesome to me - I have been faithful with the treatment - 7 days a week. Jawline is more defined; forehead smoother, smile wrinkles near eye smoother. I have noticed that the beep (indicating time to move to another area) about 1 time per treatment sounds a bit strange....but it WORKS!
03-01-14
So disappointed
Like many others, did this faithfully everyday with no results and the metal taste in my mouth. The gel dried out my skin and I see new wrinkles! I really wanted this for my drooping eyelids but no luck. Going back.
02-28-14