NuBODY by NuFACE Skin Toning Device with Carrying Case
In Stock
Sold Out
We're sorry. This item is not available at this time.
Pre Order Possible .
Low Stock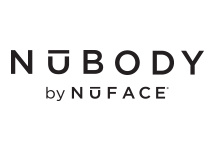 Extended-Return Item
This item comes with a 90-day return option, a special offer only available for select products that QVC specifically identifies as being eligible on QVC.com. All other terms of QVC's standard return policy apply.
Description
NuBODY is the first FDA-cleared, at-home microcurrent device designed to visibly help tone, smooth, and firm the look of skin.
NuBODY is engineered with four treatment spheres that synergistically work together to deliver a gentle flow of microcurrent to targeted body locations. This current targets uneven skin to help tone, smooth, and firm the appearance over time. Treatment areas include upper arms, thighs, buttocks, and abdomen.
In a clinical study using NuBody five minutes a day per treatment area, five days a week for 90 days:
-82% of women reported that their skin appeared firmer
-80% of women reported improvement in appearance of skin tone
-80% of women reported that their skin felt smoother
How do I use it: Use NuBODY five minutes a day per treatment area. For the first 60 days, use five times per week. After 60 days, use two to three times per week for maintenance.
Cleanse skin and apply gel primer. Glide device over body as directed. Massage in any remaining gel primer.
From NuFACE.
Includes NuBODY device with adapter, special edition carrying case, and 10-fl oz Hydrating Leave-On Gel Primer
Rechargeable lithium battery; see manufacturer documentation for information about safe use, handling, storage, charging, and disposal
Device measures 6-1/2" x 6" x 2-3/4"; weighs 12 oz
UL listed adapter; 1-year Limited Manufacturer's Warranty
Reviews & Community QA
NuBODY by NuFACE Skin Toning Device with Carrying Case
is rated out of
5
by
7
.
Rated

2

out of

5
by
ashagabby
from
JUST OK
I own the NuFACE facial device and am very pleased with it, however, the Skin Toning Device for body not so much. It's time consuming - 5 minutes each area and you need a generous amount of the gel which costs $45.00 to replenish. I did not see any significant improvement in the nearly 3 months of use, therefore, I sent it back.
Date published: 2018-05-18
Rated

1

out of

5
by
Luk
from
Well....
I am 51, very fit and was just looking to tighten some lax skin. I own this companies face product and it works well for me. This machine for the body fell short. I did use it faithfully every day for 80 days. Results were a little visible right after treatment I would do in the evening but the next morning my same lax skin showed up. Absolutely no cumulative effects. Would I buy it and use it just before heading out in a swimsuit? No, just did not even see enough results to keep it for that. This is very pricey for it not to work as advertised. Had to go back.
Date published: 2018-05-18
Rated

4

out of

5
by
gemgirl53
from
Seeing results soon
I'm about to have my 65th birthday and despite the fact that I am quite active (BodyBlade daily, spinning four times/week, squats, walking ), I am starting to show some loose skin. Not much but noticeable to me in my inner thighs and lower buttocks. I've been quite diligent in using the NuBody almost daily since receiving it and i like the results thus far. My few complaints are that it is very time consuming as well as difficult to reach the back thighs and buttocks, and it causes some muscle fatigue and hand cramping with holding the device properly. I'm about to try using this device in a side lying position to reach those difficult areas. Another complaint is that the gel is very expensive and does not last more than three-four weeks. I have found that using an ultrasound gel (hospital grade which you can find online) works great with my NuFace, so when I finish my current supply of NuBody gel I'll start using it with the NuBody as well.
Date published: 2018-04-21
Rated

4

out of

5
by
Elizbeth67
from
My 30 day review
Hello! I will be 51 in August and my skin has started to age a little and thought I'd give the Nubody a try. I've been using the Nubody for a little over 30 days and this is my review. As other reviewers state, it does take a lot of time to do all of your body parts, so I decided to start with my inner and outer thighs because they need the most work. My initial process was to stand by my bathroom vanity and I felt myself getting muscle failure in each arm as I was doing all sides of my legs. After a few days, I decided to lay on my bed, grab my iPod & turn on a YouTube video and lay comfortably while I do each side of my thigh. This way was a lot easier to complete. I also would keep track of the 5 minutes with the timer on the YouTube video. To me the worst part is applying the cold gel onto my legs. I need to figure out how in the heck I can warm it before applying. I've been using the NuBody for over a month now and I have seen a noticeable difference in the texture of my inner and outer thighs. Unfortunately I did not take before photos to insert to this review. Bottom line- I am pleased and will keep this device. You have to be consistent. I think I've missed maybe three days in the last month due to scheduling. My am routine with the Nubody and NuFACE takes a little over an hour, but well worth it. Not only has the cellulite diminished on my upper thighs, but they're very very smooth, as if I am shaving them daily, which I'm not. I hope this helps if you're on the fence as to purchasing this or not. Please let me know if you have any questions.
Date published: 2018-04-06
Rated

4

out of

5
by
Toutou
from
Not Sure Yet
I purchased this unit and started doing the treatment, I find that it's a lot of time to do many parts all in one session and i get bored, also I checked the price for the gel and that stuff is pricy, is anyone found a similar gel at a lower price I would love to hear about it, that may be the breaking point for me, a lot of money for this machine and to top it a lot of money for the gel, need to use a lot of it to get the treatment done.
Date published: 2018-04-03
Rated

5

out of

5
by
goldie4040
from
Not sure yet
I have only used it a few days, but I have a few observations right now. 5 minutes per area adds up. If you do both arms and legs you are working at this for 20 minutes. If you worked out 20 minutes you could get similar results. But, since I do work out, and the skin sag is because I am getting older I am going to keep going for at least a month before I pass any hardcore judgment. I like the way it feels, but I do get bored and tired doing the procedure. I try to put something interesting on the TV and pretend I would be doing nothing else anyway, so I might as well massage myself with this device. It can tingle a bit if you gel starts to thin out too much, or dry up. I am really hoping it works. I have been reading about similar treatments given at spas and dermatologist offices, and people swear by them.
Date published: 2018-03-25
Rated

5

out of

5
by
nomountaintoohigh
from
Amazing Product
I don't typically give reviews but this is worth the time. I have been using this for about six weeks and so far I've seen great results. I am in my 50's and very active but my skin is starting to show my age. I love my mini face machine so I figured why not try for the body. I didn't have high hopes but this has really surpassed my expectations. I am using on my legs but if the results continue I am going to use all over. It's pretty amazing.
Date published: 2018-02-27