Nintendo Wii Sports Resort Bundle w/Motion Plus Controller & Accessories
In Stock
Sold Out
We're sorry. This item is not available at this time.
Pre Order Possible .
Low Stock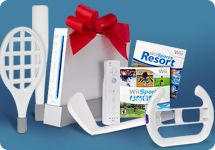 Come See About Wii
Click the links below to learn all about this interactive gaming system.
Description
Big Wii fun--low Wii price! Packed with all the gear you need to get your game on, this extensive Nintendo Wii Sports Resort bundle is an incredible value. It maximizes your gaming experience--without maximizing the price!
Let the games begin. Along with an interactive Wii console and all the necessary components like a Wii Motion Plus controller, sensor bar, and more, this action-packed bundle includes two E-rated (everyone-can-play) games to really get the gang moving--the original Wii Sports and Wii Sports Resorts. The sports kit--complete with a tennis racket, baseball bat, golf club, and more--is perfect for playing the Wii Sports game. Wii Sports Resort takes the fun and intuitive controls of the original Wii Sports to the next level, introducing a whole new set of entertaining and physically immersive activities.
And with the deep control enhancements of the Wii Motion Plus controller, you can enjoy unprecedented gaming precision. Cruise on a water scooter, duel with swords, throw a Frisbee, and more--all from the comfort of home.
Wii wish you happy holidays! This accessory-packed kit makes a great gift for the whole family. No other accessories are needed, and setup is a snap--you can get your game on right out of the box. So get off the couch and onto your feet for some friendly competition--and some exercise too! From Nintendo.
Includes:
Wii console
Wii Sports game
Wii Sports Resorts game
Sport kit with tennis racket, golf club, baseball bat, and controller holder
Wii Motion Plus controller with gel skin
Nunchuk controller
Sensor bar
Racing wheel
Game blaster
Adapter
Wii component cable for HDTV
Stand
Cooling stand
Travel bag
Games rated E
Console measures: 8-1/2"L x 6"W x 2"H
UL listed adapter; 1-year Limited Manufacturer's Warranty on console
Made in China
Reviews & Community QA
E166805 - Nintendo Wii Sports Resort Bundle w/Motion PlusController
26
26
So Good Bought Two
I bought 2 of these when they were $199 for each set. One went to my daughter for her room with her new LG tv and one went to my ex for his room for his birthday. They are both very happy to have them.
10-13-11
Love my Wii
The Wii is awesome and the games that come with it are really fun. It also came with a cooling station that works really well. The extra accessories are ok but we hardly ever use them.
02-01-11
Love it!
I originally purchased this for my son for Christmas. Turned out my son wanted Kinnect for Xbox 360. I decided to keep this for me and my husband and we have a ball with it and we're not even video game people!! It really gets you up and going, we love it.
01-19-11
my kids love this
I got this for a gift for my kids at Christmas they love it and they have a ball it keeps them busy for a long time. Thanks for the easy pay it would have been better if it came with two remotes.
01-16-11
great fun
I bought this in white it wa a TSV. I made out like a bandit. Got an extra controller in red that is no longer available. Ordered some other accessories froim bed bath and beyond and also your online store. I love the bowling game. baseball . glad I bought it when I did.
01-11-11
Perfect family item
I had been wanting to get a Wii for my family for some time but the price always was a factor. When I saw it on TSV my husband and I watched it and decided to get it as a family Christmas gift. Wow, was that one of our best decisions ever! Easy set up, and it has been played every single day! We have teenagers, and it even brings them out to play. We have already had two game nites when family came over to play. With all the games it comes with plus the extras it is a bargain! If you are on the fence about this go ahead a get it, you will be glad you did. When they said it will bring the family together they were absolutely right,
01-02-11
Santa Made Everyone Happy!
This great Wii set was under our tree for Christmas. It's a great way to get the family and friends together.This set comes with so many games that makes us wish we had more free time in the day to play! We purchased an extra controller, so get one of those with this set if you're planning to purchase. This set was really easy to set up and we're enjoying it everyday. We got the black set and it's pretty sharp looking!
12-29-10
Pricey
Not being a gaming person, this actually looks pretty boring to me. I hope I don't have to spend too much more for other games. My husband does seem to enjoy it although he has yet to get off the couch to use it.
12-27-10
Wonderful Buy
I was on the fence for months on whether to buy this and finally when it was a TSV, I decided to do it. I'm SO glad I did! It took about ten minutes to set up and another five to start playing games. LOVE IT! What a great buy (found this out when pricing them all over the net)!
12-26-10
FANTASTIC
I HAVE BEEN WANTING THIS FOR QUITED SOMETIME. FINALLY GOT IT. LOVE IT!!!! WE HAD SO MUCH FUN AND WHAT A GREAT WORKOUT EVEN JUST SHOOTING HOOPS. GREAT DEAL. THANK YOU FOR EASY PAY!!!!
12-25-10
awesome
Loooove the Wii. The games that are included are so much fun and offer a perfect variety.
12-21-10
Glad I Ordered!
I ordered this in black,blends in well with furniture piece it sits in, It is so much fun! My husband & I are really enjoying it! The grandkids will be enjoying it too!Good Value!
12-10-10