Ninja Storm 400 Watt Quad Blade Food & Drink Maker
In Stock
Sold Out
We're sorry. This item is not available at this time.
Pre Order Possible .
Low Stock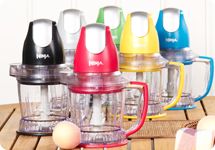 Learn More
Click the links below for more about the Ninja Storm.
Description
Big power. Little price! The Ninja Storm is a mighty kitchen must-have that performs duties of both a blender and a food processor, saving you time and counter space. You'll find it an awesome addition to your kitchen.
It tornadoes through the toughest tasks! With its revolutionary quad-blade technology, strong 400W motor, and generous 40-oz pitcher, the Storm can puree, mince, dice, chop, pulverize, and puree fruits and vegetables to perfection. For shakes, smoothies, and frozen drink concoctions all summer long, the Ninja Storm is your go-to tool. But did you know it can also grind meat, crush ice, and churn ice cream in less than 30 seconds? Its impressively uniform cutting and ice-crushing action make this multifunctional tool capable of tackling all kinds of recipe challenges quickly and easily. You'll be inspired to expand your culinary horizons!
With a variety of colors to suit your decor, this multitasking powerhouse looks right at home in your kitchen. Keep it out and show off your skills! It makes mixing things up in the kitchen easier and more fun than ever.
From Ninja.
Includes 400W motor head, blade, 40-oz pitcher, and storage lid
Quad Blade technology provides uniform cutting and ice-crushing action
Ergonomic operation with one-touch pulsing
Storage lid helps keep leftovers fresh in refrigerator or freezer
Built-in anti-spill gasket seals lid tight for no-mess use and pouring
Blade, pitcher, and lid are top-rack dishwasher-safe
Measurements: Pitcher 6-1/4"H x 6-1/4"Diam at top; 6"Diam at base; Assembled unit with motor head on top 12"H
ETL listed; 1-year Limited Manufacturer's Warranty
Made in China
Reviews & Community QA
K34305 - Ninja Storm 400 Watt Quad Blade Food & Drink Maker
258
258
Very UNHAPPY
I bought this in May 2011, for my daughter to have sno cones. Using it over the last 2 days and it had an uneventful experience. The food I put in there was not hot or cold. It was room temperature. And the brad that holds the blades on has developed a star crack in it. It doesnt seem to appear to have gone all the way through the container. But it is very disappointing, that it only last a little over a year. I really did like my ninja...
12-08-12
Still works great 2 years later
I have had this item for two years now and it still works GREAT! turns large ice cubes into snow, even after all this time. I recommend it to everyone I know. I hope they continue making this product.
07-07-12
I love it!
I originally bot this item because I thought it would be great to make slushy drinks for cocktails or just smoothies. It does everything I saw it do in the demo and have no problem with it whatsoever. It is fast, efficient and a great buy. It cleans fast, and does not take up a lot of space. I like it much more than the blender I owned that was five times the price.
07-06-12
Awesome Product!
Got this as a Christmas gift and LOVE IT! Easy to use and clean. Makes smoothies just like you get in stores. Can't wait to make homemade salsa with it!
05-08-12
replacement for my old blender
The blender I had died after a couple of years of constant use. This one looked economical and worthy. However, after using it a time I notice it does not get all of the apple pieces and often times large chunks are left behind unchopped. It may be good for making ice into snow but it really does not grind up lettuse and salads to my satisfaction. NOw I am searching for a sturdy, travel size 700 watt food processor/blender whatever. As I do prefer to have my food totally chopped. This one just does not cut it not for me anyway.
05-07-12
Great for parties
I bought this for my Son and he loves it, I also got him a smoothie cook book to help him out. This works great and is perfect for making drinks for parties.
03-21-12
FANTASTIC
I use this Ninja five days a week for my smoothie/protein shake to take along to work. I get at least four fruit groups, yogurt, wheat germ, ice,etc. in and it works great! Wouldn't want to be without this little gusto of a machine. You must make sure all is snapped together correctly for it to perform but that's for safety, Cleanup is a breeze when you run all under hot water. Enjoy!!
02-22-12
The Best!!!!!!!!!
Super happy with my Ninja , bought last year and blades still work great. I plan to buy another just in case , never want to be without my Ninja!!!
01-15-12
Love/hate relationship--and now it's dead!
I bought my Ninja Storm when it was TSV 6+ months ago. I used it every day for a variety of jobs, and I loved what it does--especially the frozen fruit yogurt that I am now addicted to. I also found it was perfect for chopping onions, shredding cheese, chopping veggies, making mashed potatoes, etc., etc. However, mine died at 6 months, and fortunately QVC is honoring the 1-year warranty that comes with it and will either replace it with a new one or credit my money back. I'm expect I will be getting the credit and am here looking for the upgraded Ninja to replace it! I found the Ninja Storm awkward to store on my countertop, because the power top doesn't stand up on its own and the other parts were always waiting to be washed because I used the thing all the time. Also, I found it difficult to get the lid really clean because of all of the nooks and crannies. And often it was difficult to get the lid seated just right so it would work. Yet I can't think of an item I've used more and loved the results. I'm hoping the six-blade more standard version will get a full 5-star rating from me. But QVC's service gets 5 stars!!!
12-02-11
Too difficult to put together
I have been very disappointed with this product. It is too difficult to put together and rubber rings and other parts fall out of it and it is difficult to know where they go. I spend too much time trying to line it up to get it to work.
11-30-11
1 star is not even a deserving rating
i bought this product after seeing it during demonstration on tv.i brought it to the philippines because we always make smoothies there.to my disappointment it did not last very long.the 2nd time i was using it,the thing just stopped working.this is the first "LEMON" that i bought from qvc.pulverizing the ice is an overstatement.it did not happen when i used it.in summary,i'm ,very disappointed and mad.money wasted i should say....
11-21-11
Loud
I would give this a 5 star rating except for 1 big reason; it starts making a very loud high-pitched noise after only a few seconds. I use it at least 5 times a week, and it makes great drinks and snow-like ice, but within 3 to 5 seconds the normal whirring noise goes into a high, screaming noise that sounds like it is going bad. So, I have to pulse everything since I"m afraid of it going bad (as in burning up).
11-15-11