Ninja Kitchen System Pulse 48oz Blender w/ Slicer&Shredder
Customer Top Rated
In Stock
Sold Out
We're sorry. This item is not available at this time.
Pre Order Possible .
Low Stock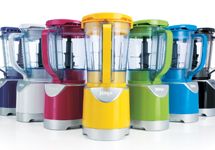 Imagine What You'll Make
Learn more about the Ninja Kitchen System Pulse.
Description
Imagine what you'll make with this versatile Ninja System Pulse. Powerfully equipped with a 700W motor and loads of accessories, it performs the duties of a blender, juicer, food processor, mixer, and more, saving you both time and counter space. You'll find it an awesome addition to your kitchen--and inspiring for your healthy lifestyle.
Put the power in the palm of your hand. Ninja Pulse Technology lets you control the consistency, evenly processing and blending ingredients every time. Making shakes, smoothies, and frozen drinks? Its six-blade, 48-oz pitcher pulverizes and purees whole fruits and vegetables and ice to perfection. And, if you just need to make single servings, the blending cups are sized right to meet your needs. For food processing tasks, turn to the 40-oz bowl. With Quad Blade Technology and the included attachment for shredding and slicing, it makes easy work of preparing salsa, chopping vegetables, shredding cheese, and more.
Feeling even more adventurous? Turn to the handy attachments for all kinds of fun. There's a cookie dough paddle for making cookie dough, scones, dessert bars, and batters, plus a dough blade for kneading pie crusts, pizza dough, bread dough--you name it. There's even a cookbook with over 150 recipes to motivate you. With a variety of colors to suit your decor, this multitasking powerhouse looks right at home in your kitchen. Keep it out and show off your skills! It makes mixing things up in the kitchen easier and more fun than ever.
From Ninja.
Includes:
700W motor base
40-oz food processing bowl with four-blade assembly and storage lid
48-oz pitcher with six-blade assembly and storage lid
Pulse lid with locking handle; fits both bowl and pitcher
Two 16-oz single-serve blending cups with two drink lids
One-blade assembly for single-serve blending cups
Cookie dough paddle for mixing cookie dough, scones, dessert bars, batters
Dough blade for kneading pie crusts, biscuits, pizza dough, bread dough
Slicer/shredder lid attachment with pusher, spindle, and reversible disc
Cookbook with over 150 recipes
Ergonomic operation with one-touch pulsing
Storage lids help keep leftovers fresh in refrigerator or freezer
Built-in anti-spill gasket seals lids tight for no-mess use
Dishwasher-safe except motor base
Compact design fits easily on most countertops
BPA-free
Measurements: Assembled unit 15"H x 5-1/2"W x 6-1/2"deep; single-serve cups 7-1/2"H x 3-1/2"Diam; ETL listed; 1-year Limited Manufacturer's Warranty
Made in China
Reviews & Community QA
K36578 - Ninja Kitchen System Pulse 48oz Blender w/ Slicer&Shredder
402
402
Great blender!
I bought this for myself when it was TSV. A month later I bought another one for my son as a housewarming gift. A few months later, I bought one each for my daughter and granddaughter. I guess you could say, I love my Ninja!
04-12-13
Fantastic Product
I have several Ninja products, all work wonderfully. I did something this evening that I'm not sure is one of the features it was design to do but worked great. We had a large chunk of left over boneless cooked pork roast. We already had done all the regular left-over-roast tricks. A solid cooked roast is very difficult to slice thinly when cold, or at all. We used the Ninja slicing blade, cut the meat into chunks that would fit into the tube. and WOW,, great super thin slices. That now can be used for BBQ , Hot Pork or, regular sandwiches. Thank You for another wonderful product that helps make food and kitchen tasks faster and easier.
03-26-13
use it everyday
hi, havent written in a bit,but this was just so superb.we use this every day in the am. for protein,fresh fruit shakes and at pm for thicker sorbet,not too mention bread and chopping.maybe you wont get this particular ninja,but i would tell anyone get one,its fabulous.and in the shipping the single cups came cracked..qvc sent new ones asap.qvc is a wonderful way to shop and their customer service,bravo
03-21-13
Great Ninja
Love it! I will be giving this one as a gift! I have one smoothie every day and lost weight too, quick clean up, It's worth every penny...NEED I SAY MORE?
03-07-13
Do the Ninja Dance!
I haven't even tried all the things this product will do and I love it! I use it everyday for what I call Power Shakes or smoothie ever since I got it a few months ago. I've never had anything that produces the same results. Since I'm not in a place at lunch that serves yellow or green vegetables daily.....now I drink them every morning to make sure I get the benefits without even knowing it. I look forward to trying the additional features! I like having all these accessories. It is fun to find some else that has one and find out what they are making. I highly recommend this product since it is something that can easily be used daily.
03-03-13
Use It All The Time
I have owned The Ninja for approximately six months. I use it nearly every day. I have made smoothies, sorbet and ice cream, bread crumbs, juices (throwing in chunks of fruits and vegetables) and it handles all these tasks with ease. I would buy it again in an instant. Soooo easy to use and clean. I especially like the single serve cups for a quick protein smoothie on the way out the door in the morning.
03-02-13
I like it!
I purchased this item when it was TSV, my husband for 1yr has been bugging me to get a Ninja unit so I thought this was a good time to try it out, I have made drinks with it, I have shredded cheese, made snow, ect, the only problem I am having is when I need to shred cooked potatoes, the attachment 's holes arent big enough, it makes them like goop, my hope was to get rid of my salad shooter since that works for what I need to do,hopefully in the future they will have a attachement for me! also the attachments are flimsy when on the unit, that was a little disappointing but I havent had any trouble with anything so far!
03-02-13
Hated It
On first use it didn't even make it through before it just shut off. I bought it for shredding put it just pulverized then quit.
03-01-13
Fun n Healthy
I purchased the fuscia because my son broke the glass to my Hamilton beach by throwing a spoon into the sink.... I had been watching NINJa on info-mercials for a while, then decided to get it because of the easy pay.. I didnt use it for a few weeks when it first came because the gadgets screw on awkwardly, but thats just how it works. I use it every day, sometimes 2 times. My sons makes healthy smoothies, and I even make baby food for my 6 month old son... Im thinking about ordering a 2 more sing le serve cups and blades to accommodate the family great great purchase...
02-28-13
I use it 3 - 5 times a day
I thought I would use this a few times a week. Turns out I use it a few times a day and that is because it cleans up so easy and it is very versatile and useful. I love it!!
02-28-13
never had such a fantastic blender!
I hesitated buying this simply because it was not a "need" but I am thrilled that I did! I have never had such an amazing blender! It is fast, easy to clean, easy to use, SHARP! and absolutely fabulous.
02-27-13
I Love My Ninja!!!
I had one of the first Ninjas and I loved it more than any other kitchen product so when this Ninja system came along I couldn't pass it up. Once it arrived I gave my oldest daughter the old system. I would highly recommend this ninja to everyone!!! The smoothies, salsa, soups, and everything else I have made has been wonderful as well as simple to do:-) :-) :-)
02-25-13