Ninja Kitchen System 1100 Watt 72 oz Blender w/ 40 oz Bowl
In Stock
Sold Out
We're sorry. This item is not available at this time.
Pre Order Possible .
Low Stock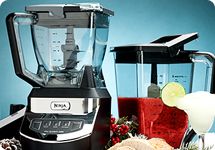 Click the links below to learn more:
Description
Your kitchen's secret weapon. Crush, blend, chop, and knead with this powerful Pro System blender and food processor from Ninja. It performs duties of both a blender and a food processor, saving you time and counter space. You'll find yourself using it again and again for some of your favorite foods and for new ideas as well!
Mix it up! Thanks to the blender's six-blade technology and 72-oz capacity, whipping up homemade soups, fruit and vegetable fusions, shakes, smoothies, and frozen drink concoctions has never been easier--or more fun. With three speeds in the electronic control panel, you can crush ice to make those smooth, refreshing snowcones your kids will love. And you can forget about holding down a button through the whole process--new hands-free controls let you set the Ninja and take care of other kitchen tasks while it's working!
Amp up your recipe repertoire! With the 40-oz food processing bowl, you can stretch your culinary skills and create a whole new at-home menu, including fresh salsas, batters, and even soft ice cream. Attach the dough hook to make delicious bread and pizza dough, pie crusts, biscuits and more--it does all the kneading work for you! And, making perfect batches every time is a breeze, thanks to the pulse function for controlled processing and an electronic feedback motor, programmed to recognize the correct kneading pattern for your dough's consistency.
From Ninja.
Includes full-sized blender motor base, 72-oz pitcher with 6-blade system and lid with pour spout and cap; 40-oz food processor bowl with 4-blade system, detachable non-slip dough station base, dough hook, and lock-in lid with pour spout and cap
1100W
Cord storage
Hands-free controls
Detachable non-slip dough station base keeps unit in place when running
Easy-to-clean electronic control panel
Current feedback control
Pulse function
Variable 3-speed control
BPA-free
Dishwasher safe: 72-oz pitcher and 40-oz bowl; Lids, 6-blade set, 4-blade set, and dough hook are top-rack dishwasher safe
Non-dishwasher safe: Detachable non-slip dough station base, motor base
Measures approximately 17-1/4"H x 6"W x 8"D with 72-oz pitcher
ETL listed; 1-year Limited Manufacturer's Warranty
Made in China
Reviews & Community QA
K32665 - Ninja Kitchen System 1100 Watt 72 oz Blender w/ 40 oz Bowl
63
63
Love My Ninja!!
Works just as shown! I make smoothies and a flaky pie crust. I've had it for years and wouldn't trade it for a thing.
03-28-13
IM A NINJA IN MY KITCHEN!
I USE MY NINJA EVERY MORNING TO MIX UP MY SMOOTHIES, MAKE MY ICE COFFEE AND FOR MARGARITAS OF COURSE!
12-02-11
Defictive part
I am sure this is a great product. I was anxious to get it after seeing it on TV. However,, after I unpacked it and ready to use it, the power button would not work. It just kept blinking. Thinking it had to charge itself, I waited, but it still would not work. I finally had to return it. Now it is no longer available on QVC. Dissappointed.
04-09-11
BEST appliance I own!!
I paid much more for Kitchenaid appliances (which look good in my kitchen) but this is the best I've ever owned! Great for protein drinks, slushes, smoothies, pies, dough, crushing ice...just very simply THE BEST!
03-13-11
Almost perfect
This duo would be perfect if the lids were interchangeable. When I do only one smoothie, I use the smaller bowl, but I do not want to pour it out the strainer. That doesn't work. So, I have to remove the lid to pour out the product. Then, if you don't hold the blade, the blade falls out. Be aware if you purchase this product that the blade inserts inside the bowl, not from beneath. So, when you pour with the lid off, you must hold the blade with the other hand or the blade will come out with your liquid. The other thing I do not like is my handles are collecting water, even though I only hand-wash them. They have never been in the dishwasher. But they have liquid inside the handles. The blending action is superb. It crushes, blends, etc., just as promised. I love that part.
03-08-11
Excellent Kitchen Tool!
I was tired of burning out regular kitchen blenders, so I thought that I'd give this one a try. It's amazing! We do lots of fresh fruit smoothies, now we are making bread & pizza dough in a snap! We make lots of bean dips, like hummus, in our old blender you could do 1 recipe at a time or it wouldn't be able to handle it. This blender we can triple the recipe and make it all in the Ninja at one time and it makes the creamiest hummus ever!
02-27-11
Very pleased!
Bought this as a gift for ourselves for the kitchen for Christmas. LOVE the machine! We've made dough for pizza, ground beef for meatballs, mix protien shakes and on and on.... Wonder why you no longer carry the item?
02-24-11
Incredible Smoothies and Great food Processor
This machine has a lot of speed and compares to another very expensive model on the market which is in the $400+ range. I am so glad that I purchased the ninja as it just wips out smoothies, is a great food processor because it has the power in the machine, so you really have a juicer, a drink mixer for smoothies, you can make soups, grind them up also and if you get the other utensils, you can make cakes and buns also. I would recommend it and hope you give this a try. Although I see they are not getting any more, please request that they get more of this machine in for yuou. it is the best.
02-13-11
Love It.
i got this blender as birthday party and I love it,I can pico de gall,as well as smoothies,Be Very Carefull with the Blades they are very sharp I cut my finger just by picking them up,other that I love it it does what it says.
02-05-11
Not all they Stated
I got this home and was excited to try it. It did not chop like they said placed onions in it and it was mush even though i pulsed it. Ice didn't become like snow for me. Manufactured well though. Just not what I was excited for so had 2 send it back.
02-04-11
NICE MACHINE
I am happy with my Ninja. If I want things chopped up more I just let it run a little longer. When making cookies/cakes you need a spatula to scrape down the sides, but you have to with a mixer too, no big deal. This unit is VERY powerful and washes up easily.
01-27-11
Not as good
I put almonds in my smoothie and it DID NOT chop them up good.....you could taste bits of almonds and had to chew them.....ended up throwing the smoothie out. Now that they had the VITAMIX as TSV.....I sent it back and got the Vitamix. I have seen demos and know that it DOES CHOP everything up. Highly recommend spending the extra for the Vitamix.
01-26-11