Ninja 3-in-1 6 qt. Nonstick Cooking System with Cookbook and Accessories
In Stock
Sold Out
We're sorry. This item is not available at this time.
Pre Order Possible .
Low Stock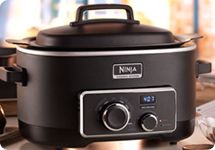 Kitchen Convenience
Learn more about the 3-in-1 Ninja Cooking System:
Description
Imagine the possibilities. The Ninja 3-in-1 cooking system combines your stove top, oven, and slow cooker--now you can sear, bake, roast, steam, saute, simmer, and slow cook all in one convenient system!
Savor the flavor. A powerful steam-infused heating system roasts and bakes in less time than traditional methods, and with less fat in some cases. The result? Everything from juicy, unbelievably tender cuts of meat to moist, delicious desserts, all without the guilt of unnecessary calories. And if you're in the mood for something quick and tasty, flip on the stove-top function and enjoy sauted veggies and seared meats in minutes. Or, you can turn on the slow cooker mode and apply the same steam power to classic comfort foods like stews, chili, and pulled pork.
One-pot wonder--for every day and all occasions. The system's six-quart cooking pot is designed to handle the largest family-style dishes, making it perfect for family get-togethers and holiday parties. And when the meal is done, its nonstick interior makes cleaning a snap!
From Ninja.
3-in-1 cooking system includes 6-quart cooking pot, dome lid, roasting rack, multipurpose baking pan, mini muffin pan, loaf pan, silicone oven mitts, and cookbook with over 150 recipes
Stove Top function with Low (simmer), Medium (saute), and High (sear) settings
Digital oven control mode
Programmable slow cooker
Cooking pot: dishwasher-safe
Accessories: hand wash
Book: 253 pages, soft cover, copyright 2012
Approximate measurements: Cooker, with handles and dials 18"L x 13"W x 8-1/4"H; cord 24"L
ETL listed; 1-year Limited Manufacturer's Warranty
Made in China
Reviews & Community QA
Ninja 3-in-1 6 qt. Nonstick Cooking System with Cookbook and Accessories
179
179
fooled
I have to admit, this was a total impulse buy. I already had a crock pot and couldn't imagine why I ordered another one. I live alone and eat mostly prepackaged foods. Much faster. Well, I cooked ribs in it for my family and it was great. Totally fooled me. Much better than any old crock pot and as a result I haven't used my stove (except to make a grilled cheese sandwich) since I got it. No longer eating pre-packaged foods. Pop ingredients in, set to low and its ready when I get home. Left-overs freeze for future use. By the way, here in the south, no one wants to heat up the kitchen in this humidity. This machine cooks a whole meal and the kitchen still stays cool! Buy one...you won't be sorry.
08-13-13
The Best!
We love the Ninja. Everything we've made has been delicious. Like so much, we've purchased a second one for our camp. Only wish the cord was longer
08-09-13
Awesome cooker
This cooker is totally awesome. I've had it two days,! Yesterday made the best shepherd's pie ever! And I've never had any better than in Ireland. This tops it! Today made the best pork tenderloin iVe ever made. The gravy was the absolute best!!!! And the whole meal was ready in about 30-35 minutes! Can't wait to try some more recipes. The only thing I don't like is none of the books have a guide to timing. So I'm guessing how long to plan for cooking. The pork says 20 min but then says cook til done. But I'm sure with a little practice I'll get use to the short amount of time. I don't think I'll ever use my oven again!!! Lol
07-30-13
ONE PAN COOKING
I live in Arizona and i thought that this would help in the summer so I didn't need to use my oven. I purchased this when it first came out. I thought that i would once in awhile but i use it 3-5 times a week. I got rid of my slow cooker, this is GREAT. The best thing I have made it spaghetti and meatballs and meatloaf. I bought 2 more for my kids. Branna in Tucson
07-14-13
A must have
I promise this will be ur last choice, I can do anything in this,nuthen sticks,I mean nothing,it gets hot fast and does its job, cleans easily. Best product yet!!!!!
07-14-13
Great Purchase
I have had ny Ninja for about a month now and find myself using it more and more.Excellent replacement for the big oven in the hot weather.I brown and steam cook roasts and their juicy and tender.Also work great for any frozen foods such as burritos,egg rolls,shrimp etc.Great cookbook also with a lot of tasty ideas.
07-14-13
Disappointed
At the time I ordered this, it was not in stock so I was on wait list and was thrilled when it arrived. I thought the machine was so big and bulky, the pans cheaply made and felt I could do the same things on my stove-top or oven and not have to worry about where I was going to store it. Sent it back, not worth the high price.
07-14-13
Love This Cooker
Have had this for a couple of weeks. Fixed corn beef and cabbage,beef stew and spaghetti. In this and everything came out great
07-10-13
really like
I really like the Ninja cooker. When I got mine it didn't come with the cook book. Wish I Could get just the cook book. The cooker is wonderful. Like all the different functions. Could someone please let me know if I could get the recipe book. That is the only reason I just gave the 4 stars.
07-10-13
Love It! :)
Omg, best thing ever invented for the kitchen. I use it all the time. Super easy to clean up. If I could I would give this 10 stars.
07-10-13
Very happy with the Ninja
I have used this at least 3 times a week since I received it. I love it. Very convenient. Some are complaining that it is not dishwasher safe, I did not realize that when I ordered it but it does not matter, clean up is a breeze, one of the easiest clean ups ever. The food is good, the recipes are easy and very understandable. Very pleased with this and would highly recommend the product. So nice to do a meal in one pan. Getting to the point where I experiment with my own recipes and they have been great.
07-10-13
Temp needs to be hotter to fry meat threw
Would of liked this if the burner had hotter temperatures to cook meats threw. Had this for several months. wish could be returned. My Bella crockpot from Target gets hotter. Sorry Q.
07-10-13