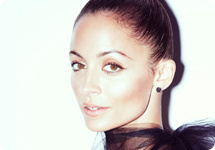 Fashion designer, author, actress, singer, and television personality Nicole Richie knows total fashion. As a Hollywood style icon, she made bohemian style popular and constantly creates new looks and new trends with her fashion lines.
A native Californian, Nicole was born and raised in Los Angeles. Having always been surrounded by garbs and costumes, Nicole developed an appreciation for fashion at an early age, which is one of the primary reasons her Winter Kate and House of Harlow 1960 collections were born. Now, Nicole comes to QVC with the Nicole Richie Collection, which features billowing blouses, printed maxi skirts and dresses, handbags, scarves, and more. Nicole currently resides in Los Angeles.
Information provided by Nicole Richie.
Photography Credit: Justin Coit