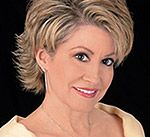 A fifth-generation jeweler, Naomi Pevsner comes from a family that's been serving the jewelry industry since 1850. (Her ancestors were purveyors of diamonds and pearls to the czars of Russia!) Today, Pevsner designs jewelry at her Dallas studio, staying true to her classic and delicately detailed style.
As a jewelry trend expert for Good Morning Dallas, Pevsner emphasizes the importance of recycling old pieces into new designs. She believes that doing so "preserves all the significance of the old, which often symbolizes life events or memorable relationships."
Information supplied by Naomi Pevsner.