NET 10 Prepaid Samsung Cell Phone w/ QWERTY Keypad and 300 Minutes
In Stock
Sold Out
We're sorry. This item is not available at this time.
Pre Order Possible .
Low Stock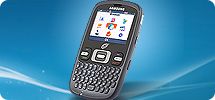 Click the links below to learn more about the Samsung NET10 prepaid cell phone.
Description
Time is on your side. With 300 minutes of airtime and an obligation-free, pay-as-you-go system, this Samsung NET10 prepaid cell phone gives you all the convenience of mobile talk, text, and web without tying you down to constraining contracts and plans. Plus, you can use your 300 minutes anytime within one year. You also have the option of adding additional minutes through NET10 for an additional charge when your 300 are finished.
Fully loaded. Our first time ever Samsung and NET10 offer is ready to go with countless great features that definitely won't disappoint. It boasts a full QWERTY keyboard for fast, easy texting and web searching; a vivid, LCD color display for superb clarity; and downloadable ringtones and graphics for extra fun and enjoyment. The 1.3 megapixel camera lets you take pictures and send the images via text and picture messaging, and the built-in MP3 player carries all your favorite tunes on the go.
Package deal. Not only do you get this incredibly well-stocked phone along with 300 minutes to use how you choose, you also receive several other accessories like three chargers--one for home, one for your car, and one for traveling so you're never stuck with a dead battery; three gel skins--one in clear, one in cobalt, and one in purple--to protect your phone from scratches and dirt; and a leather case for a sleek, professional look. Plus, you can enjoy hands-free talking with the stereo headset kit.
So, talk, text, and search the web on your terms! Keep in touch with family and friends, stay on top of the latest news, and check in with favorite websites at your leisure. It's that simple. From NET10 and Samsung.
Access to and use of the Internet may require payment of a separate fee to an Internet Service Provider, DSL line, or more.
Use of Bluetooth Wireless Technology requires Bluetooth software and Bluetooth-compatible accessories. Additional accessories may be required.
To learn more about this phone's features and costs, see FAQ tab above.
Includes prepaid cell phone with 300 NET10 minutes, stereo headset, two AC chargers, one DC car charger, three gel skins, and black carrying case
2.2" diagonal LCD color display
Mobile web access
1.3 megapixel camera
Text and picture messaging
MP3 player
Bluetooth compatible
Speaker phone
Call Waiting and Caller ID capabilities
Voice recorder
Auto redial
Dialing and commands
Downloadable ringtones and graphics
Full QWERTY keyboard
Alarm clock
Hearing aid compatible
Phone measures approximately 4-1/2"L x 2-1/4"W x 1/2"H
UL listed; AC adapters 1-year Limited Manufacturer's Warranty
Made in Korea
Reviews & Community QA
E166257 - NET10 Prepaid Samsung Cell Phone w/QWERTYKeypad& 300 Minutes
88
88
Disappointed
I didn't like the set up, speaking to a foreigner and all the misunderstandings. It took FOREVER!!! At first the phone itself was good then in less than a month the keys on the bottom started to not work. The keys are tiny btw!!! Now the reminders don't work. I REALLY miss my LG now. The only good thing about this is NO contract. I don't recommend this phone, though it looks like they ran out here at QVC..
11-17-10
OK Phone/Service ?
This is my first no contract phone. I had no problem activating the phone. Because of the previous reviews I did not try to import my old number just got a new one. The phone has worked ok until one day the backlight would not turn off. Took the battery off and replaced. The issue has not occurred again. The handbook does not provide much information on the features of the phone. The keypad is always locked to avoid accidental calls/browsing. My concern is that I have had several people to say that they called or texted me and I did not receive the calls or texts. Overall ok phone. I hope it holds up.
11-04-10
Whew, took a risk
As usual, I did things backwards--bought the phone, read the reviews, and then fretted about it while the 30 day return period came and went. Just took it out the box two days ago and activated it online which I highly recommend to anyone. My activation went fine and within 5 hours I had my phone on and working with my old number. Am discovering all the features slowly and so far am very pleased with my purchase. I got what I wanted--a cell with more features that didn't bind me into a contract and monthly bill. I could only buy this for myself not as a gift. It just depends on what your requirements are.
10-28-10
Samsung Cell Phone w/QWERTYKeypad NET10 Prepaid
Samsung R355C Cell Phone w/QWERTYKeypad NET10 Prepaid - LOVE, LOVE this cell phone! This is the very first cell phone I've owned in 13 years, ( let me repeat that, THIRTEEN YEARS) that actually gets a signal in my basement. I cannot say enough about this phone. It truly is awesome. I am very impressed and EXTREMELY disappointed that QVC in no longer selling them. PLEASE bring them back!!
10-26-10
Not too happy
I agree with the other reviewers, tha customer service is very hard to work with. Foreign accents that are very difficult to understand and background noise that makes it almost impossible to follow directions. I was told that it would take about 2 weeks to transfer my # and I couldn't be that long without it, so I took a new number. It turns on from the least little bump, even when in the protective case. It connects to the web and you lose minutes. That's very frustrating. I've read on some reviews to lock the numbers and that will eliminate the problem, but that is a hassle to remember to lock the keys after every call I make. The keys are too small and make it very difficult for a senior to see and dial. I bought 1 for my husband and myself, but I really, really wish that I had sent them back. I guess we will live with it for now.
10-16-10
worse purchase and frustrating
The selling features of this phone sounded great. Their Customer service was very polite however they spoke foreign English as other customers have stated and very difficult to understand when listening to specific instructions. In that regard I spent well over two hours on the phone. I used the phone approx. twice per week and suddently it just stopped working. Their Customer service agreed to send a replacement phone but would not replace the remaining minutes which were well over 270. So away the phone went back to QVC and I am back to my old faithful standby prepaid cellular. I continue to trust you QVC but this phone is a bomer.
10-12-10
Great phone and excellent value!!!
We are really happy with our new phones and service. We are retired, use very little airtime and want to cut cost without comprimising service. This did it for sure and even improved our service areas. We tested them while on vacation to compare to our now previous cell phone provider V-----n and these phones had a much better range and did not drop calls. There were two locations that V-----n could not make or receive calls and these Net10 phones came in loud and clear! The setup was so easy as we did it online and it was very quick and no problems at all. The only drawback for us is that it easily turns on if bumped and will connect with the web which will waste minutes. We found that if you go to Settings - Phone Settings - Security - then enter your lock code (last four digits of your phone number) that will lock the keyboard so you don't have mistakes but can still answer the phone. Thank you QVC - you have saved us many hundreds of dollars per year!!!!!!!!!!!!!
10-08-10
Good for Visitors to the US.
I am a regular visitor to the US. I find this a much better deal than the PAYG phones that appear to be available, with their "you must pay xx every 90 days" mantras. This allows me to buy the phone for the year and then forget about it - which is a blessing. Turning to the phone itself - easy to use, good call quality, clear screen - pretty impressive actually. Simple controls, easy to see how much airtime you have left. I have absolutely no problems with this phone at all. The accessories are good, and add real additional value. Looking around the shops it appears to me that the airtime itself is genearlly $100, if I'm right you get a pretty nice phone, several coloured skins, a nice leather belt clip case, and several cables for free. Seems like a good deal. Only downside in my opinion - it uses airtime when someone calls in to you too. That seems pretty rubbish!
10-08-10
Nice Phone Horrible Customer Service
I know the cost of phone & package is a great deal and for that it gets 3 stars. But just like the last customer I could not use my phone for at least 2 weeks. My request was to transfer my phone number to this phone. The people on the other line just don't speak english very well and the noise is really too loud. They told me that it would take 7-10 days for transfer I agreed. 12 days past no transfer 2 hours on phone with them. They told me your phone is not viable, I wanted explaination. I was than told you have to wait for sym card 2-5 days. They disconnected both my current phone and the Net10, another two hours on the phone. Finally I got someone who understood and right there on the phone, I got my phone transferred and everything worked. Go Figure. I like the phone, and if you dont have to transfer your phone it will do well for you. But heaven forbid if you have to speak to customer service, they leave much to desire.
10-08-10
Just won't work
I just spent another hour on the phone with customer service, they barely speak english, background noise is way to loud....hard to understand what they are telling you to do. After taking 1 1/2 weeks to transfer my number and activate, I couldn't send a text, they got that working: but last week once again I couldn't send a text (the picture text part never has worked but I figured that would be to much to go through since they couldn't get the regular text working). Tonight they want me to wait 24-48 hours for them to get it to work. If it doesn't start working QVC is getting it back....don't go with this company. I checked them out before I bought and they were rated high....I'm heading back to a company that has a real person available if it doesn't work. I'm very disappointed that QVC had this as a today's special.
10-07-10
Great Phone Great deal
I can't believe the package you get for the price! Easy to use. Set up is easy. I am so happy to have this. This is going to be a lot of fun to have. I always wanted a Blackberry. I think this phone is just perfect.
10-06-10
Its Almost A Blackberry at Half The Price!
Looks and Feels like the Blackberry but Half its Price.And good luck getting this many extras anywhere else for free ha you cant i know ive tried all 5 major cell carriers.This thing is Great its a Phone, Web browser, Mp3 player, A pretty good Camera its a real Solid Gadget !!! and so far so Good ! Ive had 5 cellular companies in 12 years and I gave up on theyre high prices and High taxing and Im really Happy to say this is the way to go for me...
10-05-10