Myron Panteah Textured Cuff Bracelet, Sterling/14K
In Stock
Sold Out
We're sorry. This item is not available at this time.
Pre Order Possible .
Low Stock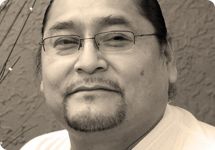 About the Design
A nod to the majesty of a winter's night sky, this cuff bracelet by Myron Panteah creates a celestial vision through the textured finish of the sterling silver. The spiral is a symbol of the Milky Way, whose bands can be glimpsed during winter months. The hammered surface of the bracelet also evokes rain, reflecting Myron's Navajo heritage and the importance of rain to Native Americans in the Southwest. Watch a video clip.
Description
Natural wonder. Crafted of highly polished sterling silver in a beautiful bark texture, this cuff bracelet reflects your sense of style as well as your oneness with nature. A 14K yellow gold swirl accents the center of the piece. From Myron Panteah.
For more details on this bracelet's fit, please refer to Wrist Assist--the Bracelet Fit Guide above.
From the American West Jewelry Collection
Sterling silver, 14K yellow gold
Bark-textured sterling silver with 14K yellow gold swirl at center
Flexible design; fits up to an average-sized wrist
Measures approximately 1/4"W
Box, pouch, romance card
Reviews & Community QA
Myron Panteah Textured Cuff Bracelet, Sterling/14K
24
24
Very Special
This bracelet...is very Spiritual. Thank you Myron Panteah for such a well crafted, thoughtful band of silver & gold. It makes me smile. I purchased one & wore it for a while & then gifted it to my daughter. I recently purchased a 2nd one because I loved this bracelet so much. It makes me happy & makes me think of life & ever-lasting-life. It's just a very Special work of Art that is so extremely comfortable to wear. In fact, I wear it all the time...you really kind of forget you even have it on, until you look & see it on your wrist & it makes you smile again. I may have to purchase a 3rd one for my son.
02-20-14
Very beautiful
This is and will remain one of my favorite bracelets that I have. The beauty is an everyday shinny art piece as well as your one of a kind classic. I have had this on my wrist from the day I purchased it and with a bit of worry of damage because of the quality of construction. The large was sold out by the time I purchased so I had to size down and it took a minute to adjust to fit due to the sturdy material. Ladies this is a special piece of art and I'm proud to own it. I'm a size 7/8 wrist and made the medium work but know that it will still fit snug but I like that as it will not catch on or fall off my arm.
01-09-14
LOVE IT !!!!
This is a beautiful cuff and it fits my small wrist perfect. It is so shiny and smooth even though it has such a beautiful texture. I have worn it all day and its so comfy that I don't want to take it off. Definitely a keeper and I see me wearing this cuff often. Thank you Myron for your beautiful craftsmanship.
01-02-14
5 STARS!
Lovely bracelet! A little malleable so makes it easy to get on and off. Shiny and just so pretty!
01-01-14
Simple & Elegant
Love this. So shiny and style is clean and elegant.
09-28-13
Very Nice Quality
I really like this cuff, it is great for a smaller wrist. The finish is beautiful and unique, very nice quality and will watch for other items from this designer.
09-09-13
Must be in minority here...
I thought the cuff bracelet was very pretty, but when I saw it in person it just didn't wow me. It was shiny and nice to look at and fit my small wrist good enough. The look of the cuff wasn't something that seemed different to me. This was too expensive to hold on to so back it went.
07-27-13
I was on the fence about this
When i opened the package, i thought - it's pretty but too small...i will wear it a couple days and see how i like it. Well, there is something about this bracelet - yes i wish it were longer as there is about an inch between ends on my wrist and that is too much - however, it almost has an aura about it. Now four days later i could never part with it. I am a senior and while this looks like a bracelet for a younger woman, i will wear it every day - why? there is just something about it.... If Myron Panteah would make a large size i would buy it also.
07-17-13
Quite Wonderful!
I do hope that Myron designs more pieces like this one. It has great style, a glowing finish and is simplistically interesting. I look forward to future pieces.
07-16-13
Perfection
This bracelet is gorgeous, for me it is a perfect size and weight. The silver is a beautiful color, I love that I can make it fit me however I want. The Milky Way symbol is also beautiful and has a great meaning to the piece. Keep more coming from Myron Panteah.
07-11-13
Beautiful
Received the textured cuff - beautiful and very nice looking, however I need to return. The host indicated the cuff is unisex and it is not. My boyfriend says it just looks too dainty for a man, needs to be wider and more masculine; however his suggestion would be to create a wider cuff for the guys. Would make a great HIS / HERS expression of love/commitment especially with the circle of life symbol atop.
07-09-13
EXQUISITE
That one word expresses it perfectly. Weight, size, comfort and design are perfection. I have short arms and so many cuffs are just too bulky on me, not this one. I love the floral and more feminine look in jewelry but this caught my eye and I am so glad I ordered it. It is both feminine and sleek. If this is ever available again it is worth wait listing. PLEASE BRING BACK MORE OF MYRON PANTEAH. His work is artistry!
07-08-13