MyPillow Platinum Custom Fit Queen Pillow w/ 2" Gusset
In Stock
Sold Out
We're sorry. This item is not available at this time.
Pre Order Possible .
Low Stock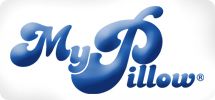 Description
On your back, your side, or your stomach--it doesn't matter how you sleep, the MyPillow Platinum pillow offers luxurious support for your head and neck. Its patented, three-piece, interlocking foam design allows the MyPillow to conform to your individual needs regardless of sleep position, while the 2" piped gusset offers even more comfort.
Patented, three-piece, interlocking foam design
Piped gusset
Queen sized at 18" x 28" plus 2" gusset
Tick 100% cotton; fill 100% shredded polyurethane foam
Machine wash, tumble dry
Made in USA
Reviews & Community QA
MyPillow Platinum Custom Fit Queen Pillow w/ 2" Gusset
129
129
disappointed
Constantly having to adjust....makes my neck Hurt.....NO NO NO
03-17-15
Neck Cramps Anyone????
" This overhyped brand has to be one of the worst QVC has ever carried, AND all the hosts claim they have them and love them. I never used to wake up with neck cramps till I started using this brand of pillow, and no wonder it's now on clearance. Would not use them if they were given to me for free, let alone paying for them. "
03-08-15
Best Purchase Ever
It seems that I waited so long to be able to buy MY PILLOW,Itwas well worth the wait, you will not regret the purchase, just follow the directions that come with the pillow a night maybe two you are set .
01-25-15
One Of My Best Purchases Ever!
I just got this yesterday and slept on it for the first time last night...,oh my goodness, why did I wait so long to order this! I have had expensive pillows from the chiropractor...throw it away! It can't compare!!!!!! Order this you won't regret it!
01-15-15
AWESOME!!!
I have been looking for a great pillow for years!! When this arrived it was rolled up and I thought no way can this be a good pillow. Was I surprised!!! I put it in the dryer for the 5 minutes per the directions. I am a side sleeper and I couldn't believe it. I woke up at 2 in the morning with no neck pain and was very refreshed. I thought it was time to get up!! Needless to say it wasn't. Went back to bed and when I woke up at 6 I was refreshed and ready to take on the day!!! Love it!!
01-14-15
Lumpy, Hot And Cost Is Way Too High
I really wanted to like this pillow but it just isnt great at all. Its lumpy and when you lie on it it comes sround your face likes its goin g to smother me. The fabric is hot, feels more like polyester than cotton. When washed it takes forever to dry. It was too late to send back but for 65 that i paid, its aggravating thst it is now a cat bed! They love it...
01-07-15
Lumpy, Bumpy, and made me GRUMPY
Did not conform to me the way it was displayed on the show....I was chasing comfort all night. Making me VERY grumpy the next morn. Must say my cats love sleeping on them. So they got new beds. Just about worst purchase I have done.
01-06-15
Not A Good Buy
Way uncomfortable. Tried its full ten days. It was hot. Every time I turned I had to re-adjust it. It was too hard and left a huge space between my neck and shoulders. Puffed up around my face and blocked air flow. Sent it back.
11-04-14
Maybe better as a pet bed???
Let me start by saying, I'm VERY picky about my pillows!!! After watching the presentation, I had high hopes that this would be "the one"...wrong! I fluffed and followed all of the directions prior to my initial use; the pillow started out lumpy, but I figured I would probably get used to that, so I adjusted the stuffing to provide firm support for my neck. That was fine till I woke up in the middle of the night at which point I noticed not only was the roll I had supporting my neck was totally flat, but my head had also created a large hole! I gave it one more nights try, and it did the same thing. I'm a side and back sleeper, and have noticed if I do not have good neck support, over several nights I will start having neck pain, and headaches...so this is definately NOT the pillow for me! My bad, I did not return it in time, so it has been added to my "collection" of bad pillows :(. Only ONE star rating, however this review would not accept that...
11-02-14
DO NOT BUY!!!
I previously purchased the standard my pillow and, although I thought it was ok, it was a bit small and looked silly on my bed. So, I decided to purchase the queen size thinking this will be better for me and solve the problem. I was so glad when the pillow finally arrived, only to be disappointed when I placed my head on it and it sank to the bottom. Yes, I had put it in the dryer like the instructions said. Turns out the queen pillow has the same amount of filling as the standard. I thought I was crazy so I put the pillow in a standard pillow case and it fit (with room to spare). THE ONLY DIFFERENCE IN THAT PILLOW WAS THE COVER WAS LONGER! I called QVC and the company and QVC offered me free shipping to return. The company was rude and didn't seem to care. QVC WAKE UP! This pillow is not up to your standards!!
08-10-14
Hard to wash, make us sweat
Am I the only one who has trouble washing these? I got three, and they are almost impossible to wash. First, they smelled funny. So I washed them twice before even using. And in the machine they puff up with air and the water never seems to go inside the pillow to clean the inside stuffing. I even tried squeezing the air out and putting back in water, but the inside seems not to get much water in. It's like a balloon flopping around in the washer and the water isn't inside to clean. Plus the cover is so tightly woven, it's even hard to manually squeeze out the air. The cover cloth won't let water in to clean. Also, we three all sweat from using these and therefore want these to be cleaned. Someone please help. Surely I can't be the only one with this problem.
07-19-14
Not satisfied
I always had to keep turning the pillow over for coolness. This pillow also made me sweat. Sometimes my head would be very wet when waking up. That's is the reason I returned them.
05-14-14