My Circle of Creativity Friendship Bracelet & Lanyard Kit
In Stock
Sold Out
We're sorry. This item is not available at this time.
Pre Order Possible .
Low Stock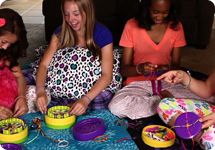 Learn more about the My Circle of Creativity Friendship Bracelet Kit.
Description
Help your child celebrate their most important friendships with this Circle of Creativity craft kit. With six design wheels, it lets kids create 12 different patterns of friendships bracelets and lanyards to trade and treasure.
Includes 112 48" pre-cut threads, 36 48" plastic lace pieces, 15 key rings, 30 bobbins, 100 pony beads, six design wheels, 12 patterns, instructions, and all-in-one carrying case
For ages 6 and up
Made in China
Reviews & Community QA
My Circle of Creativity Friendship Bracelet & Lanyard Kit
41
41
Nice gift
Bought this for granddaughter for Christmas. I think she will be excited about it. She likes making things for gifts and she also likes making things to sell. This will make her happy.
08-08-13
best for my grandaughter
Thank you each and every one,the things i ordered are for christmas.I hope every likes all. tx mm
08-07-13
This is Bad!!!
This is impossible for a 6-7 year old or an adult to do. We have tried many times but just can't get it right. We can't even get it started right. No way can a child do this. I wish I had sent it back!
07-21-13
no good
dont recomend this for my 7 year old or adults I could not figure it out. She just made a mess with the supplies.
05-09-13
Friendship bracelit kit
Very diassappointed with this. Gave it as a gift to my 6 year old grand daughter. We worked on it together and it did not do much at all. She was bored with it and then I was , also. Strings kept getting all twisted. Bad designing.
04-21-13
So disappointed
Gave this to my 7 year old granddaughjter for her birthday and was excited to make some with her. Not too many kids can do this, needs alot of patience very hard and complicated. Feel so bad, she htought it was "the best present ever" til we tried it. Still no braclet.
04-07-13
Too complicated
My 9 yr old daughter and I followed the directions, spent a few hours then took a look at our progress. It didn't look like a friendship bracelet. We were disappointed. Too complicated.
02-01-13
Very Nice Kit; Lots of Options, Lots of Fun
I ordered this for my 8-year-old daughter for Christmas. I opened this up before wrapping it, set it up, and started a bracelet because of the negative reviews regarding this being too difficult. While I can understand why some people were having difficulty understanding the directions, I think a little patience and working through the directions a few times really helps. I did watch a few YouTube videos on this as well. I suggest watching the videos that the manufacturer provides as well. These are very, very helpful. Once I got the hang of this everything started flowing quite well. I have to help my daughter with this - at least for now - because she does not have the patience for the precision that this requires. Some kids do. I think you need to determine whether or not your child is good with directions and pays great attention to detail and likes to follow through on things. If your child doesn't have these characteristic traits, then you might need to help him or her with this. Again, watch the videos that are available. They really help clarify the instructions. I would not recommend this product to a friend only because of the mixed reviews. Certainly for some people, this is a hit; for others it is not.
01-27-13
Disappointment
Box says Ages 6+. That would have to be an awfully talented 6 year old to figure this contraption out. I was pleased with the organization and quality of the construction, but it stopped there. The directions were entirely too complicated and the one bracelet we attempted to make turned into a knotted mess. Both kits are being returned. Very disappointed
12-24-12
Great kit my son loves it
I cannot understand why others are saying this kit is to hard to understand. My 10 year old son loves it. He read instructions by himself and started making them and has not stopped.He is giving them as gifts to his friends at school.
12-02-12
Too complicated
This is way too complicated, very poor design and instructions.
11-27-12
Can't Imagine this would be Fun for Kids
Bought 2 kits for gifts and decided to open one up to see how it all worked. The setup was very time consuming. The 3 bracelets were not very becoming. After the 1st bracelet I thought I just needed some practice, but I think the kit has some serious design flaws that make it impossible for me to recommend
11-24-12