Muxo by Camila Alves Leather Messenger with Fringe
In Stock
Sold Out
We're sorry. This item is not available at this time.
Pre Order Possible .
Low Stock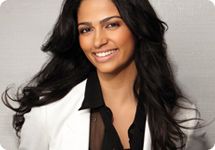 "This is a spin on a classic handbag silhouette! We added the MUXO flavor with handmade details, fringes for movement, and amazing colors. A very classic look!"
—Camila Alves
Description
On the fringe. Chic, modern, and cool, this leather messenger bag has everything you need. Hip details like front fringe and whipstitching plus plenty of space for all your items make this bag a must-have. From Muxo by Camila Alves.
Front flap pocket, fringe accents, contrast whipstitching, magnetic snap top closure, back slip pocket, adjustable shoulder strap
Lined interior with back-wall zip pocket and slip pocket, front-wall slip pockets
Measures approximately 16"W x 11"H x 5"D with a 9-1/2" to 13" strap drop; weighs approximately 2 lbs, 8.6 oz
Body/trim 100% leather; lining 80% linen/20% cotton
Made in China
Reviews & Community QA
A222555 - Muxo by Camila Alves Leather Messenger with Fringe
18
18
Mixed thoughts on this one...
This bag just arrived in the black/brown color scheme, I fell in love with the design right out of the box! To me it looks really western, yet somewhat edgy. The bag is really gorgeous, however I'm left wondering for what purpose? I tried it as a purse, however the design doesn't lend itself well to typical purse usage as there are two compartments, both that snap closed, however one seems very insecure. I like to have a secure place for my wallet and keys and found it difficult to do so with this bag. So...perhaps it's meant to be strictly a messenger bag for school/work items. Still not real practical as the strap appears to be delicate, not something that would hold up over time with daily use hauling books, computer and papers. On the fence as to whether or not I'll keep the bag, the appearance is so cute, yet at this point the bag appears to be limited in ways to use it.
11-27-12
A Winner!
Camila, purchased this bag last week and have ordered three more since. Outstanding work from you and your dear mother. I appreciate being able to purchase from a real designer and not someone simply lending her name to the bag. Kudos to you for giving your mom her props. Arrived: double handle brown and blue suede Coming: Black woven and grey pebbled with the "clutch" on front. Sorry, I don't have item numbers in front of me, but gorgeous! Well done, please come back with easy pay.
10-08-12
Way Too Heavy
This is without doubt a beautiful bag. The leather is fantastic and the fringe is pretty cute. But it is way too heavy. It's also really large. If the weight were less I would probably put up with the size but the weight is just too much for me. Unfortunately I will return. Thanks.
10-03-12
Everything I Could Want and More!
I am familiar with the Muxo line, and know that they sell bags for thousands of dollars, and that they have a great reputation. The original price on this bag was more affordable than than a lot of their line, but when it was originally aired, I could not readily afford it. Now that it has gone on clearance, the bag that I have coveted for months is not only more affordable, it is a STEAL. The luxurious leather is VERY soft (B Mac soft), and you can smell the leather as soon as you open the box. It is a large bag, but it IS a messenger bag, and I wanted it because I was tired of having to take things out of my other bags to get to what I wanted in them. Now, I can just reach in and grab what I need. That is exactly what I wanted. What I had not counted on is the organization- it has just the right amount of pockets, all at a convenient location. An extra bonus is all of the compliments I have received. I LOVE this bag, and so does everyone else who sees it.
09-16-12
Never thought I'd say this but...
It's too big! The bag looks really nice although the split strap doesn't feel sturdy enough to support a big bag and all that it may contain. I put all of my items in it and they all slid to the center leaving the sides uninhabited :(
08-23-12
"THIS SADDLE BAG STYLE MESSENGER BAG ROCKS"
I have had this gorgeous messenger bag for several weeks and use it daily. I have never before had so many compliments. Own it in the black. Love the two magnetic closures AND THE LARGE SIZE. As the leather, which is sumptuous, gets softer, it slouches beautifully. What a combo in a slouchy messenger. Thank you Camelia and Mom. I have just ordered two more bags in different styles and hope to add more next year. I love the Cowgirl/Brazilian design. And the fringe is clean and not overdone.
08-19-12
High End Bag Look Great Price Point
I wanted to address some of the issues others have pointed out with this bag...first if you are not a big bag gal skip this bag. I first ordered the whiskey but it was just not my color but it is beautiful for anyone wanting it..I went with the blush. I would say it is more of a peachy than blush but very pretty regardless. In regards to the weight. Yes it is a heavy bag but so is every D&B and other big $$ lines. The size is what makes it so great for a messenger bag. You can fit everything in this bag and more. The detail to organization is phenomenal..I love this feature. I have a place for everything. I love the outer pockets and the snaps hold very securely. The fringe is a lovely boho chic retro detail and it is not a "coming and going" bag. I get tons of compliments and they all say the same thing.." what a gorgeous bag,so different". They do not get in the way but wish there were feet for the bottom. The split handle is the only reason I gave it 4 stars. It is hard on the shoulder as it cuts in because it is not a wide strap. I usually just carry it on my arm or like a clutch..works fine and the weight is not restrictive. The interior is worth the bag. It is made to withstand lots of abuse and use. High end lining and very expensive to put in a bag. Leather is supple and very nice, not cheap looking at all, just the opposite. I feel the bag is worth every cent and more. If you want different and lots of detail and organization you will love this bag.
08-18-12
BEAUTIFUL Bag!!!!
Just received this gorgeous bag in Whiskey and also the pebble soft leather bag in beige w/front kisslock. WOW!!! Far exceeded my expectations. Bought this bag for my daughter, who lives in LA. I better get it wrapped quickly and into my suitcase to take to her next week or I may be keeping it for ME!! I am looking foward to more bags from Camila, "love the leather" as Camila says, she is so right. Love both the bags, may have to order another just for me :) I know my daughter will LOVE it, so will her girlfriends.
07-11-12
Leather is poor quality
I really liked the way this handbag showed on TV but was very unimpressed when I got it. First of all this purse is way overpriced. The leather is actually similar in feel and look to the fake leather purses they sell at Target or PacSun. I like they style of the bag but the size is a little tricky to pull off. I definitely would have not paid the price if I had known it would be of this quality.. I guess I was expecting something a little more luxurious.. I will be sending it back :(
07-10-12
Wanted to Love it but....
Beautiful bag; love those fringes however once all of your stuff goes into it it opens in the back on both sides of the magnetic closure; too fearful these days that someone can take something out. The structure needs to be stronger to avoid this. This will unfortunately be going back
07-09-12
so unique!
This is a LARGE messenger bag with lots of pockets. I especially love the front pocket--you can fit a tablet inside. The leather smells great! My fringe was perfectly wrapped so no issue with that. My only suggestion would have been to make the handle just a tad wider, but it is fine and I like the split in the handle. I love large bags which is why I have about 10 Muxos bags now and especially like a large messenger style. On 5 easy pays, you can't go wrong. The 2 snaps on top are strong and keep the bag sturdy and help it to hold its shape. I like how the front flaps quickly close together on their own. Camila's bags are so unique--you will NOT see your bag on the street. Try it!
07-07-12
I absolutely LOVE this bag!
I love everything about this bag. Super soft leather, beautiful blush color, great size(large) and chic boho style. Looks even better in person. I have three other MUXO bags and they are all just as beautiful. Thank you Camilla(and mom) for bringing such beautiful bags to QVC :)
07-05-12