Monster Sanitizing Floor & Carpet Steam Cleaner w/ Clean Blast
In Stock
Sold Out
We're sorry. This item is not available at this time.
Pre Order Possible .
Low Stock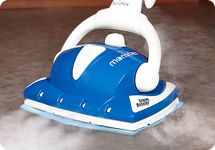 Monster Sanitizing Floor & Carpet Steam Cleaner with Clean Blast
•
Watch a video
of this steam cleaner in action.
•
Read FAQs
for more information.
Description
Blast away grime--and sanitize at the same time--with the power of pressurized steam. This Monster steam cleaner and Clean Blast solution can kill 99% of bacterial contaminants, including salmonella and e-coli, on common hard surfaces in one second. It includes three accessories and a Clean Blast solution for all your around-the-house needs.
Easy to use. Steam is delivered on command from the front jets on the base unit--just squeeze the trigger on the handle. To stop the steam, simply put the handle fully upright.
Patented technology. Say goodbye to wimpy steam clouds. The water in this unit is under pressure like a closed tea kettle, delivering steam under greater force. You can also adjust the steam power for specific jobs--keep it low to clean delicate materials or crank it up for stubborn spills.
Power through messes. Pressurized steam through the front jets loosens surface debris, hits baseboards, and gets into hard-to-reach corners. Bottom steam jets and hard-surface microfiber pads quickly cut through dirt on sealed wood, tile, stone, linoleum. Grab the glide attachment and carpet microfiber pad to refresh and deodorize carpeting.
Utilize the included Clean Blast solution, an all-purpose cleaner and disinfectant, to deliver Clean Blast-infused steam through the front jets. It helps eliminates odors caused by fire, smoke, and tobacco smoke, as well as musty and stale cooking odors. Used as directed, it can even inhibit mold and mildew growth on fabric.
Easy to maneuver, this steam cleaner leaves floors virtually dry--so it can be employed as part of your weekly cleaning routine or right before company arrives. Get it now, and get one step closer to squeaky clean. From Monster.
Includes steam cleaner, two hard surface pads, carpet microfiber pad, carpet glide attachment, and 8-oz Clean Blast solution
1200-watt steam boiler
Patented front steam jets
Bottom steam jets
Measurements: Handle 48"H; Cleaning surface 11-3/4"W x 8"D; Cord 22'L
ETL listed; 3-year Limited Manufacturer's Warranty
Made in China
Reviews & Community QA
V29526 - Monster Sanitizing Floor & Carpet Steam Cleaner w/Clean Blast
231
231
Okay, but handle is annoying.
I purchased mine in Decemeber of 2009 and as soon as I recieved it, the handle started acting up. The steaming part of it works well but the handle is annoying and I'd just rather not use it at all considering how the handle keeps coming detatched so often while pulling the steamer back and forth.
12-20-11
Good Unit / Bad Handle
The unit works fine, however, like many other reviews the handle broke off. I called EuroFlex (1-888-896-8786) and they have a replacement handle ($14.99) but will replace if it's under warranty. The unit has a 1 year warranty , but, QVC posted in the description that the unit has a 3 year (ltd) warranty. I purchased in Dec 2009 , but they honored that date range and shipped me a handle. As far as functionality, we are pleased with it's performance.
02-28-11
Not Good...
First of all, the head of the cleaner is too tall to reach under cabinets, so I had to hand clean those anyhow. Sure didn't make cleaning my floors any easier! Secondly, This thing is a piece of junk. The lever for the spray broke after I'd used this about 3 times. Just quit working. I couldn't return it because I'd had it longer then 30 days, and I REFUSE to pay return shipping which is expensive on an item this large. TOTAL waste of $$$. SO frustrated.
01-05-11
handle snapped off
In its defense, this product cleaned my floors well and I was pleased with that; however, the handle just snapped off. I have ordered a replacement handle from the maufacturer for $20 plus shipping, so I'll give it one more chance before I trash it. After reading the other reviews, this seems to be a fairly common problem.
01-01-11
I love this steamer!
We live in Florida with a tile floor and two Dalmatians. This steamer is the best thing I have ever bought from QVC - and that's saying a lot! The floor is cleaned in no time, with very little physical effort. Have not had any problems with handles breaking, too much steam, etc. Just wish I could reorder the pads from QVC but don't see them. Try this - you'll love it! Sure beats a mop & bucket!
11-11-10
Not A Good Buy
The first model I got did not steam. Replacement model had the handle break as in a lot of these reviews. I then got a third replacement, and the handle broke on that. The breaks happened within just a few uses. They do not glide -- you must push and pull with some force, and the handle cannot withstand. Also, they are tall and cannot get under the toe kicks of cupboards, etc., something to consider. When they work, they work well. I liked them until the handles broke!
11-10-10
Broke and too bulky
I bought this steamer in May and now in December the handle snapped near the top. It cleans great but you have to fight with it because the extention arm doesn't stay entended when you push it forward to steam the floor. The steamer is also too tall to go under cabinets so anyone wanting this might want to consider that..
11-01-10
To wet
I was so excited to get this steamer and try it on my laminate wood floors. The first few minutes were fine, but soon after I noticed the floor was soaking wet. It was leaving way to much water on the floor and it was definitely hot. I think the pad got saturated with the steam and it just made it to wet. The other negative is you can't get under any furniture or close to edges. Soryy to say it was returnded. I'll just continue to clean the manual old fashioned way.
10-11-10
Happy at first!
I purchased this steam mop in Dec 2009 and I loved it. The problem is that today the handle just snapped into at the top where the plastic meets the metal. After reading a few reviews I see others are having the same experience. I am disappointed because I really liked the mop and it wasn't exactly cheap!
09-21-10
Not a good product
This item was shipped to me January 2010...It is broken..screw came out for the handle, fixed that and the top of the handle broke completely off and cannot be fixed as it snapped off. I am very disapointed in this. Bought alot of items from QVC this is the worse. Will stick with an better known brand.
09-19-10
would not buy
I seen this prooduct demostrated and it looked wonderful, but it does nothing for my carpet will not clean. Basically all it does is just blow steam. Not a good product
08-30-10
No Problems with Mine!
I also purchased my unit before reading the reviews and was a little apprehensive after reading them. I had the best time cleaning my floors and am very satisifed with this item. The unit moved easily across the floor, did not leave much water and had great steam out-put. I could see an immediate difference on my floors after just one use. I sometimes have "germ issues" and felt so much better after just one use in the kitchen and bathroom. I'm planning to keep my unit and look forward to many happy, anxiety free cleaning sessions!
08-28-10