Minnetonka Thunderbird Leather Boat Sole Moccasins
In Stock
Sold Out
We're sorry. This item is not available at this time.
Pre Order Possible .
Low Stock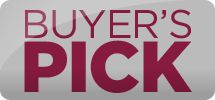 "Great all-around comfort shoe. A go-to shoe for the weekend or just around the house."
—Bernadette, Fashion Buyer
Description
Pair these Minnetonka moccasins with a boho-chic skirt for a look that's right on trend. Decorated with fringe, a bow, and a beaded Thunderbird design, the comfy mocs are made of smooth cowhide with a cushioned insole. A stitched-on boat sole provides added durability. Approximately 1/2"H heel.
Whole and half sizes 4 thru 10, 11.
Leather upper. Man-made sole.
Made in Dominican Republic.
Reviews & Community QA
A141118 - Minnetonka Thunderbird Leather Boat Sole Moccasins
10
10
No longer available
Please this style is so very hard to find others have them but the same quality. My friend bought me a pair awhile ago & I came back to order more & see they are no longer available. PLEASE QVC GET THESE BACK IN THEY ARE WORTH EVERY CENT COMPARED TO OTHER i HAVE & MORE COLORS TOO..... IF YOU GET SAGE IN SEND ME AN EMAIL CAUSE i HAVE BEEN WANTING A PAIR OF SAGE OR GREEN. OF COURSE i LIKE THE OTHER COLORS TOO. I HAVE BEEN WEARING THIS STYLE FOR MORE THEN A DECADE & NONE HOLD UP LIKE YOURS. PLEASE GET THEM BACK IN THE RATINGS ARE POSITIVE.......
08-05-12
So comfty!
I wore these shoes straight out of the box as soon as I received them, and they're my go to shoes first thing in the morning. I have purchased a similar style in the past from a different vendor, but they were cheaply made. The soles were thin, and separated from the upper. I can walk on gravel roads in comfort. I'll be wearing them at dog shows where I'll be on my feet all day.
07-04-12
Well Made
Good construction. My only complaint is that they don't offer wide sizes. I usually wear 9 W. I ordered up a half size to accomodate orthodics and my wider foot. Fit not perfect. Maybe the 9M would have worked. If I buy again I may try that.
10-06-11
Love these shoes
I absolutely love these shoes, more than any others I own. They are the ones I slip on most often when I have to run out the door -- they look cute with so many different things and are comfortable in the summer and with socks when it's cold. They are a good value for the money and wear well. I am so happy to see that QVC carries them -- now I know where to get them from now on!
05-09-11
Comfy!
Very nice; moc fits well and runs true to size. I usually wear 10M or 10W. I ordered these in 10M and wore them right out of the box! Wonderful. I highly recommend.
03-10-11
Saved my foot
I had bought a pair of these moccasins several years ago . I saw them again while browsing online and thought they looked familiar. I went into my bedroom, picked them up to look at them, turned them over to see if there was a size ( could wear 6 1/2 or 7) and I noticed that at some point I had stepped on a nail which was now imbedded in the sole of the shoe, and I never felt it. They are not only comfortable, but they prevented a nail from penetrating my foot. If the moccasin was not made that well, I would have had to get a tetanus shot because of a dirty nail. Thank you, thank you, Minnetonka. Thank you for making a good moccasin.
01-26-10
comfort !
If you are looking for a very comfortable shoe this is it!!!!! I will be wearing these shoes all the time. I wear a 5/1/2 and they run true to my size. the shoe fits so well. I will be ordering another pair very soon. very supportive also . Marsha Fl
02-25-09
I'm Buying a Second Pair!
These moccasins are wonderful. I love mine and wear them all the time. The leather is soft, they're easy to slip on, and the "boat sole" is sturdy, even when you're on a wet floor. I'm in the process of ordering a second pair. Oh, and by my standards, they are true to size, too.
11-28-07
You will LIVE in these!
I have worn these for years and when I went to visit my sister in CT, She asked me WHY I was wearing them so I told her they were fabulous and comfy.. the following year when she visited me in MN she was wearing them!! These are your best shoes! When you are out and about, you will be so glad you are wearing them!!! I have them in every color and style!! The day I flew to Ireland, I ran to my local shoe store and brought 3 pairs of different styles and lived in them over there and of course when I got home!! You won't regret buying them!!! So glad QVC is now carrying them!! So convenient now to grab another pair or two!!!
10-25-07
great shoes
I've been wearing Minnetonka shoes forever. They are a quality product that I have never been disappointed in. I am sure you will enjoy them as well.
06-30-07