The Ming Tsai Story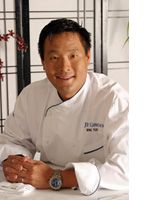 Ming was raised in Dayton, OH, where he spent hours cooking alongside his mother and father at their family-owned restaurant, Mandarin Kitchen. His love of cooking (and eating!) great food was forged in these early years, while he also gained valuable experience in the front and back of the house. Ming headed east to attend school at Phillips Academy Andover. From there, Ming continued to Yale University, earning his degree in Mechanical Engineering. During this time, Ming spent his sophomore summer at Le Cordon Bleu cooking school in Paris. After graduating from Yale, Ming worked in kitchens around the globe. He trained under renowned Pastry Chef Pierre Herme in Paris and in Osaka with Sushi Master Kobayashi. Upon his return to the United States, Ming enrolled in graduate school at Cornell University, earning a Master's degree in Hotel Administration and Hospitality Marketing. Ming continued to learn varied styles of cuisine, holding positions in both the front and back of the house at establishments in Chicago, Atlanta, San Francisco, and Santa Fe.
In 1998, Ming opened Blue Ginger in Wellesley, MA and immediately impressed diners from Boston and beyond with the restaurant's innovative East-West cuisine. In its first year, Blue Ginger received 3 stars from the Boston Globe, was named "Best New Restaurant" by Boston Magazine, was nominated by the James Beard Foundation as "Best New Restaurant 1998," and Esquire Magazine honored Ming as "Chef of the Year 1998." The James Beard Foundation crowned Ming "2002 Best Chef Northeast" and, since 2002, the Zagat Restaurant Guide has rated Blue Ginger the "2nd Most Popular Boston Restaurant." In 2007, Blue Ginger received the prestigious Ivy Award from Restaurants & Institutions, for its consistent achievement in meeting the highest standards for food, hospitality, and service.
Ming is a national spokesperson for the Food Allergy and Anaphylaxis Network (FAAN), working to further education and research on food allergies. Ming is proud to have developed the Food Allergy Reference Book, first used at Blue Ginger, a pioneering system that creates safeguards to help food-allergic people dine safely. He has worked with Massachusetts Legislature to help write Bill S136, which will require local restaurants to comply with specific food allergy awareness guidelines.
Ming is currently the host and executive producer of the public television cooking show, SIMPLY MING, currently in its sixth season. His SIMPLY MING video podcasts, the first of their kind, feature tutorials on everything from filleting fish to food allergy basics (available on ming.com and iTunes). Ming began cooking for television audiences on the Food Network, where he was the 1998 Emmy Award-winning host of East Meets West with Ming Tsai. Ming's Quest, his popular cooking adventure series, also aired on the Food Network. In the summer of 2008, Ming traveled to the Beijing Olympics with NBC's Today show to provide viewers with insight into food customs and traditions that define his Chinese heritage. In addition to television, Ming is the author of three cookbooks: Blue Ginger: East Meets West Cooking with Ming Tsai, Simply Ming, and Ming's Master Recipes.
Information supplied by Ming Tsai.