About Franco Della Grazia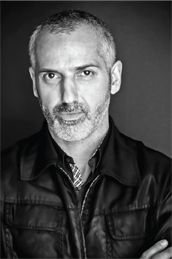 Franco Della Grazia's impressive 30-year career as a stylist, educator, and salon owner, combined with the perspective he gained living on three continents and working with stylists in dozens of countries, has provided him with the invaluable skill and insight he brings to the InStyler family as their global artist and spokesperson.
The native Australian began his career at one of Melbourne's top salons, where he also amassed numerous awards in local styling competitions for men and women. He then spent 15 years in London, where he owned two Franco & Co. salons, became a member of the exclusive British F.A.M.E. team, and had the honor of presenting at several Alternative Hair Shows. Franco was also voted in the top 20 haircutters in London.
While in London, Franco also joined the Matrix education team and was instrumental in launching the brand, first throughout the United Kingdom and then in continental Europe. For the past three years, he has been a part of New York Fashion Week, working alongside some of the top designers and dividing his time between his role as lead stylist at the esteemed Cutler Salon in SoHo, his educational work for Matrix/L'Oreal, and his session work.
Franco has become an integral part of the Instyler global team, creating trends and education for InStyler worldwide. When he's not doing shoots or shows, he still loves to work on the salon floor alongside the team.
The next chapter for Franco is QVC. Franco is really excited to be part of the InStyler team. He is now an on-air presenter and spokesperson.
His work has appeared in ELLE, Vogue, Cosmopolitan, and Marie Claire, and he has coiffed the tresses of many A-list celebrities and models in all the major industry publications.
Audiences cite Franco's sexy, stylish approach to hair as a source of inspiration for their own work. They find unlimited value in his finely-honed, technical approaches to cutting and styling.
On his introduction to hair, Franco explains, "My love affair with hair began when I was 14 in Melbourne, Australia. I took a Saturday-morning job in a salon and fell in love with beauty right away. My Italian heritage instilled a sense of style in me at a very early age, and I have been passionate about the craft ever since."
Information provided by InStyler.