Meep 7" Children's 8GB WiFi Tablet w/ Apps by Oregon Scientific
In Stock
Sold Out
We're sorry. This item is not available at this time.
Pre Order Possible .
Low Stock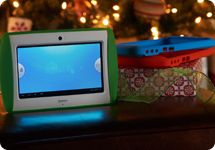 Learn more about the Meep! tablet.
Description
You want your child to experience the latest in technology--but how do you keep an eye on the content they're viewing? With the Meep! tablet. The Meep! is full of amazing features--built-in Wi-Fi for Web browsing and communication, a music player, an eBook reader, chat capabilities, and a front camera--but it's also equipped with parental controls that allow you to monitor your child's Internet access and viewing, and even approve friend requests through its own communicator social network! How's that for peace of mind?
The Meep! runs on the Android 4.0 operating system, which allows access to hundreds of apps for purchase and download. And the 7" diagonal color Z-force touchscreen is bright, brilliant, and easy for young fingers to navigate. With the Meep!, your child can experience the fun and convenience of a tablet while you control the content--the best of both worlds! From Oregon Scientific.
Wireless capability may require a network connection, additional accessories, and/or a service connection fee.
Access to and use of the Internet may require payment of a separate fee to an Internet Service Provider.
Includes Meep! tablet, 4GB SD memory card, USB cable, AC adapter, and three removable silicone sleeves
Android 4.0 operating system
7" diagonal color Z-force touchscreen with 800x480 resolution
4GB internal memory
Built-in Wi-Fi
Front camera
Music player
eBook reader
31 preloaded games, three eBooks, and five apps
Parental control allows parents to monitor Internet access, viewing, and friend requests through kids communicator social network; parental settings accessible from any computer or mobile device
Access to App Store
SD memory card slot
HDMI output
Ages 6 and up
Measures 8-5/8"W x 5-5/8"L x 1"D
ETL listed adapter; 1-year Limited Manufacturer's Warranty
Made in China
Reviews & Community QA
T32087 - Meep 7" Children's 8GBWiFi Tabletby OregonScientifi
25
25
No Happy Campers In My Camp!
I bought 3 for my grandchildren for christmas. Was thinking kids love computers & internet and at the same time I would be able to keep them blocked from some things, but not everything. This is the one item I wish I can still return. To hard to figure out how to let them on internet, so much is blocked kids don't even want to play with it. Company really need to make some changes to how much is blocked. What's the use of even having internet on it, if everything is blocked. And to QVC I have bought many items from you just on the strenght of your presentations because I believed in what you believed in, I'm on a fixed income trying to make payments for something they can't even play with. Not Pleased, Not Cheap and We are not happy campers in this camp!
01-10-13
Bad purchase
I called the hotline number for help, the person on the other end of the phone had no clue how to help me. I wasted my time and money. If you aren't a computer genius don't bother!
12-18-12
Returned it the next day.
I had a bad feeling after ordering the MEEP and reading all the bad reviews. I thought I did my homework and had the online manual and other online supports available for when I tried to set up this device. I found out the hard way; all the negative reviews were true. The MEEP is difficult to set up and it's very slow in connecting via Wi-fi. I did get things set up, created an account, which required a credit card. All-in-all the whole experience was not worth it. Even when I got things set up, it ran too slow. I packaged it all back up and sent it back the next day.
12-08-12
Impossible Setup
This should be an easy setup and easy app load. It is anything but. Instructions are minimal and not clear or intuitive. i needed to call in to start the parental setup and that did not go well. I use computer all day. This is ridiculous. They have a good idea, they are just not there yet Would not recommend .
11-15-12
QVC needs to stop selling this
I ordered 2 of these and now have determined that they are going to be returned. QVC needs to stop selling this item. It seems the item was put out to market way before it was ready. There are no instructions, you have to spend time doing a update download first off, the "help" with the manual in it is very poor. I had to call the 800 number to ask why different things that I tried did not work and she told me that she would have to tell the support dept to fix it and call me back. Nothing seems to work correctly. They need to work out all of the bugs in this design. There is no way kids are going to have the patience to work with this. I have spent several hours trying to get it working properly and it still isn't done.
11-13-12
Glad I Didn't Keep This
I had originally ordered two of these for two grandchildren ages 8 and 3. The 8-yr. old was not interested in it so I cancelled one of them before it was shipped. I found that that the 2nd one was an inferior product compared to many other childrens' tablets. Reading the reviews here on QVC was the deciding factor not to keep the second one for my 3-yr. old. Wish I would have read the reviews first ! I researched many other childrens' tablets& found one with good reviews on several websites and ordered that one. It pays to do your research prior to ordering.
11-03-12
Difficult
I tried repeatedly to set this product up, I figured if a 50 year old adult couldn't figure this out how in the world was a child going to set up so I returned this product. For the price could get something else difficult to figure out. Would not recommend for young children.
10-27-12
Horrible
I bought three of these tablets, not worth the price. I'm sending them back!!!
10-26-12
meep
this is a piece of junk...far from the quality, value and convenience qvc is known for..You have to call their customer service just to get it working because of some needed up-dates..I wish I could give it a NO STAR rating
10-22-12
Horrible
Don't look twice t this product, just run away as fast as you can.
10-16-12
Worth it
I bought the meep for my 9 year old daughter. She loves it. the initial set up took a bit to do, but once I was all done, the meep is great! She has not put it down since. She plays all the aps and has taken more pictures than I can count. The parent monitoring is really easy to do and makes sense.It is definitely worth the money.
10-16-12
Disappointed
Bought this for my tween ... the load time is awful, the instructions are inadequate, response time is practically non existant. So not impressed. Does not operate like it does on TV. Returning to QVC.
10-13-12