Meep 7" Children's 8GB WiFi Tablet w/ Apps by Oregon Scientific
In Stock
Sold Out
We're sorry. This item is not available at this time.
Pre Order Possible .
Low Stock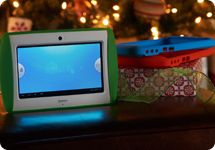 Learn more about the Meep! tablet.
Description
You want your child to experience the latest in technology--but how do you keep an eye on the content they're viewing? With the Meep! tablet. The Meep! is full of amazing features--built-in Wi-Fi for Web browsing and communication, a music player, an eBook reader, chat capabilities, and a front camera--but it's also equipped with parental controls that allow you to monitor your child's Internet access and viewing, and even approve friend requests through its own communicator social network! How's that for peace of mind?
The Meep! runs on the Android 4.0 operating system, which allows access to hundreds of apps for purchase and download. And the 7" diagonal color Z-force touchscreen is bright, brilliant, and easy for young fingers to navigate. With the Meep!, your child can experience the fun and convenience of a tablet while you control the content--the best of both worlds! From Oregon Scientific.
Wireless capability may require a network connection, additional accessories, and/or a service connection fee.
Access to and use of the Internet may require payment of a separate fee to an Internet Service Provider.
Manufacturer's specifications are subject to change without notice.
Includes Meep! tablet, 4GB SD memory card, USB cable, AC adapter, and three removable silicone sleeves
Android 4.0 operating system
Supports MP3, WAV, JPG, PNG, and MP4 files
7" diagonal color Z-force touchscreen with 800x480 resolution
4GB internal memory
Built-in Wi-Fi
Front camera
Music player
eBook reader
31 preloaded games, three eBooks, and five apps
Parental control allows parents to monitor Internet access, viewing, and friend requests through kids communicator social network; parental settings accessible from any computer or mobile device
Meep! must be registered using Google Chrome or Apple Safari
A credit card is required in order to register the Meep!
A Gmail account is necessary in order to access Google play
Access to App Store
SD memory card slot
HDMI output
Ages 6 and up
Measures 8-5/8"W x 5-5/8"L x 1"D
ETL listed adapter; 1-year Limited Manufacturer's Warranty
Made in China
Reviews & Community QA
T31962 - Meep 7" Children's 8GB WiFi Tablet w/Apps by OregonScientifi
105
105
Dissapointed
I as disappointed in the ability to use theses tablets. I bought 2 for my grand-children for Christmas, and waited for them to open and use them, but I was surprised to fine they were very slow, and hard to access. I have high speed internet, and still, very difficult. I was going to send them back, but the children do play a few games on them and will not let them go. so for that reason I kept them. I hope they come out with something better!
03-30-13
Don't Buy!!!!
I bought the Oregon Scientific Meep for my nephew as a Christmas present. Within two months the on-off switch was broken. My sister-in-law called the company and was told to return the tablet. When she asked when to expect a replacement they told her 6 to 10 weeks!!! This was not a unique problem. Obviously, the company was aware the switch would break (as evidenced by other reviews ) which makes the 10 week replacement period unsatisfactory. I will steer clear of this company's products in the future.
03-27-13
Needs Improvement
My boys ( ages 6 and 9) both received a MEEP for Christmas. I think this could be a good tablet but needs alot of upgrades. 1st, it's very s l o w and downloading/updating any of the games or programs. So any child who is used to playing with their parents phone will become frustrated quickly ( like my children). There are times when the tablet is missing half the ebooks and games that it came with and you have to go back into the "Meep" store and reinstall everything. If you want anything from Google Play you have to set upan email account for your child through gmail which I didnt like. The few good qualities I like are the parental controls. I can set any restrictions I want on the MEEPs even the amount of time they can use it for. I can go online anytime and see what they have been playing and I am the only one who can approve a wanted game. My boys ( and myself) get frustrated all the time with these tablets and do not recommend.
03-19-13
worked 5 mins
Read directions and followed. Would not charge.Sent back for a refund
03-14-13
Great Gift
This was a gift for the 2 oldest grand children my 9yr old love it, her mother set up the Google acct and now she is able to read from a wide variety of free books. It is also very interactive. Parent & Grandparents take your time when you are setting up electronic products that maybe all that is need. Ps I also purchase a FUN TAB which seems to be working fine also... love hope in a jar, after I clean my face with clairsonic. I use Hope in a jar every day ,out of my Wen I got for the grand children but use it all for me LOL
03-14-13
Love the Meep
AS I sit here I have two eight-year-old girls playing with the Meeps Igot them for Christmas. They absolutely love them and love them more all the time. Yes; even with some technological experience they can be a bit confusing initially to get squared away. The key is to not read too much between the lines and follow the directions literally. Yes; if it says the games timed out that is the "samples". Once you set up your WiFi and do the upgrades you can get full versions of games for free and do so much more. I was even reading MY email on the Meep yesterday. I am fully thinking to get a third one for another little girl for her birethday. Yes; you do have to put a little time in setting it up but it is well worth it.
03-09-13
"The greatest buy"
My 7-1/2 year old granddaughter is visiting us this weekend and she brought her Meep that we gave her this past Christmas. I asked her if she played with it much and did it work well and she said yes. I asked her if she thought it was a good buy and she said it was "the greatest buy". I would say she is happy with the Meep and so am I.
03-08-13
Very disappointed
This was trouble from the get go. I should have returned it. Very difficult to set up controls online. We are unable to play any games because it keeps saying timed out even though I have the parental control set never to do this. I wouldn't recommend this. Wasted my money
03-07-13
Very Dissappointed
Ordered this early for a Christmas present for 5 year old granddaughter. She got it day after Christmas, and by January 28, the on off switch broke. Plus according to her Mother it was very hard to try and download games or set up the online account/restrictions. Returned.
02-26-13
The Meep works great for us.
I did not have the issues with the Meep that some others have reported. The newest firmware update in early February to version 2.0 has resolved things like black screens, and slowness/freezing. The battery life can be extended by turning down screen brightness and turning off wifi when not in use. You can recover the preloaded content in one step through the Meep Store and you can certainly download the Netflix app through GooglePlay. The interface with Google Play is one of the Meep's best features. You will need your security on low for YouTube and the Web browser as well. There is some setup involved for the Meep because it's designed for you the parent to set up the controls the way you want them. So yes, plan some time to explore how to use the portal and set things up before handing it off to your child. But once you do take the time and learn how it works, the Meep works great.
02-25-13
Works!
I bought 3 Meeps for my grandkids for Christmas! Had problems at first getting them setup but the company came through and helped. Also gave 5 free games for the problems at Christmas! Worth the problems as the grandkids love them!
02-18-13
Worst tablet ever!
My son got this as a gift for his Birthday. Within 2 months, the power switch on the outside of the meep got stuck so we were unable to turn it on or off. I got it unstuck, but now it is just loose and still no functional. I contacted the company, Oregon Scientific, because it is well within the manufacturer warrant. They are going to send us a new one, but I have to pay for shipping to send the old one back and they won't send a new one out until they receive the other one. And the processing time is 2-3 weeks, so my son could be without his meep for a month! It is also very, very slow. Takes forever to download games on to it and now all the time I spent downloading games I will have to do all over again since they are sending out a new one. Very disappointing!
02-12-13