Mannheim Steamroller Christmas Symphony CD & Bonus CD
In Stock
Sold Out
We're sorry. This item is not available at this time.
Pre Order Possible .
Low Stock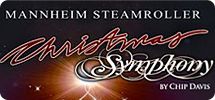 Now Hear This
Listen to samples from Mannheim Steamroller CDs Christmas Symphony and A Candle Light Christmas.
Description
A holiday tradition in the making. Mannheim Steamroller celebrates the season in distinctive style with their 2011 holiday album, Christmas Symphony, which contains all new renditions of yuletide favorites performed with the Czech Philharmonic Orchestra. The tracks are expanded into full symphonic arrangements for your listening pleasure. The bonus CD, A Candle Light Christmas, contains 10 more seasonal sensations.
Includes Christmas Symphony CD and bonus A Candle Light Christmas CD
Mannheim Steamroller
Christmas Symphony: 16 tracks
A Candle Light Christmas: 10 tracks
Made in USA
Reviews & Community QA
F09623 - Mannheim Steamroller Christmas Symphony & BonusCD
22
22
Makes a great gift.
Got this as a gift for my sister who is a fan of the group & was happy that she got it. Would recommend the to anyone who is a fan.
06-22-12
Love Mannheim Steamroller Muisic!!!
I just happened to see this one morning on QVC, so I immediately got on the phone & ordered it, before it was actually presented. I was so glad I did , as it sold out in a hurry!!! I have all the Mannheim Steamroller CD's & just love their music!!!!
04-18-12
Wonderful Christmas CD
I ordered this CD for Christmas and absolutely love it. The sound is wonderful and the clarity of each instrument is great - especially on my Bose system. Thanks QVC for this opportunity as I had never heard Mannheim Steamroller before. JC - Tennessee
01-10-12
!st. Mannheim Steamroller Purchase.
I really like the CD of Mannheim Steamroller Christmas Symphony & Bonus CD . This is my first event of hearing they're great music performances. I'm now going to look for they're previuos performances, to make a collection of they're great work. The case with the Bunus CD was cracked while in route in shipping, but the CD arrived "OK".
12-31-11
My New Favorite!!
It is hard to find beautiful Christmas music on the radio these days and so I've given up and use CD's. This is my new favorite that is played over and over. Thank you for giving us truly gorgeous music.
12-29-11
SO GLAD I ORDERED IT
I almost cancelled my order, thinking "why do I need another Christmas album!" After receiving it I was so happy I did not cancel, I just love it! Keep playing it over and over.
12-26-11
Just as expected. Excellent!
Love Mannheim Steamroller. Beautiful music everyone will enjoy!
12-24-11
Beautiful Holiday Music!!!
The Mannheim Steamrollers are the BEST!!! This 2 CD collection is great and at a very reasonable price, Thank You QVC.
12-23-11
Uplifting!
This is my favorite Christmas CD. The arrangements are unique and I like the variety of songs.
12-20-11
Play it every day
I enjoy these CD's, I have a hair salon and I play these everyday and everyone enjoys them.
12-16-11
Fantastic!
Great arrangements. Their sound is unique. Enjoy every song. Will take this with me to listen to in the car when my friend and I go light-looking.
12-15-11
Amazing Christmas Music!!
I'm very glad I purchased the recent Mannheim Steamroller Christmas music. I have their other cd's which I had also purchased from qvc when they were first available. I really enjoy listening to them--they are a definite part of my Christmas celebration! If you want to hear some amazing Christmas pieces--purchase this & you won't be sorry. Thank you qvc for offering this & giving me another chance to see Mannheim Steamroller again!!
12-14-11