Mally's Favorite Things Volume 2 Collection
In Stock
Sold Out
We're sorry. This item is not available at this time.
Pre Order Possible .
Low Stock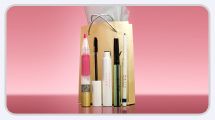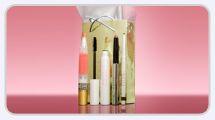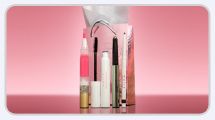 Description
What is it: A 12-piece makeup collection of Mally's favorite things. It includes three each of Mally's four favorite products, plus bags and tissue for easy gifting! Enjoy it all or divvy it up however you'd like.
Who is it for: Women that want to have fun, look AMAZOIS, and share the love--or keep it all and create all kinds of long-lasting looks.
Why is it different: It includes Mally's favorite items that customers also love! Volumizing mascara was the QVC Customer Choice Award Winner for Best Mascara three years in a row; High Shine Liquid Lipstick was the 2011 and 2012 Customer Choice Award winner for best lip product; and Evercolor Ultimate Waterproof Eyeliner was the 2012 Customer Choice Award Winner for Best Eyeliner!
How do I apply: Glide Age Rebel Shadow Stick all over the lid and blend with your finger or a brush--after 30 seconds it's set until you take it off! Layer for more intense color or wear as a smudgy eyeliner. Add it along the inner rim of the eye for instant fierceness!
Apply Customer Choice Award-Winning Evercolor Ultimate Waterproof Eyeliner as close to the upper lash-line as possible, getting right into the lashes. Experiment with different looks. There are no rules!
After you curl your lashes, start at the base and wiggle the Customer Choice Award-Winning Volumizing Mascara wand back and forth. Maintain that same motion as you continue through the tips. You are not going to BELIEVE how amazing your lashes look! Fresh, flirty, feminine, and FIERCE!
Finally, apply Customer Choice Award-Winning High Shine Liquid Lipstick all over your lips. This amazing liquid lipstick is your lip primer, full-coverage liquid lip color, high-shine lip gloss, and lip brush all in one. Because it is infused with vitamins A, C, and E, it cares for your lips, too! You will have the juiciest, most amazing looking lips EVER because this formula is so super glossy, it helps diffuse and smooth the look of wrinkles, fine lines, and dryness that show on lips.
From Mally Beauty.
Includes:
0.06-oz Age Rebel Shadow Stick in Sugar (warm champagne)
0.06-oz Age Rebel Shadow Stick in Jade (green)
0.06-oz Age Rebel Shadow Stick in Burnished Violet (violet)
0.12-oz High Shine Liquid Lipstick in Raspberry (shimmery dark pink)
0.12-oz High Shine Liquid Lipstick in Punch (medium pink)
0.12-oz High Shine Liquid Lipstick in Peach Sorbet (light orange)
Three 0.39-fl-oz Volumizing Mascaras in Black
0.01-oz Evercolor Ultimate Waterproof Eyeliner in Express-O Lane (dark brown)
0.01-oz Evercolor Ultimate Waterproof Eyeliner in Navy (dark navy blue)
0.01-oz Evercolor Ultimate Waterproof Eyeliner in Shimmering Black (shimmery black)
Three mini paper bags with tissue
Made in Canada/Italy/China/USA
Tune in to QVC for Mally - Color Cosmetics
Thursday, July 5, 2018 from 7 – 8 p.m. ET
Reviews & Community QA
Mally's Favorite Things Volume 2 Collection
197
197
1st Mally Purchase! Changed my world!
I bought this a couple weeks before christmas with the intention of gifting some of it.(That didn't happen :) This was my first Mally purchase and I haven't looked at make up the same since. My expectations for makeup now is so much higher. The eye shadow sticks are AMAZING! Mascara is TO DIE FOR! I dont like to wear much on my lips, usually just cherry chapstick. Well that was until I found this lip gloss. Silky, not sticky, and last! If you haven't tried Mally! What are you waiting for?
07-05-13
Eye shadow stick and mascara are the best!!!
I was on autoship for the set, and by far this is one of Mally's best! Mally please make more of these sets!!! I exclusively use Mally's mascara because it doesn't smudge, smear and one coat is enough for me. I have naturally curly and long lashes so the one coat is enough. I have given the mascaras as gifts since I have a few from the 2 sets and also I had bought her 6-piece mascara set. The eye shadow sticks are also the best, those I DO NOT give as gifts since these are my "treasures" and I cannot part with. I have oily lids, even with eye primer and these last forever in my lids. The colors are wonderful and blendable but you do have to make sure to smudge and blend with 39-seconds after applying. I have even slept with my makeup, even though I know I shouldn't and the next morning the shadows are STILL on my lids! The mascara is partially drooled to my lower eye lashes but I can vouch the eye shadows are bullet proof! I like her eye liners but for some reason they smear on my Asian lids. I like the colors of the lip glosses but they seem to look unnatural and cakey on me. I give the lip glosses as gifts. Overall the set is absolutely fabulous. Highly recommend and 3 eye shadow sticks practically paid for itself!
05-07-13
Fabulous
This is my second Mally kit, and I just love it! All of the colors are wearable & sexy. The mascara is the best...in fact, I wear her eyeliner, shadow stick, and mascara through tough martial arts workouts & guess what? My eye make up still looks great even though the rest of me is all gross& sweaty! What really prompted me to write this review is the lipgloss. It was the last item I tried in this kit. I was about to head to a gala last week and usually do a smokey eye with nude lip ... But since my dress was all black I felt like I needed a little more color. So, last minute I tried the punch color on my lips. I can't even describe what a beautiful color it is! I never even wear colors on my lips but this color is the bomb! A beautiful, flushed pink, with just enough pop. Treat yourself to this kit ladies, or your mama or best friend. It is a gem.
05-07-13
My new favorite collection
I loved my Mally ordered it at Christmas thinking I would share it, but after I used it I only shared on set of it and that was with my mother whom also loved it!
03-22-13
granddaughter loved this
gave this to my 21 yr old granddaughter for Christmas and she called me a few weeks later to tell me how much she loved this collection... wants me to order 'more' Mally!
03-05-13
I love it
This kit is really nice. I love the colors. I feel these shades look good one anyone no matter their skin tone.
02-26-13
Love Mally's items but...
Love Mally's masacara, lip glosses & eyeshadows but the eyeliners did not roll up, I was so excited to get the eyeliners and then they didn't work....too late to send back since I had already gifted some items. I have three of these eyeliners that are useless & very disappointed. I would recommend other items but not the eyeliners in this form of dispensor NOT.
02-20-13
Mally's Mascara Saves the Day
Dear Mally-I'm a single mom of five who just successfully negotiated her first major raise with a bear of a review team. After an hour of grueling negotiations and even tears on my part defending my request for a well-deserved salary increase (after 7 years), I exited HR and headed straight to the restrooms to compose myself. I couldn't believe it! My Mally mascara from this kit (and NOT even the waterproof mascara) had held in place the entire time! I just laughed out loud right there in the ladies' room with relief it was over and thanks to you and your team for a wonderful product. I was able to get myself together quickly , and I got the raise! LOL! Thank you Sincerely from La Jolla CA.
02-14-13
LOVE!
I absolutely love this kit. there is nothing bad i can say about the products my only issue is even though i love the mascara and the formulation and results i get.... IT FLAKES on me...how can i get it so not flake because i really like it and want to continue using it but want to stop the flaking
02-14-13
AMAZING!!! Please Read!!
Okay, I must start out by saying that I LOVE Mally's products. I am saddened at some of the reviews I have been reading and believe there may be a mistake! I bought this kit because it is an incredible value as each piece alone is around $20. I've been reading a lot of bad things about the eyeliners and how they do not work/twist up. I'm not sure if everyone knows this, but in order to twist up the eyeliners, you have to hold down the part you would normally twist, and THEN twist it up. Just be careful as to how much you twist up because you can't retract it. The eyeshadow sticks are fabulous! You have 30 seconds from the time you put it on to blend, rub, whatever before it sets! I use a primer beforehand and will rub some on up to my crease and then blend quickly. I'll add a highlight shade to put the whole look together and it looks amazing. The lipglosses are great colors and I have had more than 10 and never had one break/fall apart. Now it is lipgloss so we all know it isn't going to stay on all day. (and it is not sticky!!) Then, we have the mascara, which I swear by! I have turned many people on to Mally's products by the mascara alone. I have no eyelashes, and this truly lengthens and gives them so much volume! I get compliments on my makeup daily and I truly dedicate it to Mally!!
02-11-13
Poorly Made Items
This was my first Mally purchase and I am very disappointed with it. All the items are cheaply made. So far, one of the eyeliner caps has cracked, one of the eyeliner pencils will not twist up so it is useless and the cover to the mascara broke! If I hadn't given a few of the items to my daugther for christmas the whole thing would be going backl! I'm not sure I even like the products! The mascara is no better than a cheap drugstore mascara and none of the opther products are anything special. This item is SO NOT WORTH THE MONEY!!
02-07-13
Waited too long to return
I have had many of Mally's products and they were all better than this. All 3 of the liner pencils do not twist up. So they turn out to be one time use...too expensive for that! The shadows do not go on even or smooth even though I used eye primer. Mascara is no better than what I can buy in the retail stores for equal or lesser price. Haven't tried the gloss yet. But I had 30 days before I tried any of these and it was too late to return. This was a costly lesson. Mally, I don't know what you did, but the quality of these products seem to have gone down.
02-06-13