Mally Fierce Face in Five Minutes 6-piece Color Collection w/Ba
In Stock
Sold Out
We're sorry. This item is not available at this time.
Pre Order Possible .
Low Stock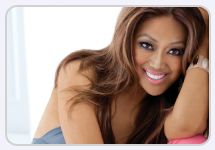 5 Minutes to Fierce!
Click the links below for more about this quick-applying color kit.
Description
What is it: As superwomen, our crazy schedules can make it tough to find time to do our makeup. This exciting color collection from master makeup artist Mally Roncal gives busy gals a fierce look that goes on fast and lasts!
Who is it for: All women who want a flawless, beautiful makeup look they can apply in just five minutes.
Why is it different: It's got Mally's greatest--QVC Customer Choice Award-winning Volumizing Mascara and High-Shine Liquid Lipstick--and her latest: fresh colors and amazing new products to try, all for an incredible value.
Ultimate Performance Liquid Foundation delivers natural-looking, complete coverage quickly. Liquid Face Defender Blush imparts a gorgeous, natural-looking flush while helping to soften the appearance of pores, fine lines, and wrinkles. And Evercolor Ultimate Waterproof Eyeliner glides on like butter with the most incredible vibrancy, laying wonderfully along the lash line.
How do I use it: After you have moisturized, primed, and concealed your skin, apply a few pumps of Ultimate Performance Liquid Foundation into the palm of your hand, rub your hands together, and smooth all over your face.
Glide the Evercolor Shadow Stick over your eyelid and along your lower lash line. Smudge with your finger. Then use the new Evercolor Ultimate Waterproof Eyeliner to define the eye and make the lash line look thicker. Note: eyeliner does not retract so take care to not turn out too much product at once. Make lashes amazing with the Volumizing Mascara--apply two coats on the top and one coat on the bottom. Wiggle the wand at the base of the lashes and comb through the ends.
To look fierce in a flush, apply Liquid Face Defender Blush in a circular motion on the apples of the cheeks and sweep up along the cheekbone using your finger. For a finishing touch, swipe the High Shine Liquid Lipstick all over lips.
From Mally.
Includes:
1.0-fl-oz Ultimate Performance Liquid Foundation
0.39-fl-oz Volumizing Mascara in Black--Customer Choice Award Winner for Best Mascara 2010 and 2011!
0.75-fl-oz Liquid Face Defender Blush in Lighter or Deeper, both pinky-peach shades; Lighter comes with Fair, Light, and Medium foundations; Deeper comes with Tan and Rich foundations
0.01-oz Evercolor Ultimate Waterproof Eyeliner in Espress-O Lane, a deep, rich brown
0.06-oz Evercolor Shadow Stick in Trailblazing Brown, a golden brown with a touch of shimmer
0.12-oz Hi-Shine Liquid Lipstick--2011 Customer Choice Award Winner for Best Lip Product--in Lipety Split, a gilded pink shade
Bag
Made in Italy/Canada/China/USA
Reviews & Community QA
A220221 - Mally Fierce Face in Five Minutes 6-piece ColorCollection &Bag
447
447
Most difficult time,made easier.Thank you!
Received this wonderful Fierce Face in Five Minutes 6 piece CollorCollection set: My husband hated every makeup, I tried to wear. This time, it was different. He thought it was natural & I looked beautiful(his words). Little did I know, within weeks...I would spend my days in ICU...Only going home a few times/for only a few hours. I spent my time sleeping at the hospital,washing my face & applying my makeup(in the hospital bathroom) fast in the morning. Wanting him to see me looking my best. After 42 years,I was still remained beautiful to him. He was the love of my life. Thank you Mally, for creating a lovely product. I will miss ordering it, but, I appreciate the opportunity to own & wear it.
09-25-12
Best foundation and lip gloss ever!
Mally's best in lip gloss and foundation. I was so glad to get this kit on auto delivery since the second kit has even more beautiful colors than the first kit! Love love the liquid foundation here, it simply glides on like second skin, invisible and yet a wonderful light airy feel on the face. I hope Mally keeps making this foundation, I won't want to be without it! Even with so many choices, big name brands that cost somuch more, Mally's lip gloss and foundation are my all-time favorites for quality and color. Thanks Mally, beautiful products are your specialty!
08-16-12
LOVE - But Need LIGHT Foundation-Where can I buy?
I love the foundation in this kit, but it seems everyone is in the same boat as me. It can only be purchased in this kit? Even Mally's website does not show it. ALSO, I was going to reorder the kit, since that's the only way I can see to get the foundation, but it doesn't show LIGHT available as a choice now. I'm afraid to try the FAIR, since I was so happy with the color of LIGHT...sigh :/ I would have rated this 5 stars, if I could get the foundation to replace what I need. I am not happy that it seems to be a one-time sell? Is it right ? So I bought the kit to try it, LOVED IT, and now I can't reorder it? I don't get it. Someone please explain? I also LOVE the blush. It goes on very smooth and isn't too overpowering. I think I might like it more in the Winter, though. My skin tone already has a bit of pink in it, so I prefer the light peachy tones in Summer. Thanks, QVC & Mally, but please bring the Foundation (IN LIGHT) to be sold on QVC or SOMEWHERE again!!
08-07-12
Great Combo....once
All these items are terrific, but there is one star and that is the foundation. I am 49 years old and have run through more foundations and tinted moisturizers than I want to admit. This beats all, including Chanel and Dior. PLEASE let me buy it alone and do not make me get a kit every time I need it. I cannot get through the other products fast enough. The blush rocks but it lasts forever!
08-04-12
Doesn't Get Any Better
Whether a Mallinista or not..... this is the best set - I love the eye shadow/pencil colors - and can only get them in the set... - but, since I love everything and use everything in the set, I just got another one. VERY HAPPY with this product!!!!
08-02-12
Didn't work for me.... went back
I have used several Mally products, had high hopes for this. I did like the eyeliner, the color, application and wear were very good. Really liked the eyeshadow, color and ease of application both were good. I like her mascara but it is difficult to remove, must do it carefully or lose eyelashes in the process. I wanted to love the makeup & blush but alas I didn't. Makeup colors need way more selection. I bought the Tan for my olive-yellow skin. Since I have a lot of yellow it looked orange on my face, really bad delineation line and it felt like a mask. The blush, in theory, is great, actual application no so much. It did not blend well over the makeup it made a smeary mess on my face, it dries so quickly which makes proper blending difficult.. If used w/o foundation it grabbed and exaggerated every age spot on my face making them worse. I thought about keeping but just could not justify the cost when all I really liked was the eyeshadow & eyeliner. Oh and something made my eyelids sticky.... don't know if it was eyeshadow being applied over the foundation or the eyeshadow itself, but it felt really weird, when I blinked it was like my skin stuck together. Hard to explain, just weird. Sorry Mally, it had to go back. If the color spectrum gets better I may revisit but with current & limited choices don't think I will.
07-06-12
GREAT PRODUCT
I purchased this in February 2012 and was very happy to see that this makeup went on smoothly and last all day. I was told by my mother and friends that I looked younger with this makeup, (I'm a young senior), so my mom ask me to order it for her. She LOVES it and uses it more frequently then I would have thought. Mally could you PLEASE, PLEASE sale the Evercolor Shadow stick in Trailblazing Brown, and the Hi-Shine Lipstick in Liptey Split seperately. ???
06-26-12
Please Sell the Foundation Separately!!!
I liked the whole kit, however I am not out of any of the products except for the foundation, but I must buy the whole kit again just for the foundation. Seems kind of an expensive purchase just for foundation.
06-25-12
PLEASE SELL FOUNDATION SEPERATE!!!!
Mally please make it that we can purchase foundation seperatly!!!! LOVE it!!! Would go on auto delivery for it!!!!! PLEASE
06-23-12
Great for my Self-Esteem
This is a wonderful purchase. I'm 62, and had been avoiding using eye make-up as I got older because I felt my eyes had lost their attractiveness and didn't want to bring attention to them. Using this kit made my eyes stand out again without looking over-done, and I've gotten many compliments from co-workers and friends who saw the difference. It's made me feel so much prettier and more confident in my appearance. I use all the products in the kit, and love the whole effect.
06-23-12
WONDERFUL FOUNDATION - PLEASE OFFER SEPARATELY
I ordered this kit a while back and fell in LOVE with the foundation. I'm 45 and have been searching for years for a foundation that works for me. Imagine my surprise and disappointment when I came on line to re order and discovered it isn't available. I didn't have much use for the rest of the kit because the eyeliner and mascara smudge on me in about five minutes! Would purchase the foundation again in a heartbeat.
06-23-12
The beginning of something new with this kit
I was a Fasion Fair girl, then I became a MAC customer for years. This kit was the begining of a Mallynista because it has all that I need for everyday wear in a medical setting for a 12 hour shift. I live in the caribbean and with the other foundations I found to be too heavy for the high humidity. This foundation is light and doesnt show sweat lines. Ladies, keep in mind that the blush is highly pigmented and only a tiny dab will do for BOTH cheeks. My mom and my sister have hopped on the Mally train with me. Thank you girl. LOVE, LOVE, LOVE!
06-22-12