Malden Mills Polarfleece Ella Queen Sheet Set
In Stock
Sold Out
We're sorry. This item is not available at this time.
Pre Order Possible .
Low Stock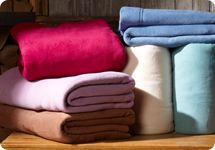 Cozy & Colorful
Learn more about this Malden Mills sheet set.
Description
Snuggle up in style. Polarfleece(R) sheets are a huge trend in home bedding, and this luxurious set--made especially for QVC--does it right with warm shades and plush fabric that's certain to keep you cozy and fashionable all season long.
Rest assured. These soft, lightweight sheets have been crafted with a highly breathable surface to increase air circulation, leaving you dry and comfortable. At the same time, they trap body heat to keep you insulated and chill-free throughout the night.
A dream come true. Just because these sheets feel good doesn't mean they don't look good. They're designed not to wrinkle, so you'll never have to worry about breaking out the iron. Score!
Drift off in color. With several shades available, you're certain to find the hue that matches your decor. Can't decide? Pick more than one and add a little variety to your bedroom. Fall in love with yours today.
From Berkshire Blanket.
Includes one flat sheet, one fitted sheet, and two pillowcases
Queen sized: Flat 92" x 100"; Fitted 60" x 80" x 18"; Pillowcases 20" x 30"
100% polyester
Machine wash, tumble dry
Made in China
Reviews & Community QA
Malden Mills Polarfleece Ella Queen Sheet Set
584
584
Can and have recommended this great product
Absolutely my best purchase from QVC in years. We love these and with the winter we've had they have offered so much comfort. I have purchased two sets. After receiving the first and trying them I asked my husband what he thought. He said "oh I really like those". That's saying a lot folks! And he encouraged me to pick-up a second set right away which I did. Anyway, not sure how they will be once weather warms up but wow I've enjoyed them this winter. Thank you!!!
02-13-14
Scrumptous Feel ...
I bought these sheets a year ago Christmas for a daughter who lives in northern Wisconsin. She was skeptical as to their warmth compared to flannel but graciously accepted them. Well before this past Christmas she asked that I once again buy these sheets for them. Hmmm ... my skeptic daughter had obviously been won over to Polarfleece so when ordering a set for her, I also ordered one for myself. We have had below zero temps too and was sick of having to add blanket weight to keep warm. Voila .... just the Polarfleece sheets and my comforter and I have been toasty warm and I sleep better without the weight of extra blankets! Love these and I need more but unfortunately there are none in the queen or king to be found at QVC. Bring them back ... there is still much cold ahead ... Please?!!
01-29-14
SO Nice!!!
I thought I would wake up too warm and sweaty and I thought my husband might not like them. Boy was I wrong on both. We both had a hard time getting out of bed. Not only did I not over heat (We are in California even tho it's 30 at night) I didn't want to get out of bed this morning and neither did my husband. It washed really well and is the most comfortable sheet set we own. Love these. I'm so glad I bought these. I'm sure if California actually has a colder winter one of these days I'll be even more happy I bought these.
01-22-14
Wonderful, soft sheets.
I now own four sets of these sheets and they are very soft and wonderfully warm during cold winter months. My husband loves them as well. I found the colors to be accurate as portrayed online and on air. I think the poster who had trouble (turquoise looking like "army green") mistakenly ordered the sage instead of the sea foam (which are more of a turquoise-like color). Don't be afraid to order. Malden Mills sheets are excellent quality and hold up well to repeated washings. Two of my sets are about two years old and have maintained their color and softness without pilling.
01-10-14
SoSo Soft
I LOOOOVE these sheets!! No comparison between these and Flannel <-- I will never use Flannel again!! They Fit my bed perfectly!! I ordered queen and full both are terrific! Great weight too!! Love love love them!! Thanks so much!
01-08-14
BEST SHEETS EVER!
Purchased these sheets as christmas presents and they have been an instant hit. I love how they wash and dry out on the clothes line. The colors are nice and they hold their shades in the wash. I don't do anything special for the wash either. You can't go wrong w/these sheets.
01-07-14
Fabulous
Wow.. got a GREAT deal getting this set in the clearance pricing.. I chose the pecan, and its a beautiful color for my sons room. Glad I ordered, obviously these are very popular as they are all selling out. Very plush and comfy cozy. Happy Customer!!
12-16-13
Gave as Gifts!
I had one set of these sheets sent to my daughter in dusty lavender, and another set to my granddaughter. They both love them! I had also sent them the cozy Berkshire fluffy blankets a month ago. Paired with these sheets, it is difficult for my daughter to get up in the morning to go to work! Pure luxury!
12-12-13
DOESN'T GET BETTER THAN THIS
I own 2 sets of these and purchased another one for myself in raspberry. $27.00 for QS size sheets is unheard of. I bought these last year for my son and daughter-in-law and another set for my younger son for Christmas in KS. They are so comfortably soft and warm without being hot. No sweating, no pilling, no shrinking. They are perfect. Love getting into bed. Hate getting out of bed. Oh well.
12-10-13
Not even close to the color on the website!
I was excited for the turquoise sheets to arrive, They called them sage, it should have been my first clue. But when I opened the box they were a dark army green that I was not a fan of.Disappointed and now afraid to order other colors as I do not trust the pictures, how could they be so different??buyer beware
12-10-13
Love, Love~!~
I have purchased several sets of these...I am in love. Hubby and I hate to get out of bed they are so awesome. I had read some reviews about the thickness. you would not want these to be thicker, they would be to heavy and to hot!!...they are just right. All I can say is when you slip into bed its like your getting a snuggle bunny hug:-)
12-07-13
Score! Husband LOVES them!
My husband LOVES fleece sheets. I had just purchased these in sea green and they are awesome! I washed them as soon as they arrived and they came out great! I put them on our bed that night. The next day my husband commented about how well he slept and noticed as soon as he got into bed the sheets were so cozy and soft. We have two other fleece sheet sets, but they have become a little rough and are pilling after so many uses. I am on waitlist for the grey...hope they come in soon!
12-07-13