Magformers 48-pc. Magnetic Building Set w/ Rechargeable LED Light
In Stock
Sold Out
We're sorry. This item is not available at this time.
Pre Order Possible .
Low Stock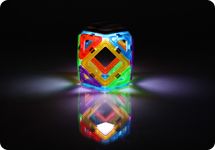 What a difference! The MSRP on this item is $79.00,* but QVC is bringing it to you at the Clearance Price of $39.86.
*The Manufacturer's Suggested Retail Price (MSRP) is based upon the supplier's representation of value. No sales may have been made at this price.
Description
Send your little engineer on an engaging exploration of simple and complex structures with this 48-piece magnetic set! All they have to do is design and construct the magnetic pieces on a flat surface. When they lift their flat design, it becomes a stellar 3D structure. A lighted square illuminates the structure so they can proudly present their clever creation. From Magformers.
Includes 20 triangles, four isosceles triangles, two diamonds, two mini rectangles, 19 squares, one lighted square, and USB cable
Ages 6 and up
Made in China
Reviews & Community QA
Magformers 48-pc. Magnetic Building Set w/ Rechargeable LED Light
87
87
Favorite of the Grandkids
My 2 yr old granddaughter's favorite things in her toy box. She has learned shapes, colors and to count by playing with these.
04-29-14
Kids love!
I am a pre-k teacher & my students love these! I have two sets and we have had fun making some of the creations. It would be nice if they gave instructions on how to make different things with picture support for kids to copy.
04-22-14
Fantastic Magnets
So far I have purchased four sets of Magformers for both my grandson and granddaughter. The both play with them for hours. Absolutely love them.
03-10-14
Clear tiles and only one lights up
From the pictures and description, I expected a set of Magformers tiles where every tile would light up. The picture shows mostly colored tiles, so I expected colored light-up tiles. Wrong! All of the tiles in the set are a clear translucent plastic. ONE of them is a square that lights up. The square has a button you can press to turn it on and change its color. The square can be lit with any of nine different colors, or it can go on a color-changing setting, where it automatically cycles through all nine colors. That one square is very neat! But all of the other tiles in the package are just ordinary Magformers tiles, with no color and no light. If you build a structure with them and add the light-up square, in a lit room you don't even see the light, which is very disappointing. But if you put the structure in a dark room, then the light from the square reflects off the other tiles, so finally it does look cool. Things I like about this set: * Lots of tiles for the price. * Looks good in the dark. Things I don't like: * Boring-colorless tiles. * Unless you are in the dark the light doesn't do anything interesting. * Only one piece lights up. Overall, I am disappointed. Though my six-year-old really loves the light-up square.
02-19-14
Great gift for 9 year olds
I purchased this item in the summer of 2013 as a Christmas gift for my 9 year old nephew. I worried myself sick over the next six months that these were too "young" for him. Boy was I wrong! He loved them!! We all loved them, as many of the adults ended up playing with them when he opened them. He has called me several times to share his latest creation!
01-05-14
Fantabulous Fun!!
Bought for my 4 yr. old Grandson, and he loves them. Especially being able to add the led light to his builds. I like playing w them too! You cant go wrong with these for kids.
01-04-14
Kind of a dud
When I bought these, the pictures had the brightly colored lit up pictures. I thought that once they were plugged in the blocks would illuminate with different colors. When I got them and the boys starting building stuff, they put the little red block on and all it did was make them glow a bit. The blocks themselves did nothing. The little red block is just a little lightbulb that makes whatever they created glow from the bottom a bit. The kids like them alright but I thought the light up kind were were a major dud. I'd get the ones that are colored without the light up feature maybe but never these again. I wish I could add a picture to show how lame these things are.
01-03-14
SAW THEM AT METROPOLITAN SCIENCE CENTER!!
Nephew went CRAZY excited when he opened these. He played with them at the local metropolitan Science Center for hours and was THRILLED to get his own set. His mother sent me a picture the day after . . . . a pile of cars, swords, star wars toys were set aside and this 5 year old spent 45 minutes playing with his Magformers! His mom thanked me later for buying gifts that keep her kids entertained! Do not hesitate . . . I regret not getting dbl sets to gift to each child
01-02-14
Excellent choice for Christmas gift for 7 yr old.
Everyone in the family likes these. I had given him a set last year that he still plays with. This set added lights and another shape. Perfect gift.
12-30-13
Great Purchase
I ordered a set of these for my grandkids to play with when they first came out a couple years ago and have ordered more of the little sets since then. They entertain all my grandkids from ages two to teenagers for hours at a time. I have one request, please bring back the bigger size sets, I can only find the little size sets and I am needing some more of the bigger size sets from when I first purchased them. Thanks QVC for a wonderful product that encourages my youngsters to use their creativity.
12-28-13
Not in Color!
I wish I had saw the review by Not as Shown before buying these. These are clear magformers and if you use the light that comes with it, only the bottom 4 attached will show some color. This was my first set and I scoured the internet to find a good price and decided on these. Had I known, I would have spent $10 more to get colored ones. My kids and I had fun playing with them for a little bit so far but the magnets don't hold together around the led light that well. Other than they they look like a nice toy. I just wish they weren't clear.
12-28-13
My grandsons love these
I bought two sets of these. My grandson played with these all afternoon on Christmas. The light really makes these look pretty. So happy with them.
12-28-13