Magformers 40-piece 3-D Magnetic Building Set w/ Instructions
In Stock
Sold Out
We're sorry. This item is not available at this time.
Pre Order Possible .
Low Stock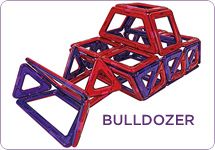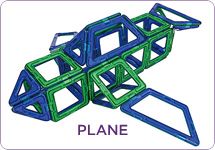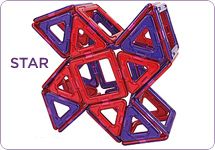 Here are just a few of the cool creations you can construct with the Magformers magnetic building set. Let your imagination run wild!
Description
Artful attraction. This Magfomers 40-piece building set lets little ones create cool 3-D structures and perform neat tricks thanks to the strong magnetic force of each piece. There is no wrong way to build! The pieces always connect and never reject each other, resulting in endless fun.
Includes 18 square pieces, 16 triangle pieces, six trapezoid pieces, and instructions
Magnets are fully encapsulated inside each piece
Ages 6 and up
Made in China
Reviews & Community QA
T30241 - Magformers 40-piece 3-D Magnetic Building Set w/ Instruction
136
136
Magformer 3-D Set
Wonderful!!! All my kids from age 4 to 14 love them. It's they only toy they will all play together with. They are worth every penny!!! I own 3 different sets
07-13-12
Most Awesome!!!!
HURRY and get these back in. I need another 8 sets for family and friends. These are so much fun. I would purchase these every time they are on air they are that good.
01-02-12
PLEASE COME BACK - THE BEST!
This is one of the best and unique toys my Daughter has ever had. They are very good quality and can make amazing items! PLEASE come back! I can't seem to find them anywhere! Last winter I got a few sets and really want more! Thanks! Any updates would be great.
11-10-11
Kids love them (as well as adults!)
Are these going to become available again?? The children, as well as some of the adults in our family, just love them.
10-31-11
FUN FUN FUN( and kids like them too)
I ordered these for my 6 year old grandson. I must say, Grandma had to test them out.before I gave them to him. The magnets are strong enough to pull together by themselves if they are lying close by. I DO URGE YOU TO GET A SECOND SET OR AN ADD ON SET. THE OCTAGANAL ONES WOULD BE GOOD AND CHEAPER TOO. You can surely make a lot of things with just this set alone though. A gift that allows a child to create different obejects is both fun and educational!!
09-12-11
magformers
excellent gift. all grandkids and kids and adults love them
09-11-11
Great Entertainer!
My boys(2 &4) just love these. They will play for hours with them. We'll be buying more for Christmas!
09-07-11
These are Great!
My 6 year old granddaughter was over recently and got bored with playing. I had just received this set and decided to give it to her early. Well, she loved it and I did too! We had a great afternoon building all sorts of things. I plan to add to this set for her.
09-07-11
Great for all ages!
My youngest son who is now 8, received this set last year for Christmas. My kids have a tendency to get bored with toys after playing with them for a few months, but not this set. He is continuously making new things and using his imagination with them! He plays with them all the time, and even my 12 yr old son likes them. I plan on buying a set for all the kids on my Christmas list this year. You really can't go wrong with this set, and honestly, if you can afford it, I'd recommend investing in 2 sets to broaden their creative play time! The more kids use their imaginations, the better! :-)
08-21-11
Best Toy Ever!
Got four sets of these for my grandkids. Tried them with the 4 boys first. They loved them...kept them busy for hours! Next, it was the girls. Another hit. Kids range from age 4 to 13. They were all equally delighted with them, and I think we may end up with an architect or two out of the bunch!
08-17-11
Every kid (and kid-at-heart) will love these!
My 15 year old son who is too cool for everything loves these. My 10 year old son who has autism loves them just as much. My older son will follow the directions and build the things the magformers fold-out suggests. My younger son loves to build super tall towers and then knock them down. My husband and I enjoy playing too. We bought our first set a few years ago and add a set or two every Christmas. This set with the trapazoids is especially useful for making all kinds of things. These are addictive and hard to put down. Easy clean-up. Best toy ever!
07-23-11
Best toy ever!!!
I have purchased 8 sets of these magnets over the last three years. I have done day care over the years from toddlers to nine year olds, and they ALL love them. I started last year buying them for my great-great nephew who was three years old. His mother says that Tyler takes them where ever he goes, even plays with them in the car. I just bought another set for him to give for Christmas this year. I will keep adding to his sets for as long as he is interested, which I'm sure will be many years to come. All my children who play with these magnets, are happy for hours, this is the best money I ever spent on toys.
06-13-11