Magformers 38-Piece Magnetic Square&Triangle Starter Set
In Stock
Sold Out
We're sorry. This item is not available at this time.
Pre Order Possible .
Low Stock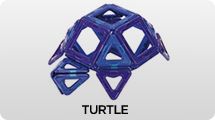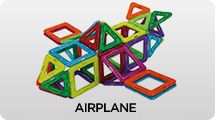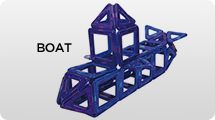 Here are just a few of the cool creations you can construct with this Magformers magnetic building set. Let your imagination run wild!
Description
Young ones design and build all kinds of cool creations using this magnetic 3-D building kit. The magnets always connect--never reject--so your child's imagination is unlimited! From Magformers.
Includes 20 2-1/2" squares, 18 2-1/4" equilateral triangles, and instructions
Two-tone design
Magnets are fully encapsulated inside each piece
Ages 6 and up
Made in China
Reviews & Community QA
T30243 - Magformers 38-Piece Magnetic Square & Triangle Starter Set
20
20
My Grandkids LOVE LOVE them!
Grandkids Love them, I Love them. The Best toy, puzzle, babysitter i have found. This toy out did EVERY toy this past Christmas and will always be a hit with the grandkids. They haven't put them down for one day. It's now April 2012 and they haven't played with some of the other toys they got BECAUSE megformers have there attention always. I bought 4 sets and i'm looking for more. My grandson asked for more just a great gift. I wish i could give them 10 stars! Thanks!
04-12-12
Fun For The Whole Family
I bought this as a birthday present for my grandson and everyone played with it. He has two brothers and all three of them continue to have fun building and being creative with them, including making dog collars. :) They stretch the mind.
11-07-11
Entertaining Set
Purchased the Magformers for my grandson that is almost 3 years old and he loves the set. As he grows the Magformers will still be entertaining because he will be able to design more difficult items. I plan to purchase other sets that offer different pieces. The age range for this item is limitless because the adults enjoy playing with them too. I need to mention that clean-up is easy because the pieces stick together.
08-20-11
Rainbow Beautiful - Need More than ONE!
Good thing I got the rainbow when I did because it isn't available now....my additional set will have to be blue/purple if they deliver on waitlist. But the Rainbow is beautiful! I was under the impression that one set would create more than it did, maybe because they had so many sets out when they were talking about them. ONE set does NOT build much!! YOU NEED MORE THAN ONE if you are planning on making many objects. I was going to get additional pieces anyway but it was a good thing that I was BEFORE I was giving it as a gift. The magnets are great. I cannot see more than one child playing with one set. They could not make much with it. A small box or two -and you would think that with the "buying power of QVC" you'd get more for the money in the package. Maybe that is why I was under the wrong impression. Good thing the other reviews say they last for years........
07-25-11
Terrific for ALL!!!
One set of T30247 were originally purchased for the grandkids and got tired of the arguments over them, because adults and children both want to play with them. Have ordered 3 more of them(T30247) and 5 more of this set.
07-24-11
Great Toy & Math Tool!
Purchased two sets last year for my fifth grade classroom. My students LOVE playing with these magnets, but even better... I used them as Math manipulatives when teaching fractions and geometry! This is the first thing my students want to pull out on rainy days during recess! I need more! :)
07-23-11
Magformer magnets
I am a first grade teacher, I have bought several sets over the past couple of years. When the weather doesn't allow us to go out for recess, I put them out for inside recess and they are always the first thing the children go for. They are in hot demand everytime. The kids love them. They are a great gift idea or great for the classroom.
07-23-11
Grandson loves this
My grandson can be very picky with which toys he likes and will play with. He loves this toy and will send hours playing with them.
07-22-11
AGE Category 3 to 103
This is absolutely the BEST toy ever. Creative, fun and challenging for anyone! I bought 3 sets of these over a year ago for the Grandchildren. I can tell you that EVERYONE had their hands on these. The 3 year old would not share his with his parents. He was very creative. The 8 year old had to ask his parents if they were done playing yet. The 13 year old spent 2 hours building and taking it apart. A year and a half later.... they combine their sets and build very large units and then use them for race cars. There should be a warning label on them. " Addictive behavior may come from playing with these"
07-22-11
Wonderful for All Children
I am a kindergarten teacher, and I have purchased many sets of Magformers for my classroom. The children love them!! The Magformers allow the children to be very creative, and the children don't tire of playing with them. I purchased 2 sets of these squares and triangles to supplement the 4 larger sets I already have. Even with daily use by 28 children, all of the Magformer pieces still look brand new. Thank you, QVC, for offering such an exceptional, creative product for children.
07-15-11
BEST GIFT EVER!!!!
We got our grandson this for his birthday.....Father, Grandfather had way to much fun!!! New request from grandson...NEED MORE PLEASE.....so will be getting another set or two ASAP!!! Would recommend this for both boys and girls...great learning tools....
05-28-11
10-Star "Toy"
The different sizes, shapes and colors add choice, creativity and challenge to see what unique item can be built each time - my 4-month-old grandson giggles when he sees his 2-year-old brother, 10-year -old sister, 35-year-old father and 69-year-old grandpop dump out the small trunk that holds all the different sets that have been bought and go to town on their newest "construction" project. (I will have to admit that most often mom and g-mah are on the floor, also.)
03-28-11