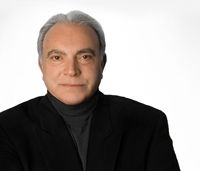 About Louis Dell'Olio
Louis Dell'Olio never had any doubt about what his life's work would be. After three years at Parsons School of Design – during which he won a number of awards including the prestigious Norman Norell scholarship – Dell'Olio was hired to be Dominic Rompollo's assistant at the house of Teal Traina. It was there that Dell'Olio had his first opportunity to design sportswear.
Dell'Olio accepted a new position with Originala in 1971 as the designer for Giorgini, the company's new couture sportswear division. After two years, Donna Karan, his classmate at Parson's, asked him to join her at Anne Klein.
During the ten years they designed together, Karan and Dell'Olio won three COTY Awards and were inducted into the COTY Hall of Fame in 1984. Dell'Olio's name soon became identified with elegant, wearable clothes that were fashionable season after season, yet always looked modern. He established a reputation for designing clothes that made women look and feel beautiful, and were modern in their timelessness, wearable in terms of fit and comfort, and functional in order to accommodate today's busy lifestyles.
Linea by Louis Dell'Olio is a brilliant collection of separates in dramatic textures and colors, created especially for QVC by this noted designer.