LightStim For Wrinkles LED Light Device & Serum
2012 Customer Choice Beauty Award Nominee
In Stock
Sold Out
We're sorry. This item is not available at this time.
Pre Order Possible .
Low Stock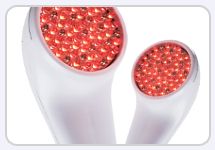 Learn More
Add a 3-year SquareTrade Service Plan to your order and protect your LightStim from accidental damage during use.
Watch a video to see LightStim president and co-developer Joniann Marchese show you how to use it and share expected results.
This item comes with a 90-day return option, a special offer only available for select products that QVC specifically identifies as being eligible on QVC.com. All other terms of QVC's standard return policy apply.
Description
What is it: LightStim for Wrinkles is a handheld, non-invasive medical device that's FDA cleared for the treatment of full facial wrinkles. It delivers warm, gentle LED light that penetrates the top epidermal layer of skin and can enhance collagen and elastin production, helping improve the appearance of facial wrinkles for a more youthful-looking appearance. LightStim Collagen Peptide Serum is designed to work in conjunction with LightStim for Wrinkles.
Who is it for: Those with lines and wrinkles on the face that want help achieving a more youthful-looking appearance.
Why is it different: It goes beyond what topical skin care can do for your skin, and can be used in the comfort of your own home.
In a clinical study, the visible reduction in the appearance of facial wrinkle severity improved in all participants after eight weeks of use. In a follow-up three months after the clinical study ended, all participants maintained the improvement they achieved during the eight-week study period.
How do I use it: First thing after your receive your device, take a picture of the areas you would like to target so you can track your progress. Cleanse and dry your skin, and put on the included goggles if you wish. Place the light so that it gently touches your skin and hold it in that location for three minutes. Then, move it to the next targeted location and hold it there for three more minutes. Continue this until you have addressed all desired areas.
Twice daily, apply Collagen Peptide Serum liberally over clean, dry skin. Massage into face, neck, and decollete and let dry. Can be used alone or combined with your current skin care products. Avoid contact with eyes.
For best results, do this for at least five days a week. After eight weeks, take a comparison picture to see your progress.
From LightStim.
QVC will accept returns up to 90 days from the date of purchase.
Includes LightStim device, 9-volt AC/DC adapter, 0.33-fl-oz Collagen Peptide Serum, and goggles
FDA-cleared
Measures 2-1/2"H x 8-1/2"L x 3"W
UL listed adapter; 2-year Limited Manufacturer's Warranty
Adapter/goggles imported
Reviews & Community QA
A231800 - LightStim for Wrinkles LED Light Device & Serum
38
38
Bad Purchase /Poor Quality
Received mine and it had a loose connection from the beginning . I expect better from Qvc.
02-10-13
Blissfully Happy
I purchased my 2nd Lightstim as a TSV. I have the original one that QVC offered as a TSV a couple of years ago. I love having two as I'm alittle A.D.D. and I that like I can do my whole face and neck quicker. I do see results when I'm consistent with the application. It takes time...it is not going to happen overnight so I chuckle at the gals who don't see results in 30 days. I also have the NuFace which I also love and I do see immediate results from that. I have good skin, some aging and I'll be celebrating my 60th year this upcoming birthday. Do I look 10-15-20 years younger who's to say as we all age differently but some do have a problem correctly guessing my birth year and shocked somewhat when I share my age. Aging is fun as long as you can fight it every inch of the way. Here's to the Q..and all the age defying gadgets they offer!!
02-10-13
Watch out!
Every woman thinks she needs the newest and best gadget on the market today. This isn't it! After one use, my cheeks remained rosey red for the next 24 hours and on top of that, there were darker red SPOTS mixed in with the rosey red! I looked like I had some kind of pox. Plus, my face was very warm to the touch. I followed the directions and actually, didn't leave it in one spot for the length of time that they specified. It was a very comforting feeling, though. It was quickly returned!
02-09-13
great product
I have had this for 2 weeks, maybe not long enough to give a great review but I have to comment because there have been too many bad reviews, My skin is changing and I know it is because of the light stim. My skin is more hydrated, feels tighter and I am using much less skin creams, creams seem to work better now. My skin is a lot smoother now and my pores are smaller, granted I havent had this for a long time but I think in 2 months I will definetly see a big improvement. I did call the sight stim hotline the day after I got this to get more information, The 3 minute time is a minimun, they told me I can hold the light on for up to 10 minutes and I do have some problem areas that I do keep the light on for a little longer amount of time and I am seeing results. Also I use this every night while watching tv, the light feels warm and soothing. I am 60,
02-09-13
AMA - ZING..Skin TRANSFORMATION
i have nicole kidman skin. pure white fair. (why can't i have her legs?)....and the transformation in my skin makes me, almost, NOT need makeup at all. first off girls, BE PATIENT. this is not going to happen overnight. it takes TIME. but, the results are, well, unbelievable. it has completely taken the redness away. GONE. it has completely transformed the texture of my skin. the ruddiness has been erased away as has those sun spots. yep. those sun spots are GONE. it is almost as if this is an eraser on my skin. i have been going to the derm for these weird, well, 'rashes' on either side of my mouth. i've used lotions and potions and creams and pastes, too NO avail. this l ight stim has COMPLETELY healed the corners of my mouth. COMPLETELY. for all of you who think this is just a gimmick - that is just too bad because this is THE most amazing skin care tool i have EVER used in my life. and believe me - i am one of the biggest SKIN CARE junkees on the planet. the grandest change has been the LIGHTENING of my skin. its almost like it has taken it two to three shades lighter, much like the teeth whitening products. so, when i see the creams that are suppose to 'lighten' your skin i just laugh and think of my light stim. i called their headquarters to RAVE about this thing, and talked with two of the girls in their office. they both said that they keep it on their faces for FIVE minutes at each location instead of the three minutes. i even have kept it on longer, with fantastic results. so, girls - for those who have yet to see any change. BE PATIENT. you really DO have to do it every single day for a while before it appears to change anything. my sits on the 'cuff' of my nice fat leather chair that i use for reading and watching TV and the computer - so i use it about an hour - to an hour and a half at night. come on, you gotta' take the time or is isn't going to produce the results!! beauty and keeping our youthful skin DOES take some 'smarts'.........sunscreen and retinols......staying out of the sun when it BEARS down on us like a fire storm....and NOW, this LIGHT STIM.... if you want younger looking skin - with remarkable results...then go for it.....but, remember......it only works when you take the TIME to NURSE your SKIN!! i'm addicted. anyone else?
02-08-13
It works for me.
mine came on Jan 31 of this year, I started to use it on Feb 1st. I have used it twice a day and this is the eight of Feb and one of the lines on the side of my face has disapeared. I know I can't believe it myself. I have a second line on the other side of my face and I am hoping that one will disapear also. These two line are the reason I purchased this item.
02-08-13
Not worth it.
I used this product faithfully for over a year (2 years actually). I cannot say that I saw a big improvement. The biggest issue though, is that half of the bulbs burnt out almost to the day after the warranty ran out. In order for it to do ANYTHING, all of the bulbs need to be lit. Too bad, but for me, it is just not worth the expense of replacing it.
02-07-13
NO GOOD
This is the 2nd review I am writing. For some reason you seem to not have received the frist review I submitted. I used this faithfully back in September when I purchased it for over 60 days. Actually I used it more than that being careful not to go over the deadline for returning it and getting my money back. It did absolutely nothing to alleviate the small lines I have around my mouth. I would've given it NO stars but had to rate it. I followed the directions to a T.
02-07-13
WORKS FOR ME!! YAY!!!
Been using this for about 6 months and after about 1 week of using I noticed changes... the DEEP wrinkles above my lip and at the corners of my mouth are truly diminished.... they are not completely gone...probably never will be but, I will never do without my LIGHTSTIM....it is wonderful and you do not need any creams or serums or gels... LOVE LOVE LOVE my LightStim!!!
02-07-13
Disappointed
I have been using Light Stim faithfully for the past three months. Although it was drying my skin, I continued to be hopeful. Three months later I have deep lines near my mouth in which I now need fillers. This product did the opposite of what it promised.
02-06-13
Please, everyone wait a minute!
I have just finished reading several reviews bringing down the star rating written by people who DID NOT EVEN USE THE LIGHTSTIM! What is with that? Some of the reviews just seemed downright unfair as people had very special circumstances with their skin. I HAVE seen results and am quite happy with the LightStim! First of all, it does take a while to BUILD collagen. That just makes sense. But after a two weeks of using it on a nightly basis as I was watching TV in bed, I DID see GREAT results! The LightStime is pleasant and warm to use. I have VERY sensitive skin and it may turn my face slightly red if I leave it on a place a bit too long, but that is merely a function of the heat. And the redness is gone within minutes. I also have added extra Vitamin C to my daily regiment as Vitamin C helps with collagen production. At sixty-two, the hands of time were turned back at least ten years. I have found it MOST effective for puffiness around the eye area as it brings more circulation around that area. I also had a funky wrinkle from my right eyebrow area headed in a 45 degree angle and THAT wrinkle is so diminished as to be non-existent now. Plus, the deepening folds from nose to mouth as well as the ones from mouth to the bottom of the chin are much diminished! You know, the warmth also really helps with the penetration of any serum which you apply to your face and you get better results from that alone. But add the production of skin supporting collagen, to boot!, and you have a real winner with the LightStim. This certainly beats plastic surgery or injections and is a HECK of a lot less expensive and the results looke NATURAL! I am just sick of seeing the Hollywood types (or wannabe's) looking sooooo fakey! LightStim has given me natural looking results and I am quite pleased! With just about thirty minutes a night, six times a week, watching TV the whole time anyway, I have CERTAINLY made my face look much better. I cannot recomment the LightStim enough as it really is a good deal all the way around. I would report some of the reviews in which people who have not even used the LightStim who gave it poor reviews, but the process is just too time consuming, unlike other sites which take two seconds to say whether a review is helpful or not. In my eyes (less wrinkled and way less puffy!), some of these reviews should NOT even be posted OR taken in consideration with the STAR rating system. But back to the LightStim: great results, cheaper than dermatologic visits, natural results, better use of expensive serums, and warm relaxation while you are frittering time away anyway! HIGHLY recommended!
02-06-13
Not Sure
The latest post addressed the same question I have. Just feels strong for the skin. Remember sunlamps in the 70s? This isn't uv I know but still a little scary. I had started to see some changes around my mouth and eyes after a full week but just nervous of long term effects too.
02-05-13