Lenox 18/10 Stainless Steel 101-Piece Service for 12 Flatware Set
In Stock
Sold Out
We're sorry. This item is not available at this time.
Pre Order Possible .
Low Stock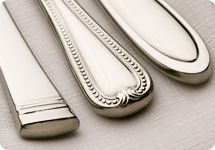 Description
Set a beautiful table all year. This expansive 101-piece flatware set from Lenox elevates every gathering with its superb workmanship and classic style. You'll appreciate its timeless look for more than just special occasions--it makes every day feel a little bit special.
Understated elegance is the hallmark of Lenox designs, and this service for 12 is no exception. Made from 18/10 stainless steel, the continental-size flatware has a substantial feel in the hand and a gorgeous gleam to catch the eye. Choose the collection that best complements your well-dressed table. Each of the three time-honored designs is perfectly proportioned and aesthetically pleasing.
Full service. Whether you're looking to upgrade your current set or replace mix-and-match silverware, this flatware collection is your choice for years of dependable use. From Lenox.
Includes:
12 knives
12 forks
12 spoons
12 salad forks
12 teaspoons
12 iced tea spoons
One sugar spoon
One tablespoon
One pierced tablespoon
One serving fork
One butter knife
12 cocktail forks
12 dessert forks
18/10 stainless steel construction
Continental size
Dishwasher safe
Lifetime Breakage Replacement Program
Made in Vietnam
Reviews & Community QA
Lenox 18/10 Stainless Steel 101-Piece Service for 12 Flatware Set
171
171
Fabulous set
I bought this when it was on clearance recently and I'm so glad I did. What a fabulous set. I never run out of silverware anymore. I love having the cocktail forks, the dessert forks and the matching iced tea spoons. This flatware is a nice size, heavy but well balanced.
11-11-14
I have to rebut the 1 star reviews
Whenever I buy anything online, I always check the 1 star reviews ( even before the 5 star ones). I have had this set for 2 years almost to the day and this is the best flatware set that I have owned. Granted, I'm not one to plunk $300 for a set of flatware, but my wife is and I am glad she did. We paid $140 and I couldn't be happier. The items are all sturdy and heavy but also feel balanced in the hand. They haven't dulled and look like the day we bought them. Today, we called Lenox to get replacement pieces that we have misplaced ( 6 spoons) and after a brief time on hold, we were told that they would be replaced. I have never seen a replacement deal like that before so that in itself is worth the price. There is not a bad thing I can say about this set and I am one who doesn't usually write reviews.
11-04-14
Lenox reputation for quality
Great quality, nice , sturdy stainless pieces, feel comfortable in your hand. The fact that they are beautiful on the table setting is a plus. I am very happy that I choose this set.
10-27-14
QUALITY DINING FOR AN AFFORDABLE PRICE
i absolutely love this flatware. The design I chose was Hayden and I love the clean, simple yet elegant lines. I have more than enough place settings but I like that the lifetime guarantee so that this can be handed down God-willing from generation to generation.I can't wait for all the holiday dinners and family get togethers.
09-18-14
Simple and classy.
It looks great on my table and even when it's in the drawer! I enjoy looking at it, as well as using. Very pleased with this purchase.
09-07-14
LOVE LOVE LOVE!!!
So happy I got this set. It's gorgeous. Also love the iced tea spoons. This set will only be used for holidays.
09-03-14
very disappointed with Lenox Cust. service...
We're pretty happy on this set (Urbane), except there were several items that it's either chipped or scratched (6 knives, 1 butter knife, 2 table spoons, 2 forks, 6 cocktail forks, 1 dessert fork, & 6 iced tea spoons..Wished they'll put a steak knives & sporks on this set as well.. ). We're very very disappointed with Lenox on how they handled this defective issue.., because they wanted us to take a picture of every single one of them, instead of sending us a replacement and have us send them the defective ones.... Some of the chipped and scratched areas are very difficult to show on the picture... However, QVC is very helpful on handling this issue...even though this is sold out..Customer care helped us filed a complaint and we're waiting for the answer.. We really like this set and pattern, we might just keep it for everyday use, even though the other ones are chipped and scratched...hopefully they'll give us a fair decision and option.. While waiting, We decided to order another set by Lenox that I've been looking to get..., just in case we need to return the first set,, then we'll have some thing to use while waiting... Just wished that the box is not brown, like you just bought it from a flea market.or cheap place. Hope & wish that they would put it in a Lenox box... Or some thing Presentable ! Especially if giving it as a gift...
09-01-14
Not want it shows in TV
I bought this thinking that it would be perfect to use for all my special occasions, I was wrong!! I can get this cheaper at Wal-mart or Target!!
05-18-14
Awesome
This has to be the nicest silverware I've ever held in my hand. Wow.
04-21-14
Finally found
Needed a new set! With 4 people in the family we needed a large set that would last. Have had this since Christmas and was by far the best of many sets we bought, tried and returned. These we kept and are very happy with weight price and quality. Comes with lots of tiny forks we dont use and some very large forks for my husband and son. They sparkle and work great for every day use and special occasions. Give this set a try and I think you will be just as happy! This would be a great gift for anyone at anytime!!!
04-02-14
Great brand, attractive -- a few negatives
I purchased this in the Devoted Pattern as an anniversary gift for my nephew and his wife It looks lovely on the table and I am hopeful they will like it but it could be going back. On the positive side Lenox is a wonderful brand with a lifetime warranty, the set is very high gloss heavy weight 18/10 stainless with many pieces. It looks lovely on the table. On the negative side the packaging was unsuitable for gift giving, the workmanship is a bit lacking - I have some older pieces in this pattern and while the beading is very similar the embellishments have more relief and the sizing seems a bit off compared to other continental sets. The cocktail forks may not get that much use a second set of 12 teaspoons or the addition of round soup spoons or butter knives may have been more useful place pieces but the iced tea spoons will be a very welcome addition.
02-22-14
Beautiful for every day and special occasions!
I have been meaning to buy new flatware for ages! I finally got around to it and am so pleased with this huge 101-piece service from Lenox. I ordered the "Urbane" setting and it is both stylish and sturdy. Thank you, QVC, for helping me getting something wonderful for myself for Christmas!
01-25-14