Laura Geller Bella Vita 8pc. Color Collection w/ Hat Box
In Stock
Sold Out
We're sorry. This item is not available at this time.
Pre Order Possible .
Low Stock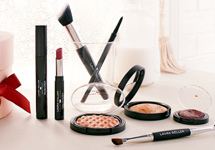 Learn more about the amazing process that takes Laura Geller's Baked Elements from the "bakery" to your makeup bag.
Learn 4 fun looks from Albany, Gabrielle, Courtney, and Marybeth.
Read previous questions and answers customers asked the Laura Geller team about this collection.
Watch a video with Program Host, Gabrielle Kerr, on why she loves this collection.
Baked Lace Illuminator & Baked Eclipse Eye Shadow Duo are exclusive to QVC until 3/26/15.
Description
What is it: An Italian-inspired seasonal collection of indulgent shades and decadent textures that capture the beauty of life in a full face of color. Get the Baked Lace Illuminator and Baked Eclipse Eye Shadow Duo exclusively at QVC until March 26, 2015!
The new illuminator comes in a universally flattering shade of peachy gold that showcases your favorite features and contours the face to help create dimension and that beautiful lit-from-within glow. The eyeshadow duo is the perfect pairing to take your look from subtle to daring. The new shade of lipstick delivers rich color with luxurious shine in a beautiful, natural shade of dusty rose to make lips look and feel irresistible. Use the mascara to create flutter-worthy lashes for the ultimate flirty look. The angled applicator and double-ended brush make application a cinch. The whole collection is presented in a beautiful round box with ribbon that is perfect for gifting--and keeping!
Who is it for: Any skin tone or type especially those looking for a timeless and sophisticated full face look.
Why is it different: Indulge in color, celebrate the season, and reveal your flirty side with this special collection inspired by all things that make us look and feel our most beautiful.
How do I use it: Sweep Balance-n-Brighten all over the face. Blend well for even, weightless coverage. Create the look of instant radiance with a sweep of Illuminator! Sweep the softly shimmering Baked powder all over the face for a luminous look. Using the eyeshadow duo, sweep the light shade across eyelids and up toward the brow bone. Then warm it by applying the deeper shade along the crease and top and bottom lash lines. Apply INKcredible along the top and bottom lash lines for stand-out eye style. To top off your eye-catching look, create long, flutter-worthy lashes with StyleLASH! Sweep this lengthening mascara onto lashes. Apply Color Brilliance directly to lips for a sweet shade that's perfect for every day.
From Laura Geller.
Includes:
0.32-oz Balance-N-Brighten Baked Foundation in Porcelain, Fair, Medium, Tan, or Deep
0.38-oz Baked Gelato Lace Illuminator in Ballerina, a universally flattering soft, golden taupe shade
0.08-oz Baked Eclipse Eyeshadow Duo in Moonlight/Aubergine, a light mauve shimmer shade and deep eggplant satin shade
0.33-fl oz StyleLASH Lengthening Mascara in Black
0.01-oz INKcredible Waterproof Gel Eyeliner Pencil in Blackbird, a deep matte black shade
0.06-oz Color Brilliance Lustrous Lipstick in Kiss, a rosy, neutral mauve shade
Double Ended Shadow/Foam Brush
Baked Angled Stippling Brush
Round box with ribbon
Baked Lace Illuminator and Baked Eclipse Eye Shadow Duo are exclusive to QVC until 3/26/15
Reviews & Community QA
Laura Geller Bella Vita 8pc. Color Collection w/ Hat Box
212
212
Great kit
Great kit for the price. Illuminator was a bit too shimmery/glittery for my taste but the rest is great, especially the mascara!!
02-11-15
WORST PURCHASE
i BOUGHT THIS SET TO TRY LAURA'S MAKEUP. IT LOOKED REALLY BAD ON ME AND MY DAUGHTER WHEN WE TRIED IT, IT DID NOT COVER THE ROSESA I HAVE. OR THE PIMPLES MY DAUGHTER HAS. THE ONLY THING GOOD WAS THE MASCARA AND LIPSTICK. WE DIDN'T RETURN THIS SET BECAUSE WE WANTED TO KEEP THE LIPSTICK AND MASCARA. GOOD VALUE IF THIS SET WORKS FOR YOU. ALL THIS MAKEUP SITTING ON MY DESK. WHAT A WASTE OF MONEY.
01-29-15
eyeliner
I was very disappointed in the eye liner. I breaks off at every application. The rest of the products are very nice. The eyeliner spoiled the whole kit.
01-15-15
Great Purchase
I love the baked foundation, but the bronze cheek palette in this set has it beat! I admit that I find it slightly too bronzy (just not my usual style) but when I put it over a pink blush, OMG, it is amazing! Just adds a whole other hue that makes me look great. The lip color is one that I think is universal, but with winner in this set is the baked foundation and bronze cheek palette. Worth the price of the whole kit, the other stuff is BONUS!
01-10-15
Quality product
Laura Geller's products can be depended upon to be quality. However I am an older lady and this kit was not the best choice I made for myself, so I returned it. It did not give me the coverage I was hoping for. But I wanted to comment on the mascara which was clearly superior in lengthening lashes to others on the market. Overall, this would be an excellent choice for a younger group of women with less issues to be concerned with.
01-09-15
Eyeliner Is NOT waterproof!!!
Love Laura's products but very disappointed in this eyeliner it leave a crease on your eyelid !! By the end of the day it is GONE!!! Never again!!!
01-05-15
Great except that the lipstick was missing.
I bought this as Christmas gift for my daughter-in- law and the lipstick was missing.
01-02-15
An OK set to try...
I've tried watching the video and playing with the illuminator on my own. I just get too much sparkle over and over again. So, I have way too much of an item I will not use. The mascara is just OK for me. The lipstick is too dark for me so I barely tap it on my lips and blend with something lighter. The brushes are just OK as well. The container is cute. I'm not sure what I'll put in it just yet, if anything. I wish it was just pink, but it has writing on the lid which takes away from the cuteness. On the more positive side, B&B never disappoints and I absolutely LOVE the eye shadow duo. Those two colors are stunning with green eyes!
12-31-14
Not as Expected
I like the way it feels on my face but do not cover as smoothly as seen on tv. I have to use a base to get good coverage and that is not what I want to do. Will be sending back. I will keep looking for a product that will cover without using a base concealer.
12-30-14
This is the best one yet!
I have been a fan of Laura Geller products for many years and have purchased her special collections many times over the years. I was so thrilled with this one after trying it, that I immediately went back and signed up for the auto delivery plan! The first day I walked into the office wearing this new collection two women made the comment " you look so pretty today ". It had to be the make up because nothing else was different. I think the total look is gorgeous but the illuminator is the thing that makes such a big difference. I love the soft natural, warm glow it produces. I count on Laura to keep me looking young!
12-27-14
Great Purchase
Purchased as a TSV in September, ordered as auto delivery to lock in the price as indicated in the sale pitch . 2nd shipment came as 12.54 MORE per unit price. Love the make-up....poor sales pitch
12-27-14
not a winner overpriced
Very expensive for what you get. brushes very cheap and shed easily. make up not as easy to use as demonstrated. settles in my wrinkles.
12-27-14