Laura Geller 5-piece Beauty Off the Vine Collection
In Stock
Sold Out
We're sorry. This item is not available at this time.
Pre Order Possible .
Low Stock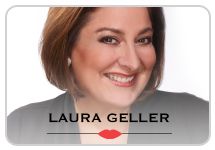 Lock in the savings! This item is available on Auto-Delivery.
Spackle Supercharged, Baked Eyeshadow Duo in Fresh Wines, Baked Blush in Bouquet, Lipstick in Rosoto are exclusive to QVC until 3/28/2013!
Description
What is it: A full-face color cosmetics collection infused with powerful antioxidants and antiaging ingredients. As Laura Geller says, it's "good-for-you beauty direct from the vineyards of Italy!"
Who is it for: Beauty Off The Vine pampers skin while keeping you up-to-date in this season's hottest color trend. It's an antiaging color cosmetics arsenal!
Why is it different: The Beauty Off The Vine Collection offers soothing products that house a powerful blend of vitamins and minerals. Conceal and care for your skin with Take Cover Anti-Aging Foundation SPF 20, a formula to help moisturize, minimize the look of wrinkles, firm skin, and improve elasticity. Baked ImPRESSions products combine the creaminess of a liquid with the silky feel of a powder, providing richly pigmented color and a smooth, long-wearing finish.
How do I use it: Apply a thin layer of Spackle Supercharged Fortified Under Make-Up Primer over a clean, moisturized face. Wear under foundation for perfect makeup application, or use alone for a fresher-looking complexion.
Take Cover Anti-Aging Foundation's airless pump delivers the right amount of product for each use. Blend with fingertips, a makeup sponge, or foundation brush for a flawless finish, and layer for fuller coverage.
Using a powder brush, apply Baked ImPRESSions Blush on the apples of your cheeks, blending toward the hairline for a rosy finish. For a cheek-stain-like finish, apply blush wet, blending edges well.
With an eye shadow brush, apply the pale pink rose shade of Baked ImPRESSions Eyeshadow all over the lid. Apply the earthy currant shade in the crease and blend well. Using an eyeliner brush, apply the same deeper shade on top and bottom lash lines, smudging for smoky effect.
Apply Color-Enriched Anti-Aging Lipstick directly from the tube.
From Laura Geller.
Includes:
2-oz Spackle Supercharged Fortified Under Makeup Primer
1-fl oz Take Cover SPF 20 Foundation in Light, Medium, Medium Rich, Medium Deep, or Deep
0.23-oz Baked ImPRESSions Blush in Bouquet, a tawny pink shade
0.106-oz Baked ImPRESSions Eye Shadow Duo in Fine Wines, neutral pink rose/hearty burgundy shades
0.14-oz Color Enriched Anti-Aging Lipstick in Rosato, a creamy plum rose shade
Charm
Tune in to QVC for Laura Geller Makeup Studio
Thursday, May 31, 2018 from 5 – 6 a.m. ET and Thursday, June 7, 2018 from 2 – 3 a.m. ET
Reviews & Community QA
Laura Geller 5-piece Beauty Off the Vine Collection
215
215
Spackle
This is the first time I used Laura Geller's Spackle Supercharged fortified under make-up primer and so far this is the best primer I had ever used. My make-up stays the whole day and there is no need for me to retouch it every now and then and I am also satisfied with the Take Cover Anti-aging foundation. My co-workers were so surprised when they saw me looked so different with my Laura Geller's make-up. I just made my second order since I got the first one last Dec. 5.
03-29-14
She loved it.
I bought this for my mom as a birthday present. She had received some of Laura Geller's make up previously and loved it. This was equally loved. It stayed on the whole night. The colors looked beautiful but not over done. Will buy Laura Geller products again.
03-28-14
Great color set
The lipstick and blush are perfectly paired. I love the foundation as well. And I generally only use light coverage foundation. When I need to step it up this works beautifully. All LG blushes need a light touch......use half as much as you think you need and it's just right. That's a plus for me as it will last longer. Love this kit for a formal, made-up look.
02-24-14
Excellent! But...I Only Want Take Cover & Spackle
I've been on a self-inflicted, year-long QVC restriction, which is why my review is delayed. I purchased this as a TSV, and discovered that I love Take Cover and Spackle. The other products I did not use. So, though the price was good, I wasted some money. Laura, please construct a TSV that contains just these two products in Medium Rich. Thanks. Val
01-29-14
don't buy unless you like your face shining w/oil
I wish I hadn't thrown away the box. I can't return. I can't believe that Laura Geller would release this product as an improvement on Spackle. It doesn't cover ... and leaves an oily film. A friend said to me, "You bought these products to make it easier for you to do your makeup, but you had to buy an Oil absorbing gel and put that on. The makeup and Spackle is oily and neither covers. The blush is too strong. The lipstick is non flattering. The eye shadow makes you look like someone punched you in the eyes (pinky red). You spent $50 and you are using your "old" makeup". I had success with Laura Geller's previous Spackle, but this is NOT Spackle. I don't know what it is other than a waste of $50
10-28-13
does not last
Light is too light. No coverage and does not stay on your face. After 3 hours I had to redo my makeup.
08-27-13
spackle return in large pump
Love all but the lipstick......Will not stay on me..but love the spackle....will it return in the large pump jug.......please bring it back.in the large amount. This is the best ever, don't need make up with it. goes on cool and you look years younger....
08-24-13
love love love!
It's my first time to use Laura Gellars products. I love everything about this collection!
08-22-13
Nice
I love her products but in this set the foundation is so much darker than the same color of the cover up. Unable to use the foundation and I didn't want to return the whole set.
08-20-13
Exellent!
OMG! This is the most flattering Laura Geller Kit! ever! I bought the light and the color has a little bit of yellow which blends really well with my skin. The foundation glides so smoothly and it covers without caking or any dryness. The eyeshadow brings makes my green eyes pop! Everything in this kit is fabulous! Please DO NOT stop making this kit or I will have to get on my private jet plane and fly down to New York to convince you to keep these colors available! LOL Seriously, these are best colors! A big thanks to you Laura!
08-13-13
Works For Me!
I've used these products over and over again, proving my commitment to Laura's wonderful makeup. I suppose the colors were meant for autumn or winter, but I feel these are colors for all seasons. I continue to buy her products without being disappointed.
05-29-13
LOVE all but foundation.
I LOVE Laura Geller's products and this did NOT disappoint!! The Rosato lipstick is now my NEW favorite color. It is PERFECT!! I use the Spackle under the Baked Foundation, as the liquid foundation is a little thick and heavy for me. When I do have blemishes, this foundation SURELY covers them up!! I bought the lightest shade, and sometimes I think it is still too dark. A little goes a LONG way!! Also love the blush and the shadows. Again, these are for ladies that want NO shimmer at all, which is sometimes what a lady wants and needs. Beautiful pink shades in this kit!! Look great on my fair skin.
05-08-13