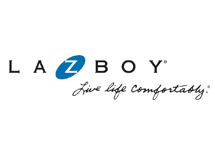 Kick back with a book or enjoy a movie by relaxing in a genuine La-Z-Boy recliner. Since 1928, La-Z-Boy has been designing and manufacturing some of the most comfortable furniture in the world. Now's the time to bring La-Z-Boy comfort and style into your home.
We know your comfort is paramount. Create an oasis of relaxation and comfort in your home with a beautiful reclining chair from La-Z-Boy. Our selection is perfect for relaxing with friends and family, cuddling with kids, lounging with your favorite novel, or sitting back and enjoying the latest movie or game.
La-Z-Boy was founded by cousins Edward M. Knabusch and Edwin J. Shoemaker. The very first La-Z-Boy was a folding wooden porch chair designed for taking in the sun and socializing with friends. This item was the inspiration for the products that followed, including lounge chairs and swivel recliners. In short order, the duo realized they could make a full-time endeavor out of their after-work tinkering, and the fully upholstered La-Z-Boy recliner was born.
Decades later, the La-Z-Boy tradition of quality craftsmanship and utilization of impeccable materials is alive and well. The span of their company has increased over the years, as has their technical manufacturing expertise. La-Z-Boy now offers a full line of home furnishings with every modern convenience, including reclining chairs with padded footrests and total body support. And if you're the type who likes to be on the move, try out their rocking recliners, too. It's just one of the fabulous products you'll find from La-Z-Boy. So sit back, relax, and find your new favorite seat.
Information provided by La-Z-Boy.