La-Z-Boy Classic Swivel Micro Denier Fabric Recliner w/Memory Foam
In Stock
Sold Out
We're sorry. This item is not available at this time.
Pre Order Possible .
Low Stock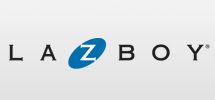 Learn about some of the benefits of this La-Z-Boy recliner.
Find out more about this item & how you assemble it.
Description
Kick back and relax. With a footrest that locks into three different positions, this swivel rocker recliner chair provides total body and lumbar support. Plush memory foam pads the seat, chaise, and footrest for premium comfort. The finely woven fabric exterior offers unequalled softness. From La-Z-Boy.
Style: Classic
Three-position locking footrest
Memory foam seat, chaise, and footrest
Total body and lumbar support
Unibody frame
Made from microdenier polyester yarns that are finely woven for softness
Pattern is a classic linen weave design with a subtle texture
Some assembly required
Approximate measurements: Overall 41"H x 36-1/2"W x 39"D; Fully reclined 66-1/2"D; Seat 19"H x 20"W x 20-1/2"D; supports up to 275 lbs
3-year Limited Manufacturer's Warranty on memory foam; Lifetime Limited Manufacturer's Warranty on parts; 1-year Limited Manufacturer's Warranty on fabric
Cannot ship into Sacramento, CA metro area
Reviews & Community QA
La-Z-Boy Classic Swivel Micro Denier Fabric Recliner w/Memory Foam
20
20
Love QVC-HATE THIS CHAIR!!!!!!!
I have purchased many items from QVC and loved everything except this chair. This is the worst purchase I have ever made anywhere. I could not return because I threw the box away. The memory foam seating keeps detaching from the chair. We purchased in August and have had this chair serviced twice already. I gave a one star rating because I had to pick at least one star its a no star rating in my eyes.
01-10-15
Great Chair
I got this chair and didn't get to set it up until a week later (to heavy for me to lift). I noticed when ordering it said someone had to be at home to sign for it, but I was gone and when I returned it was sitting on the side of my house in front of the garage. The day I did set it up I had been doing a lot of lifting and pulled my back, so when I sat i the chair I didn't wake up until the next day around noon. It was 7pm the night before when I sat down. I like that it's smaller and doesn't take up a lot of room, and the back support hits right at my lower back, which feels great!! (I'm 5'7). Like they said it was nothing to put the back on, I did it myself. All in all I'm really happy with it so far.
10-28-14
Disappointed in Wear
I am a female senior who lives alone so there isn't a bunch of abuse that happens to this chair. However, after very few months the foam had shifted in the foot rest. Then a couple of months before the first year was up, I noticed that the fabric was worn through down part of the front of the arm. I moved a short distance several months ago and it may have rubbed on something but it was in the truck all of five minutes as I moved within the same complex. The fabric was so thin I wondered how it had stayed on either arm that long. I purchased this chair because of the brand name and the adjustability. I will never again buy a La-Z-Boy. This one is going to a back room and I will purchase another chair to put where it counts.
10-12-14
I love my chair
I have been having trouble finding the right chair, as it needs to fit in front of the computer, then swivel to be able to watch tv in my VERY tiny home. This is the perfect answer, and is also the most comfortable chair ever.
09-24-14
S0 Pleased!! Great Buy!
First of all, I was reluctant to purchase due to some of the reviews. However, I went with my common sense, and so glad I did. I have a 20 year old la z boy that was top of the line 20 years ago. Oversized,Heat, massage, phone in the armrest..lol..paid $1200 for it way back then. LOOOved this chair but no longer has the back support I needed and wanted something smaller. It still looks new, so I hated to give it up!(plus all the memories of kids cuddling with me in the chair) Anyway, this new chair was delivered in 3 days, took one minute to assemble, the fabric is beautiful and oh is it comfy and supportive!! I have only had it about 2 hours and do not want to leave it! I bought the wheat brown and the color is more of a linen and it brightens up my room. As far as the 'noise' some reviewers complained about..that is just silly...all la z boys have that ratcheting sound, who cares! Certainly never bothered me in the 20 years I have owned my previous chair. Ok, you wonder, what am I doing with my 'old' la z boy? My son is taking it to his college frat house..they can't wait to get it, I am sure the chair will never be the same!!!!
08-14-14
Some what satisfied
The quality of this chair is not truly preceded in the advertisement , the reclining is not easy to maneuver especially for an older person. Wanted to return it but it was so much of a hazard getting it delivered. After using for weeks I am somewhat satisfied.
12-22-13
VERY DISAPPOINTED
This was an Xmas present for my husband and our first Lazy Boy. We received this chair on Friday.We open the box and took the chair out of the box. It was very hard to put the back on. We finally got it together and then we found out we could not open the foot rest. MY husband finally discovered that it was broke. We would have sent it back but my husband had cut the box so that we couldn't use it. I finally called the 800 number and spike with a rep.They are sending a guy out in two weeks to fix it. I was also disappointed in the size of the chair. This chair is not. Worth the price. VERY disappointed that the Q would sell this product. $700 is too much to pay for this chair!
11-12-13
Not what I expected from a La-Z-Boy
The fabric is not of any true quality and came extremely wrinkled from the factory . The lever that controls the reclining functions keeps getting stuck to springs and makes loud noise when returning to original position. Chair is smaller than others in price range. Returned to QVC.
11-04-13
Terrible
First time I am truly disappointed. Chair is hard. To lay back. Makes loud clacking noise. When bringing chair back to original position.
10-15-13
good comfy support
The reason I didnt give it 5 stars, is I recieved the wheat colored, when I ordered the fog grey...oh well, I suppose its a chance you take when ordering online...but the recliner is great comfort and support on lumbar area and like the rocker/swivel feature. Thanks QVC!
09-21-13
Fabric is terrible!
We will make our last payment this month. What a disappointment. The fabric is not of any quality you would expect from La-Z-Boy. The fabric has peeled, like a 100% cotton knit shirt. The picks and peels are wherever your body has touched the chair; the seat, the foot rest. We are sorry we purchased this chair. Waste of money.
09-16-13
Outstanding product representative!
Amy Robbins does an amazing job of representing La-Z-Boy. Her on-air presence is top-notch and she is extremely personable and likeable as she explains the many attractive features of this beautiful piece of furniture.
08-17-13