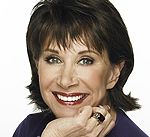 "This is the kid-in-the-candy-store job, and I'm the luckiest kid on the block." —Kathy Levine
Kathy Levine couldn't be happier. As one of the first-ever QVC hosts, she enjoyed an illustrious 13-year stint as a self-proclaimed "jewelry diva". Now, as the creative director for La Vintáge Fashion Jewelry, she's back at QVC, helping women feel look and feel fabulous.
"I look at artists' sketches and jewelry samples and make changes. Shortening dramatic drop earrings for daytime helps women who don't like weight or too much glitz on their ears. I'm focused on giving women stunning fashion jewelry they'll be comfortable wearing."
Kathy discovered her love for jewelry early on in life. Her mother always wore colorful jewels — even to the supermarket! She jokes that even the mobile above her crib was studded with crystals. On dress-up days in grade school, Kathy borrowed from her mom's jewelry collection and dressed up like a "grand dame".
Today, Kathy believes in versatile accessories more than ever. "We need jewelry that works conservatively during the day and dazzlers that knock our socks off at night. La Vintáge is about being seen and looking like a million bucks — regardless of the time or occasion. Why not wear a velour jogging suit with a stunning bracelet and ring? It's all about feeling great!"
Catch Kathy Levine during La Vintáge Fashion Jewelry on QVC.