L'Occitane Escape to Provence 8-piece Collection
In Stock
Sold Out
We're sorry. This item is not available at this time.
Pre Order Possible .
Low Stock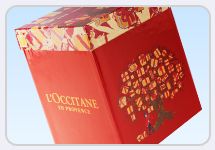 French Favorites for Him or Her
*The Manufacturer's Suggested Retail Price is based upon the supplier's representation of value. No sales may have been made at this price.
Description
What is it: Best-sellers and customer favorites from the south of France. Pamper yourself or loved ones with these luxurious indulgences!
Enriched with 20% shea butter, nourishing Shea Butter Hand Cream helps deeply moisturize hands. This #1 best-seller is purchased every three seconds worldwide!
Shea Butter Ultra Rich Body Lotion is enriched with 15% shea butter and calendula extract to help soothe and nourish. Formulated with honey and sweet almond extracts, it keeps skin soft.
Almond Shower Oil is a decadent cleanser that transforms into a moisturizing foam. Rich in almond oil, it leaves skin silky-smooth and deliciously scented.
Almond Delicious Hand Cream is enriched with almond milk and almond oil to nourish and soften hands, imparting the subtle aroma of fresh almonds.
Formulated with verbena extract from Corsica, France, Verbena Shower Gel cleanses and invigorates skin with a fresh, lemony scent.
Enriched with thyme, lemon essential oil, and verbena extract, Verbena Hand Cream moisturizes hands while leaving a cooling effect.
All the relaxing properties of lavender from Haute Provence are captured in the Lavender Shower Gel. Its plant-based formula gently cleanses skin, leaving it soft, smooth, and delicately scented.
Lavender Hand Cream moisturizes and soothes with a blend of nourishing shea butter and relaxing lavender essential oil.
Who is it for: All skin types.
Why is it different: It's ideal to give to men or women. Keep your favorites and treat friends and family to the rest. There is a scent for each person on your list!
How do I use it:
Shower Gels/Oil: Apply to damp skin, lather, and rinse. You can use the oil in the shower as a shaving base.
Body Lotion: Apply after bathing or anytime skin feels dry. For best results, gently exfoliate before applying.
Hand Creams: As often as needed, apply a small amount onto backs and palms of hands and gently massage in circular motions.
From L'Occitane.
Includes:
8.4-fl oz Almond Shower Oil
8.4-fl oz Lavender Shower Gel
8.4-fl oz Verbena Shower Gel
8.4-fl oz Shea Butter Ultra Rich Body Lotion
1-oz Almond Delicious Hand Cream
1-oz Lavender Hand Cream
1-oz Verbena Cooling Hand Cream
5.2-oz Shea Butter Hand Cream
Reviews & Community QA
L'Occitane Escape to Provence 8-piece Collection
64
64
The best set ever!!!
I got this on auto delivery a couple of years ago as a TSV. I have used and loved L'Occitane for too many years to count. I did get this holiday set and love it as well but I miss the lavender! If you are looking for hydration and luxury this is the set for you. I used it like it was gold & rationed it out lol. I wish L'Occitane would have more TSV's then once a year. Look at most of the reviews you can see how many love these products. That year I also got the hand soap & lotion on the tray in Lavender.....didn't see it this year. Awesome, true to what they claim to do. More L'Occitane!!
02-02-15
Best purchase ever
So many excellent products. Each one is superb in its own way. The price is unbelievable for the amount of product.
07-26-14
Great Products!
I purchased this box of goodies in October 2013 and I love every item. I've been using L'Occitane products for 11 years and love the quality. And QVC makes purchasing this brand affordable.
02-22-14
Lovely gifts
What a treat to be able to try such fine items as these. Gave one to a friend for the holidays...the rest are all mine to enjoy...JUST LOVELY
02-03-14
Most I'd boast!
I went right after the HUGE tube of hand cream & melted it into my hands as often as possible. It's scent is original & light so very thick you'd never guess it's about to have your skin just drink it in. Almond Oil for bath & shower was divine & again what a lovely smell not strong but just enough to make you smell feminine & a little sultry. I enjoyed the citrus oil & bath as well & would have really indulged more in the spring. However, because I could not appreciate the lavender, no matter how very sweet & subtle, it was not a good value for me. I however find ALMOST every product wonderful. Some just weren't my taste.
01-08-14
L'Occitane
This is the second year I bought this for my sister, but will try to remember not to buy next year. I bought two sets and sent one to her, and was going to break up the other set for small gifts, but lotion had leaked out all over one set so can't give as gifts. I am trying to use the lotion with the pump top but nothing will pump out. I have to take the lid off and squeeze the bottle which results in huge amounts coming out. I think it is too thick for the pump, maybe? But I don't see that complaint elsewhere here so maybe something wrong with mine. QVC reimbursed me for the set that had leaked all over everything in the box.
12-27-13
A Touch of France
Most shower gels wash the scent down the drain, however, these scents last. The lotions are very nice and even my husband uses them which is a testament to L'Occitane because he NEVER has used any other store bought lotion more than once. I love the lavender and have enjoyed all the products. I will be watching for another TSV next year to purchase more as Christmas gifts for myself, friends and family members.
12-27-13
Very nice!
I will keep a couple of things for me, give away most of the lotions as stocking stuffers or tied onto a gift card for some of the girls at the office. I love lavender so was happy to see that included and happy to give the almond shower gel a try. I thought the sizes were plenty big enough and am happy to have seen this. The box is great and will use as a gift box for sure this year. Nice collection, good variety of products, well done!
12-17-13
Not Enough Shea Products
I like L'Occitane bath and body products but this set had too many different scents. I returned it unopened and unused. I gave it 3 stars because i know they make very fine products. I think the set from last year was much better.
12-09-13
Love this L'Occitane Collection.
Received as TSV & loved the products so much that I am ordering another of the same kit to divide into some lovely gifts for others. I have been a fan of L'Occitane products for many years, especially the Shea Butter tin, which is not part of this kit. The products in this kit are luxurious Shower/bath and hand cremes. they each have a purpose & are heavenly scented, but not like a perfume that enters the room before you do. Highly recommend!
12-09-13
Looked bigger on TV
Recieved my L'Occitane everything was so much smaller in person. The box it come in was bigger than all the things in it.
12-03-13
VERY HAPPY WITH PURCHASE
I am so happy I tried this collection. It's been a wonderful gift to myself, and one that I am enjoying every day. All their products are the highest quality and make me feel pampered (who needs a spa?). A very good value for everything that's included and a wonderful opportunity to indulge yourself or someone special.
12-02-13