About the Brand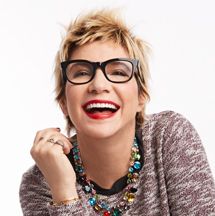 Pioneer, rebel, and iconoclast—these are just a few words to describe fashion stylist and designer Lori Goldstein. One of the most influential stylists in the industry, Lori has worked with fashion luminaries including Vera Wang, Carolina Herrera, and Donatella Versace as well as Hermès, Prada, Tiffany & Co., H&M, Gap, and Fred Leighton.
After 35 years behind the camera, Lori ventured in front of it in 2009 when she launched her exclusive collection for QVC, LOGO by Lori Goldstein. Designed to make fashion accessible to all women, LOGO was born from Lori's lifelong passion for layering clothes—always starting with a base of leggings and tanks, and her anything goes with everything approach to fashion. LOGO is all about comfort, style, and simplicity with flattering silhouettes for all body types.
With LOGO by Lori Goldstein, the fashion stylist and designer inspires women to be their own stylist while empowering them to embrace what they have, to look and feel fabulous, and dress fashionably while not losing themselves to the latest trend. Lori gives women permission to play.
In 2015, QVC honored Lori as its QVC Ambassador and stated, "Lori is a great partner and advocate for QVC. In addition to the high-end fashion influence she brings to QVC, Lori finds opportunities to let us share in her spotlight. Lori will bring her incredible energy, creativity, and spirit of generosity and collaboration to her role as QVC Ambassador."
Lori is Fashion Editor-at-Large at ELLE magazine and the author of Lori Goldstein: Style Is Instinct. She resides in New York City with her much-loved miniature pinscher, Louise.